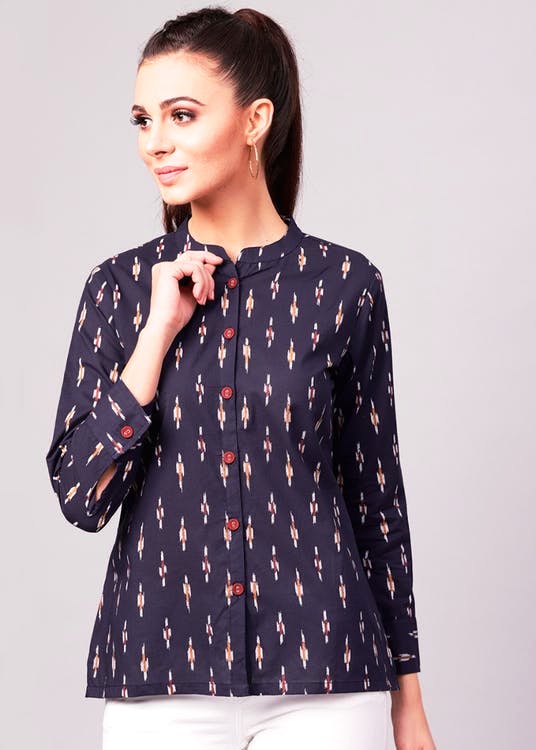 Ikat, Everywhere! Shop Tops, Tunics, Bags & Shoes Under INR 1500
Love Ikat? We do too! Here's 5 things that you can buy under INR 1500 on Shop LBB. Read on for more.
Ikat Print Shirt Dress with Belt
Flaunting a contemporary cut with an ethnic flair, this Ikat print dress comes in a smart grey print. Ideal for workwear or a casual lunch date, this dress is in a breathable cotton rayon that makes it ideal for our Mumbai weather. We love the addition of a belt for that perfect cinched waist. Priced at 1499 INR from Inweave.
Ikat Print Mandarin Collar Blue Shirt
This navy blue button-down shirt with a Mandarin collar comes with long sleeves and a pretty Ikat print. It's available in sizes S to XXL too! The cotton fabric means it's incredibly wearable too. Priced at INR 899 from Mirage.
Maroon Ikat Ruffled Flats
Love Ikat and want to incorporate it in your wardrobe in a different way? Then check out these gorgeous sliders that come in a rich maroon colour with chic ruffles. Pair with your fave set of denims, and you are all set with a great casual look. Priced at INR 999 from the Tassel Life.
Black Ikat and Faux Leather Sling
We're always on the lookout for a cute sling to add to our wardrobe for those #weekendvibes. This crossbody sling blends traditional Ikat fabric with faux leather accents for a trendy look. We love that these bags are handcrafted and since it's faux leather, you know it's also cruelty free. Priced at INR1400 from Be You By Sejal Dharia.
Multicolour Ikat Indigo A-Line Flare Tunic
This pretty tunic comes in a rich indigo with multicolour weave and a flattering A-line fit. The fitted bodice flares out creating a flowy silhouette that we love both for comfort and wearability. The addition of sleeve detailing and buttons, just adds to the overall style of the outfit. Pair with a pair of fitted churidars in contrasting colours and a great pair of Kolhapuris or mojaris. Priced at INR 1064 from Mirage.
Comments