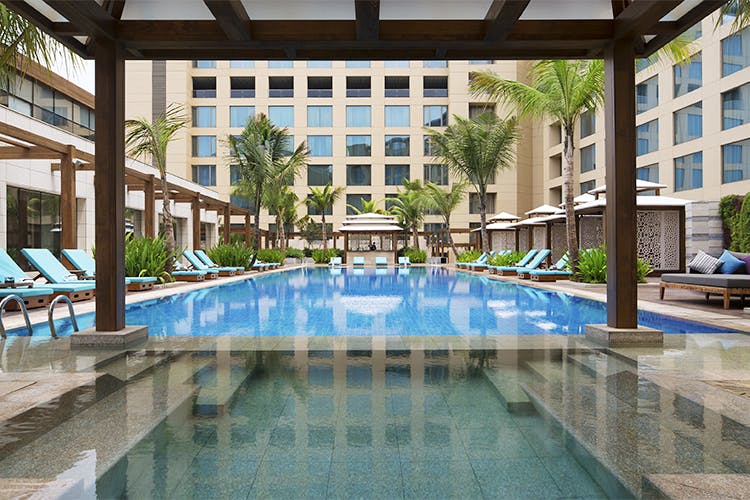 Have Brunch And Take A Rose Jacuzzi Bath: This Staycation Is Perfect If You Are Pressed For Time
What Is It?
In Mumbai, most of us are busy either emailing our bosses or working on excel sheets. While we celebrate upcoming weekends, we usually end up lazying around in bed, bingeing on shows. Now, there's nothing wrong with that, but won't you rather chill by the swimming pool or relax at a spa instead? That's exactly what we did at JW Marriott Sahar one Sunday and this is how it went.
Brunch Munch
JW Marriott Sahar is home to one of the best brunches in the city – right from the spread to the choice of drinks. Starting at INR 2,700 per person, it will satiate your need to eat good food in minutes. Think lamb quesadilla, roasted chicken with white sauce, Thai prawn soup, pork ribs in BBQ sauce, Alaskan crab, pad Thai noodles teppanyaki and more.
The brunch boasts of a sushi counter, Thai, a live grill counter, an elaborate cheese section, seafood and a truckload of desserts. Pair it up with a glass of bubbly or a mocktail and you're good to go.
Relax, Take It Easy
Looking to unwind in luxury, the hotel has a lot to offer – whether it's the choice of massages or the therapists. A Balinese massage will cost you around INR 6,000 per person with taxes, but you will have your money's worth by the end of it. Couples, go for their suite where you guys can opt for milk and rose jacuzzi after the massage.
Dinner Time
Now, if you're planning to close your daycation with a gastronomical bang, do not miss having dinner at Romano's. At the helm is Chef Roberto Zorzoli, who brings the whole Italian skillset and cultural shebang to the diner. He will make sure he goes to each table to take their feedback on the food, sharing interesting anecdotes in the process. And that, is something that rarely happens anymore. He also brings innovation to the table – their colour palate menu is a testimony to that. Extracting pigments from natural sources and marrying them with ingredients on the plate is something that Zorzoli aces. Pair the food here with their wide selection of wines.
So, We're Saying...
JW Marriott Sahar offers one of the best daycation experiences. It's near the international airport complex, so you will actually feel like you're away from the city. Obviously, traffic won't be an issue. Daycations – 1, weekend getaways- 0.
Comments