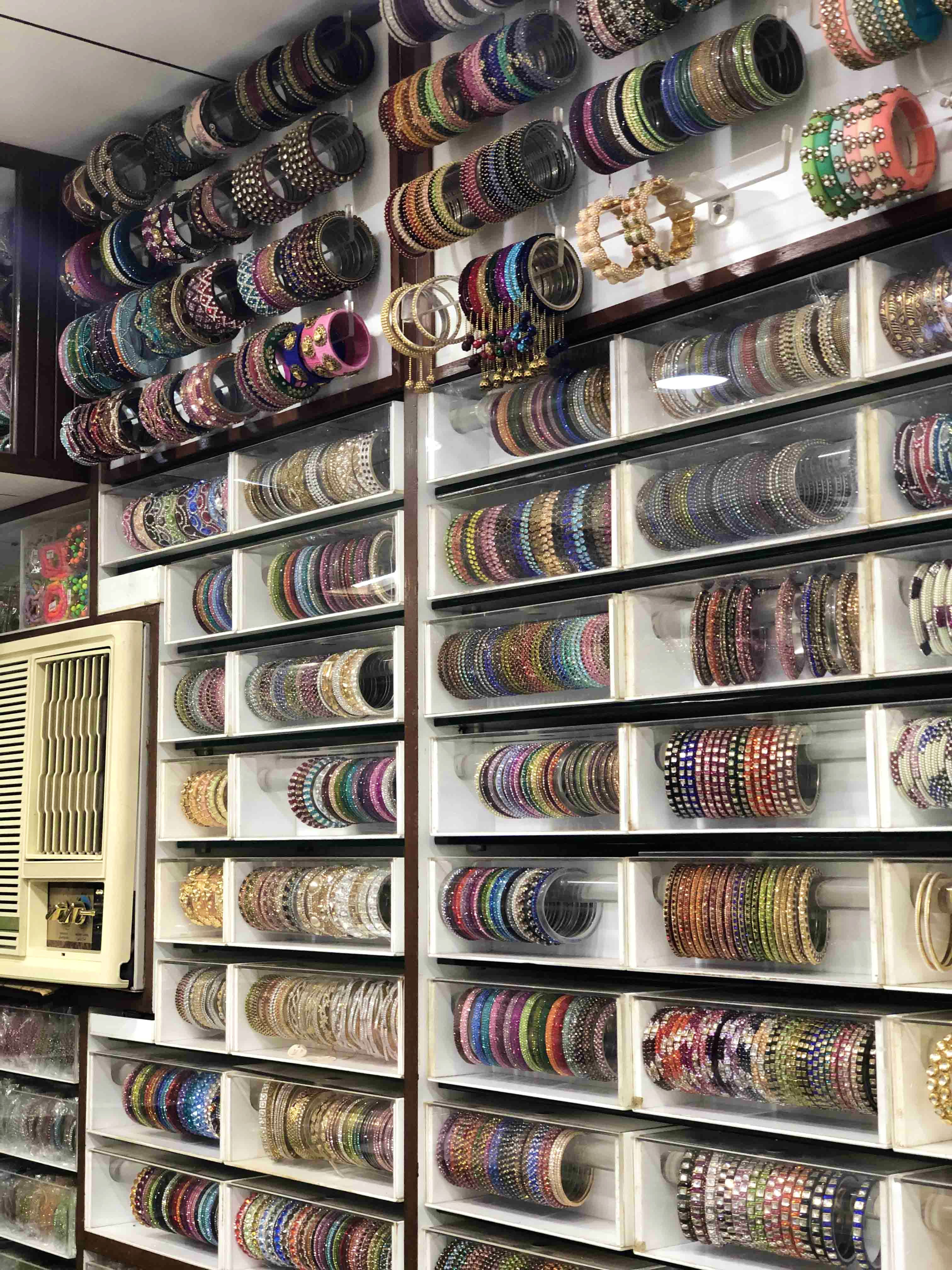 Fabrics, Borders & Ethnic Shoes: Your Guide To Shopping On Nepean Sea Road
Nepean Sea Road in Mumbai is popularly known for three things - (a) A well-known South Bombay neighbourhood which houses some of the most expensive apartments in the world. (b) PDP or Priyadarshini garden, which is its historic landmark. And lastly, which is slightly lesser known to Mumbaikars – its decades-old fabrics and clothing market.
From designer wear traditional clothing to rich fabrics, this tiny stretch, which consists of roughly 20 shops and boutiques, is the perfect solution to all your wardrobe woes. Need a customised blouse, a particular fabric or something as small as quirky buttons – there's a store for every need.
Saroj: For Fabrics
Sitting at the billing counter and busily sorting out the fabrics, the owner is quick to say that "We're one of the first traders to have started the fabrics business in this area." After almost four decades of being in the fabrics business, today Saroj is one of the oldest stores in the locality. A shop exclusively for fabrics, they offer an array of choices for you.
Plain or printed cotton materials, jute linen fabrics, georgette embroidery, net embroidery, organza, velvet, pure and semi-silk, bandhani, woven banarasi and chanderi fabrics and the list is endless. Impeccable quality, unlimited options and quality consumer service is something that made us fall in love with this store. The price range starts from INR 90 and goes up to INR 25,000 per metre.
Looking for fabrics for a plain kurti or wanting to stitch a Lucknowi palazzo – address your needs to them and they'll assist you with the best fabrics for your needs.
Milan: For Fabrcis
Here's another store which is exclusively for fabrics and materials. As you enter the store, you'll literally notice four walls filled with colourful, printed and patterned fabrics. Their specialty? Most of their fabrics are handcrafted, ie hand woven, and not machine made. They have an army of local artisans and skilled weavers from different states who are manually involved in the manufacture of these rich fabrics. You name the fabric and they'll happily present multiple options in front of you. From Banarasi to Lucknowi and from Kashmiri silk to imported fabrics, we were stoked with the variety they had on offer. Apart from the quality and quantity of fabrics, we were pretty impressed by the friendly and the highly trained staff.
Vivah Borders: For Borders And Outfit Accessories
A quirky display made from cut pieces of different borders welcomes you as you enter this tiny border store. Look at any corner and you'll find tons and tons of border rolls displayed neatly on the shelves. From real silver borders to zardosi and from neon sequence ones (our favourite pick) to pearl and diamond ones – you're surely going to ace your traditional outfits with their borders.
The prices start from INR 1, 500 and go up to INR 20,000 per roll (each roll is 9 metres long). However, if you need just a few metres, they'll provide that as well. Apart from borders, they have quirky and bright coloured latkans and buttons as well. So, we're saying, next time opt for a DIY type outfit and be your own designer and adorn your outfit with these pretty add-ons and accessories.
Brahma Collection: For Sarees
Another decade-old boutique, almost 90% of their collection includes sarees of different types and states. If you want to checkout multiple types of sarees under one roof without hunting in different stores and choose the one which best suits you, this place is ideal for you. Some of their collection includes crisp patola sarees, bright coloured bandhani sarees, fine embroidered sarees, chic Banarasi sarees and more. The price range of their collection starts from INR 700 and goes up to 20,000.
For those who love collecting unique and ethnic dupattas, they have two types of those including bandhani and patolas as well.
Indian Pitara: For Statement Jewellery And Stitched Designer Indian Wear
A fancy & super elegant boutique, Indian Pitara store has clear demarcation for their store collection. Left: for jewellery and Right: for designer Indian wear. Let's start with the left section first. From contemporary inspired statement jewellery to bridal wear – their collection starts from INR 5,000 and goes up to INR 50,000. We loved their royal green semi-precious stoned necklace sets which were innovatively paired with pearls and gold. For those fans of pretty diamond earrings – they have plenty of those as well.
The bridal wear collection mainly included gold and zardozi collection with different precious gems. Moving to their Indian wear section which is an array of exclusive designer pieces -including shararas, indo-western pieces, lehengas, gowns and more. The price range of their collection starts at INR 5,000 and goes up to INR 35,000.
Vivaa: For Customised Indian Wear And Blouses
Saw an image of a pretty lehenga or kurta on your Instagram feed and want the same one? Well, Vivaa on Nepean Sea Road is where you need to head. Equipped with a designer and in-house tailors, they'll assist you and stitch an entire customisable outfit. Even if it's just a piece of blouse – they'll stitch one for you. Their services start from INR 900 and go up to INR 20,000.
If not customised, you can choose from their varied collection of Indian wear (which includes casual wear to heavy wear) from their store as well. Their collection is pretty dynamic and keeps on changing depending on the seasons. For instance, during summers you'll see more of cotton kurtis, whereas during winters(which is a wedding season) you'll see more of party and bridal wear collection.
Giftorium: For Ethnic Footwear
No traditional outfit is complete without an ethnic and classy pair of shoes. In fact, these can uplift your look and take it to another level altogether. After exploring the multiple fabrics and Indian wear store, we spotted this 30-year-old store which had some of the best collection of shoes, mojarris and heels in this store.
Each pair on their shelf is handcrafted by local, skilled artisans. Giftorium literally has unlimited options when it comes to mojaris and juttis. Each finely embroidered with gota work, threads, diamonds, pearls and zari. Starting at INR 700, these are completely worth it! Clearly, we couldn't have one favourite pick, as we fell in love with literally all of them. However, we recommend you pick the pastel shaded juttis with delicate zari work on them.
Looking for something evergreen? Pick the gold and pearl ones, they'll never go out of fashion. Apart from these, they had elegant finely embroidered wedges which would look best when paired with a lehenga or saree.
Vividha: For Bindis And Bangles
Be it traditional, indo-western or a hippie look, a tiny bindi has the charm and elegance of completing your ethnic look. From Bollywood actresses like Bipasha Basu and Anushka Sharma to popular international faces like Selena Gomez and Julia Robert, they've all slayed it with this tiny accessory on their forehead.
For all the bindi lovers, we've spotted an entire store with only bindis. Yup, you heard it right. Called Vividha, the store had approximately 9,000-10,000 types of bindi designs starting from INR 50 and going up to INR 500. Apart from bindi, they had a tiny collection of bangles and a few other accessories. What we loved was that when we entered the store, there were rows and rows of bindi packs arranged from top to bottom on slider doors. You could go crazy in there. #JustSaying
Comments