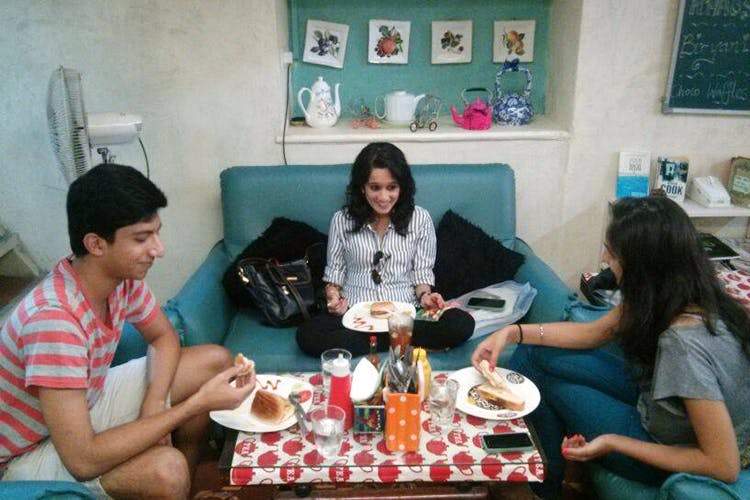 Delivery Available

Wi-Fi Available
This Cafe In Fort Is Reminding Us Of Central Perk From F.R.I.E.N.D.S
Shortcut
We stumbled upon this cutesy cafe tucked away in the streets of Kala Ghoda and we think we've hit the jackpot as this cafe is reminding us of the couches in Central Perk from our favourite sitcom, F.R.I.E.N.D.S.
Of Cosy Couches And Pretty Decor
The Teapot Cafe has a really 90s vibe to it as if the owner, Delna Palia, deliberately wants us to hold on to time – which she succeeds in doing. What really fascinated us about this place was its interiors and how exceptionally disconnected it was from the fast-paced world outside. Enter and you immediately think its someone's living room – lined with leather couches, artifacts on the walls and a blue window in the corner.
You'll find quirky and pretty teapots everywhere, as if this cafe is just waiting for Queen Victoria to drop in. Honestly, it all seemed pretty much like the quaint tea rooms across England and Wales – with soft cushions thrown on the couches and a teapot waiting for you on the table.
Chow Down
A limited menu but light on stomach and pocket. The eggs all day section is a classic safe bet with their eggs Benedict being a special high note. The sandwiches are good and fluffy and a cupcake to go with a pot of tea really made our day.
Sip On
A pot of tea or milkshakes. Hot chocolate is also served with marshmallows and we loved it.
So, We're Saying...
Want some quiet time by yourself? The Teapot Cafe is the place for you.
#LBBTip
They also offer free WiFi to sort out not-alone-time.
Comments
Delivery Available

Wi-Fi Available