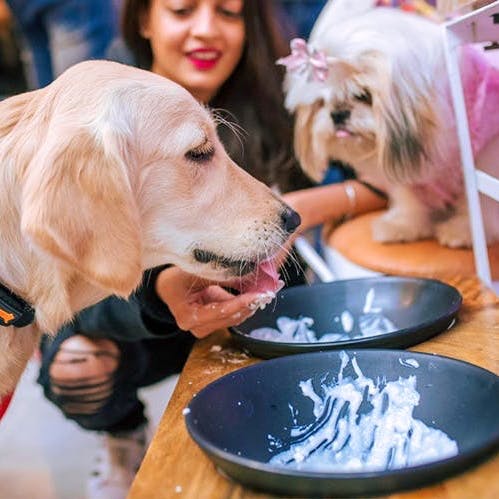 Bow Wow! Mumbaikars, Here's Where You Need To Head For Your Dose Of Unconditional Love
If you're a pet parent in Mumbai, at some point you have been to places where your pet wasn't allowed, and even if it were, if would have to sit in a corner and watch you eat while it chewed on the chew stick you got for it. However, we come with good news and a list of the top dog cafes in Mumbai where you can visit, chill (and eat maybe) and play with your four-legged friends too! Ruff it up, peeps!

Puppy Cuddles Dog Cafe, Khar
Puppy Cuddles, located on S V Road in Khar, is the perfect place to be if you're having a ruff day. With one entire floor dedicated to themselves, Puppy Cuddles has resident puppers (they have Siberian Huskies, Beagles, Chow Chows, and more) who are waiting to give you all the love you need. You can just walk in on a weekday (INR 250 per hour), and spend time petting and loving these cuties (feeding them and taking them on walks is not allowed). If you plan to visit them on a weekend, we'd recommend you book an appointment with them well in advance as they're usually packed.you can celebrate your birthday with the puppers too! If the cafe is informed in advance, they'll decorate the place with balloons and get all the dogs ready for the party too.
PuppsLand, Goregaon
Operating out of the same complex as Love & Bites, a cafe in Goregaon is this hidden gem, PuppsLand, that lets you play with cute doggos for as long as you want. They currently house more than 10 rescued doggos that you can come and cuddle with for only INR 200 an hour. While you might not be able to play with all dogs at the same time, we'd recommend you spend a little more time at this cute place to let all the love and licks sink in. While you're at it, grab a bite or two from their cafe Love & Bites that doles out delicious food and drinks to keep you going. We loved their Peri Peri Supreme Burger and Masala Lemonade.
Cafe Pefe, Andheri
Tired with the 'pets not allowed' policy in most of the restaurant, Café Pefe came up with the idea of creating an accepting and beautiful place for you and your pooch to dine at. Be it a dinner, lunch or a party celebration, Café Pefe provides a perfect venue for you and your pets you have fun and interact with others in a safe, hygienic and friendly environment. Their delectable menu has been curated with some great ingredients and also offers a variety of cuisines. Try their Italy national soup (INR 225) and 'Cat'atouille (INR 485) which is made with grilled pesto cottage cheese and spinach in ratatouille sauce. When it comes to pizzas, their Om Shaanti Om Pizza (INR 375) and the Bum-Chick-A-Bum pizza (INR 495) is absolutely amazing. Apart from these, they have a wide variety of pastas, risottos, rice, Thai dishes, burgers, salads and more.
P.S.- They also have a delicious menu for your junior friends to lap up, don't forget to check that out. Make sure your pet tries their special cookies and gravy!
Pro-Tip
While you're at it, check out Doolally Taproom outlets across Mumbai, The Bagel Shop in Bandra and Cat Cafe Studio and Leaping Windows Cafe in Andheri which are all pet-friendly cafes where you can take your pets and everyone can have a gala time; you with your friends and your pets with theirs.
Comments