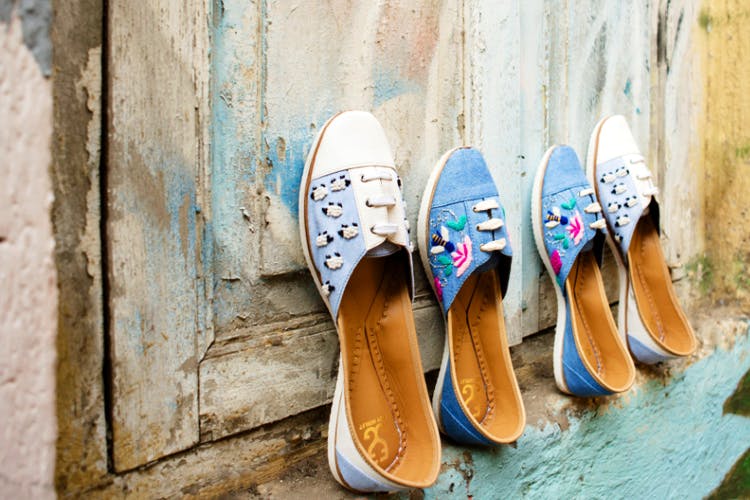 These 'Sneaker Juttis' Are The Perfect Combination Of Sporty And Ethnic
Shortcut
The lovely homegrown jutti brand, Fizzy Goblet is back with its latest collection and it combines our two comfort shoes, sneakers and juttis aka sneaker juttis.
What Makes It Awesome
Fizzy Goblet creates beautiful and whimsical juttis and have gotten the traditional footwear back in vogue. To take this up to the next level, Laksheeta Govil, the brainchild behind the brand tells us sneaker juttis are the newest entrant to the brand. Sneaker juttis, in that aspect, serve the purpose to offer their customers a diverse range of footwear in the same space.
The sneaker jutties have been created with an aim to make juttis more a) relevant today and b} a part of your everyday wardrobe that is stylish yet comfortable. The footwear is first designed by Laksheeta herself, and then these are handcrafted by the embroiderers and artisans who work on it to make the product gorgeous. You can see that from the intricate details on the shoes and the fine work that's been done on them.
What We Love
The idea of sneaker juttis. They're pretty, affordable, and more so comfortable. The juttis have been transformed into amazing sneakers by adding the rubber sole and patchwork has been embroidered on it on different hues of denims, or quirky stuff like shapes of bees, sheep or the simple ones plated with gold. Though we've been taken in by all the designs, we especially love the "lets chalk about it" pair. "Let's Chalk About It" comes with a box of chalks so you can colour in your own sneakers as and when you like them – your own DIY project for the slow days.
The denim sneakers are priced at INR 2,750 and the other ones are priced at INR 2,650. They deliver worldwide and even the package is cute as hell. It's a cute little pink box, wrapped nicely with a small note by Fizzy.
Pro-Tip
It also serves as a great storage box for the sneakers if you're short on space and don't want them exposed to the dust in the house.

Whether it's work commitment or social scenes, we think these sneaker juttis are a dream to wear. They're super chic, reasonably priced and are an amalgamation of the new and the old fashion that now go hand in hand, or in this case by foot.
Comments