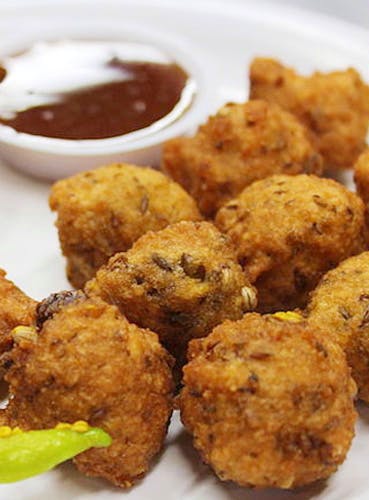 Cheese, Dal Chawal & More: Gorge On Unusual Bhajiyas In Mumbai This Monsoon
What goes best with monsoon? Chai. And what goes best with chai? Bhajiyas. Pakoda, bhajiya, call it what you will, everyone loves a hot fried snack when the rain comes marching in. But did you know that there's so much more to them beyond what meets the eye? A world exists beyond the kandas and batatas!
Check out this list of unique bhajiyas that you've gotta try this season.
Cheese Pakoda
True-blue lovers of cheese will appreciate its existence in any form, and that extends to the Indian pakoda avatar as well. A huge dollop of cheese is first rolled into a batter, and then deep fried – what could be more comforting than that? You'll find this snack at Oye Kake, the dhaba-style restaurant in Lower Parel, for INR 279.
Aratikaya Baji and Mirapakay Baji at Aavakay
The Aratikaya baji is an Andhra-Style raw-banana bhajiya that's seasoned in the traditional Andhra fashion. Expect tons of spice, and lots of kick. The Mirapakay Baji is a yummy mirchi bajji with onions, lemon juice and chili powder. Both will cost you INR 165 a plate.
In the mood for more while you're here? Try the Peanut Pakoda (INR 175) and the Kaju Pakoda (INR 210) as well.
Paneer Pakoda at Tewari Bros. Mithaiwala
As a homesick North Indian, while you may find that the paneer in Mumbai is not as soft as in other parts of the country (with exceptions – yes, we hear you). But we do love the soft, luscious paneer pakodas at Juhu's Tewari bros. Mithaiwala. For INR 30 a piece, expect a hunk of paneer coated in crispy batter.
The Chinese Bhajji at Vada Pav Samrat
While Parleshwar Vada Pav Samrat is known for its spicy and delicious vada pav, we are here to tell you about their crazy and inventive Chinese bhajiyas. Here, they serve assorted bhajiyas (made with Chinese spices) along with a healthy helping of fiery schezwan sauce.
Side note: You've gotta try all the bhajjis from here.
Sanna Pakora
You know what's better than fried? Double fried. A Sindhi favourite, sanna pakodas are covered with besan batter and then fried twice (first in big chunks, and then smaller ones). We love the sanna pakodas that you get at The Sindhi Kitchen, Santacruz . They're crispy, crunchy and extremely flavoursome. A serving of 12 pieces will cost you INR 160.
Dal Chawal Arancini at Farzi Cafe
We were suspicious at first, but this crossover was comforting, indulgent and totally delish. Served with achar, papad and chutney, this is the perfect monsoon-friendly comfort food. A serving will cost you INR 335.
Don't forget to call for the Mac And Cheese Pakoda Bites (INR 355), too, while you're here!
Comments