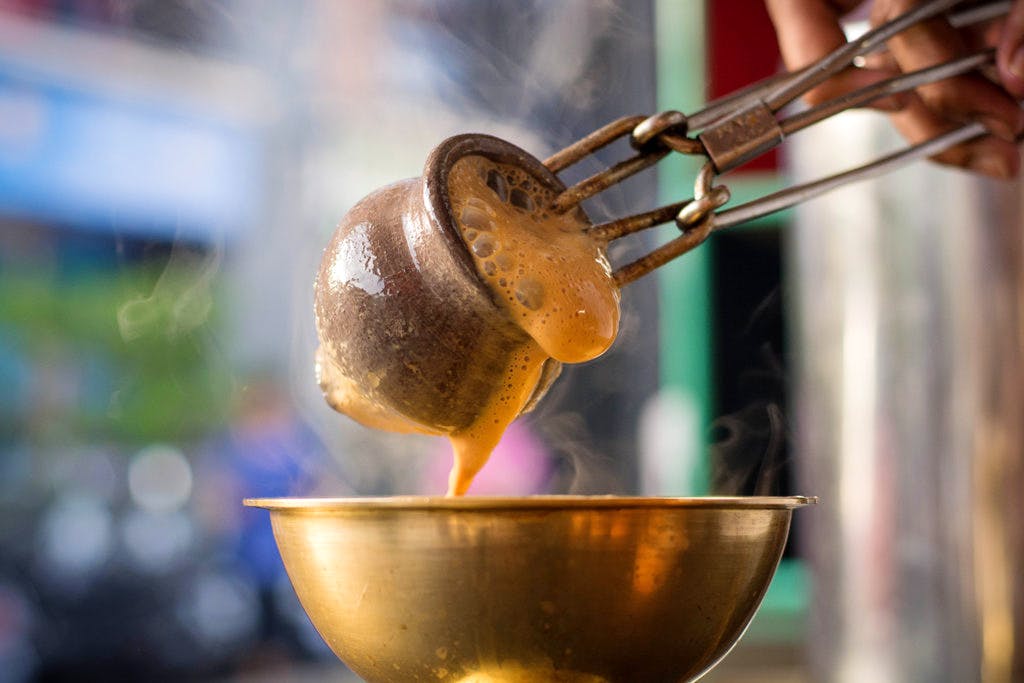 Sip On 7 Different Flavoured Garam Chai Ki Piyali In Pune
Whether it is snuggling with a book indoors with a cuppa chai during monsoons, or heading out and braving every weather for a cup of goodness, chai is an ultimate elixir. Pune is a chai lovers' paradise and the humble masala chai has undergone several makeovers. Not just masala chai, the variety is endless and here are our favourite variants of desi chai.

Saicha Special Basundi Chaha
There is an age-old small eatery in Kasba Peth and it is known for its ultimate Puneri basundi chaha (Marathi term for tea). Sai Snacks Centre in Pawale Chowk is known for its strong basundi tea which is priced at just INR 10. It is made up of just milk and tea-leaves. The milk is boiled to such an extent that it needs no sugar or any other condiments. If you are a fan of kadak chai, this place is a must go.

Tandoori Chai At Chai La
Popular for its smokey flavour and serving style in a hot tandoor kulhad, tandoori chai continues to pull crowds in Pune. Located opposite Zensar IT Park, Chai La in Kharadi is the first place in Pune to start serving the tandoori chai. Priced at INR 20, you've got to try the tandoori chai where it originated.

Chocolate Chai At Chaikund
If you are a chocolate fan, we have good news for you! Chaikund on Mulshi road serves amazing chocolate chai for INR 35 which combines your love for chocolate and tea. Hop into your car with your gang and set out on a road trip during monsoon, only to stop at this favourite chai destination.
Gulabi Chai At Baner Katta
One of Punekars' favourite tea innovation is gulabi chai. Baner Katta in Baner serves this delight which is very rich and creamy in texture and pinkish colour. The piping hot cuppa has a lot of cardamom flavour along with dry fruits such as pistachios, almonds, etc. A cup of gulabi chai costs you INR 50.
Modi Chai At Chai It
We found an eatery in Bavdhan that serves Modi Chai. Yes, you heard it right. Infused with the goodness of ginger & served in a kulhad, the Modi chai at Chai It, an eatery in Bavdhan is truly blissful. The drink is high on masala and ginger and costs just INR 30.
Zafran Chai At FiLLi
Zafrani or Zafran chai is a one-of-a-kind tea concoction that has saffron in it. Perfect for monsoons, this tea is on every chai lover's list. FiLLi in Westend Mall, Aundh serves amazing Zafran chai for INR 70 and you must try it to feel refreshed.
Comments