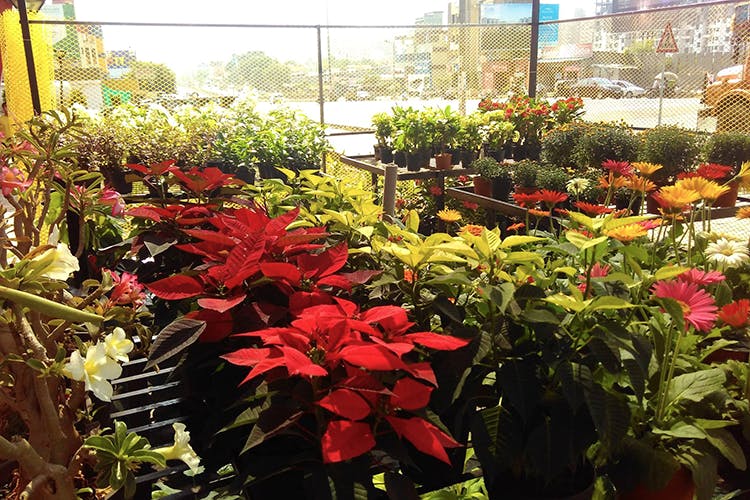 Plant Love: Find Potted Spalings, Poinsettias, Succulents & More At These Nurseries
If you want to engage yourself in a long-lasting relationship with plants around, you're going to want to know some of the best nurseries in town. And we found the finest ones for you, from all across the city; so that you don't have to scratch your head too much before you pay them a visit!
Jagtap Nursery Garden
Located in Hadapsar behind the Magarpatta Seasons Mall, this is one of the oldest nurseries in Pune. It is regarded as a one-stop shop for garden products and landscaping services. A farmland in Kamshet was purchased specifically for the systematic production of a variety of plants, shrubs, trees and garden products. The products and services are used for beautifying the residences, hotels, office spaces and bungalows. The services have attracted countless customers. We've definitely been one of them.
Out of the 35,000 species, the rates differ for different plants. But the most common ones start from INR 40 to 100 and the most expensive ones like Bonsai cost as much as INR 35,000.
Sanjay Nursery
Located on the highway that connects Pune to Solapur, this nursery is a gigantic one and has more than 500 species of plants to offer. Apart from different kinds of plants, one can even buy garden supplies at this nursery. Right from pots and pebbles to plant food. One of their amazing services also includes creating Vertical Gardens for indoor as well as outdoor spaces.
Saplings of popular plants like tulsi, cactus, and money plant range from INR 30 to INR 100. Orchids range from INR 600 to 900. Colourful pots at this nursery cost for not more than INR 50.
Girme Farm Garden Centre
Garden tools, pots, sprinklers, and all garden related accessories to make your garden look beautiful, you can find it all here at Baner. With expert knowledge in the field of gardening, they also give you information one needs to create a beautiful garden. Well, the website also lets you take a virtual tour of the nursery! But, we took a real tour and we couldn't help but get a couple of pots to decorate our balconies.
For a tulsi plant here, you're charged absolutely nothing. But for two, it will cost you not more than INR 20. Garden products like fertilisers and pots of stone and marble finish are also available here. These pots fall in the price range of INR 200 to INR 8,000. What is intriguing is that one can gift plants from here at INR 60 only. These include gifting pots, Goodluck plant, succulents, money plant, vertical gardens, etc.
Teleplants
Established in 2015 in Pune, Teleplants is one of the leading trader, service provider and wholesaler of a wide range of Flower Plant, Garden Plants. With so many varieties and a wide knowledge in the field, this nursery helps you live closer to nature at home.

With a wide variety of plants indoor and outdoor, the prices vary greatly. But here's a rough idea that you can get.
The indoor plants range from INR 60 to about INR 2,000. The smallest outdoor plants range from INR 20 to a quote that you can get at affordable rates when you visit.
So, hurry!
NKU Agro Plant
A well-established nursery, where people from all over the world visit and feel closer to nature, NKU Agro Plant is a must-visit if you're interested in decorating your cocoon. Located at Shivaji Nagar, this nursery is a very beautiful place in itself, giving you freshness and a lively vibe. Open from 10 a.m. to 6 p.m., so go pay a visit, and make your life greener at home. Also remember to click photographs of the placement of these plants at home and take expert suggestions for which would suit the place the best.
The indoor plants range from INR 55 to INR 550, and the outdoor plants like the flowering plants range from INR 25 to INR 1,200.
Lohegaon Nursery Lane
As soon as you enter Viman Nagar, the nursery stretch on New Airport Road beckons you. With beautiful foliage and pretty flowers, the stretch is itself heaven for gardening enthusiasts. We made a trip to New Airport road, and voila! the variety of plants, pots, and shrubs amazed us. Some nurseries had the beautiful Christmas Flower Poinsettias and Chrysanthemums amongst others which were priced at INR 200. There were many desi varieties of flowers as well such as kuletcha, desi gulab, and zinnias. You can also find succulents for as low as INR 50.
Pimpri Bridge Nursery Lane
Live in or around Pimpri, there is a nursery stretch under the Pimpri bridge which we are dying to tell you about! Add some fauna to your garden or pick up a few indoor plants. Shop for plants, pots, other gardening supplies and also some statues off Pimple Saudagar bridge. They also have bags of plant food. Small planters start at INR 50, and larger pots start at INR 200. Other than that, you can find decor items like tribal faces, earthen wind chimes, earthen lamps, Buddha and other statues that'll look good sitting on your porch.
Aundh Nursery (Opposite D-Mart)
Go shopping at one of the biggest nurseries in Aundh, opposite D-Mart and here are few things that will grab your attention - their selection of indoor plants which include cute bedside cacti, succulents, and many leafy planted pots starting at INR 50. Fine gorgeous ceramic pots in vibrant colours and floral patterns are absolute necessities for a lovely garden. While smaller pots can range between INR 200 and INR 250, bigger ones are priced at INR 350. Similarly, they have wind chimes, tribal wall art and lanterns - all made of mud.
Sunny Roses
Nestled in the lane next to Funky Kona, Sunny Roses is a huge nursery that's quite literally hiding. It's spread over an estimated area of an acre and has a small well on its property too. The bonus over here is that this well is a host to a number of cute little weaver birds and it's a sight to see them build their nests. They also have a separate section for indoor plants, all of which are well-categorised according to their biological families, flowering, non-flowering and between indoor and outdoor plants as well. The prices over here start at INR 20 and can go up to INR 800.
Rise N' Shine Botanical Boutique
For those living in KP, there is a fabulous nursery boutique known for ornamental indoor as well as outdoor plants. Visit Rise N' Shine Botanical Boutique for fancy plants, garden statues, exotic plants and herbs. Costing INR 500, find anthuriums which are an excellent choice for indoor gardening, since they don't need direct sunlight, and are relatively easy to maintain. Other than that, you can take a look at their special range of cacti and succulents. They have also developed their own website where you can shop online for handmade terrariums which are an excellent gift choice.
Aundh Nursery Stretch
Near Aundh Vyayamshala is the area's largest nursery stretch comprising 5-6 nurseries that are known for their green potted plants and flower saplings. If you love hanging plants, score hanging pots for as low as INR 80 and buy attractive indoor flower saplings for just INR 20! Make a note that they also sell painted pots, lanterns and wind chimes along with seasonal mud and earthenware utensils such as pans, matkas, handis and more. During Ganesh Utsav, find eco-friendly handcrafted idols too!
Comments