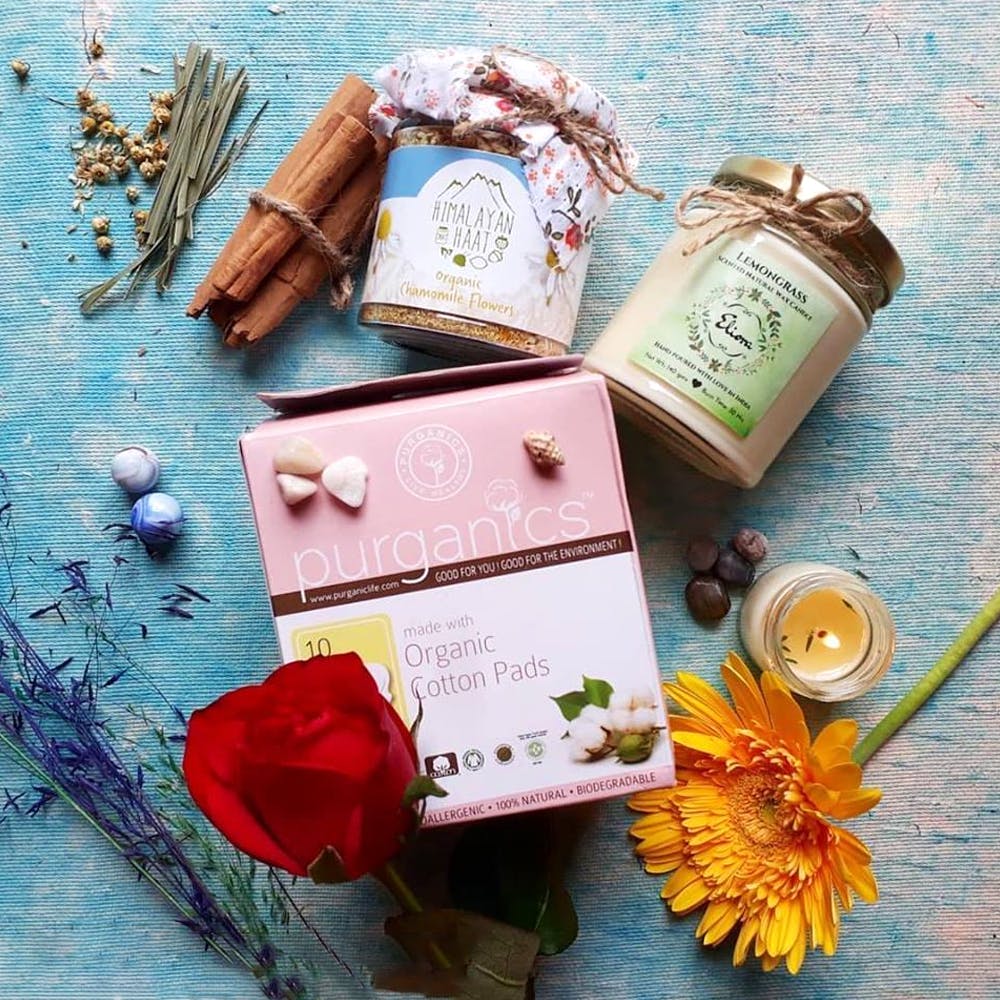 Ladies, We Bet You'll Love These Eco-friendly Sanitary Napkin Brands
Ladies, we know dealing with painful periods is quite a task. And, using synthetic sanitary napkins simply adds to the misery. We found a sustainable solution to end all this trauma with these eco-friendly sanitary pad brands, which are just a WhatsApp text or a click away.

Airiz
Made of silk-thin cotton with eight layers of protection, Airiz eco-friendly pads contain active oxygen and negative ions that help in proper absorption and providing comfort. Starting at INR 179 for a pack of 8, there are different pads for day and night. Drop a text to Jayshree Tawari, an entrepreneur and get your dose of comfort delivered at your doorstep. She deals in panty-liners too.
Carmesi
Carmesi does all-natural sanitary napkins made with bamboo fibre and corn starch. From skin issues to environmental issues, these non-fragrant, eco-friendly sanitary napkins take care of everything. Every Carmesi napkin also comes with a ziplock bag. The pad is soft and comfortable, so there's not a thing that you need to worry about. Carmesi's sanitary napkins might be a little expensive. For INR 349 you can get 10 pads in regular as well as XL sizes. It's money worth spending for everything good, in the long run. Oh! And they ship for free.
Saathi
Shun those synthetic pads and use Saathi pads, which are made of everything natural. The best feature of these pads is that they are made of a plant-based material called banana fibre, which is extracted from banana plants. The pads save water too as a lot less water than cotton is used for production and the pad degrades within six months of disposal. You can buy them online or also DM the company on their Instagram. It costs approximately INR 220 for a pack of 10.
Nurture
Say goodbye to unwanted bacterial infections and irritations with organic pads from Nurture. You don't have to shell out much as it costs INR 15 for one large pad. Made fully of cotton, it is soft, comfortable and has an ion chip that wards off all the infections by restricting the bacterial activity. You can buy these on Amazon.
Purganics
The pads from purganics are 100 per cent organic and bio-degradable. If you suffer from chemical allergies, this is the best bet for you as it contains hypoallergenic elements. Starting at INR 35 per pad, you can buy them on Flipkart, Nykaa and many other e-commerce sites. The brand also offers an eco-friendly range of panty liners and tampons.
BreakFree Sanitary Pads
With layers made of corn and bamboo fibres, BreakFree sanitary pads are yet another sustainable solution to uncomfortable and painful periods. While the corn fibre gives the pad softness and comfort, the latter material has absorption properties three times more than cotton. They have a combo packing system with 4-day pads XL (290 mm ) and 3-night pads XXL (350 mm) total of 7 pads in one box along with individual disposable covers to dispose of the pads hygienically. Retail Price is INR 130 per pack.
Comments