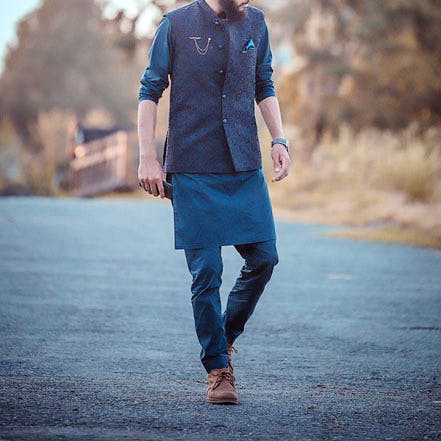 Gear Up For The Festivities With A Shopping Spree on Laxmi Road
With Shravan coming to an end, the rest of the year is filled with a number of festivals. From Ganesh Chaturthi to Navratiri, for each of these special days, stock your wardrobe with fabulous kurtas and other ethnic dresses. Wondering to get them from? Think no further and head straight to Laxmi Road.
Manyavar
A well-known brand across the country, Manyavar has a huge-ass emporium on Laxmi Road. It's a two storey building which has numerous options with them. Here you will find good options in sherwanis, kurtas, bandhgalas and more. The prices here start at INR 2,500.

Gandhi Khadi Bhandar
If you are more of a simple man, you can find simpler designs at Gandhi Khadi Bhandar. The store has kurtas, pajama pants and even Nehru jackets made from khadi. They also have a good collection for women. The prices here start at INR 800.
Lenin King
A homegrown brand, Lenin King is known for their fine cotton clothing for men. Their store over here, has some simple and elegant kurtas. They have printed, embroidered and even plain designs in them. The store also has a good collection of Nehru jackets which start from INR 1500.

Instyle
Living up to its name, Instyle has apparel that will keep you in-style (see what we did there). The store makes custom-made kurtas, jackets and even suits. We really loved their jackets' collection. There are plain, printed, patterned and even embroidered jackets. They also stitch suits and formals.
Balaram Market
More of a traditional store, Balaram Market is a fabric store that also has ready-to-wear apparel. They have a good collection of simple kurtas and kurta-pajama sets. The prices over here start at INR 800.
Chedda Brothers
If you are on a budget and need something simple and elegant, without doubt check out Chedda Brothers. Located a little before the main Laxmi road starts, this store has kurtas in block prints, plain, pastels and even heavily embroidered patterns. They also have dhotars (dhotis) which you can drape and also one ready-to-wear. The prices here start at INR 500.
Comments