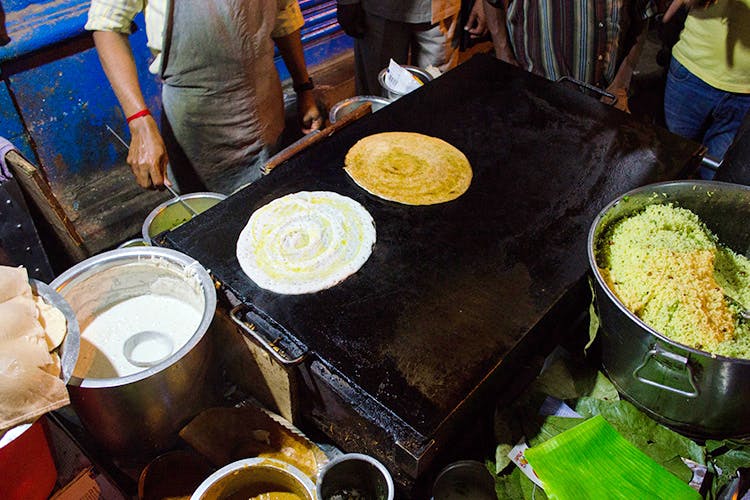 History, Art And The Masala Dosa: 10 Things To Put On Your Bucket List In Bangalore
Youthful and vibrant yet deeply rooted in history, Bangalore is packed with excitement. You can tour its historical sites, spend time amidst piles of books at the city's iconic stores, or explores its lively markets. Whether you are visiting Bangalore or an old-timer looking to get to know the city better, this list will help you check out the best experiences India's IT capital has to offer.
Go Back In Time
We may have been a small, rather nondescript town, till much after Independence, but that doesn't mean we don't have our history! You can acquaint yourself with the city at the 16th century Bangalore fort or at Tipu's Summer Palace. You can take in the beauty of stately Bangalore Palace or study the many examples of architecture from the British Raj, including, Mayo Hall and the Government buildings on Nrupathunga Road. Of course, no trip to Bangalore can be called complete without a visit to the Vidhana Soudha, the seat of the State Government, and the equally iconic Attara Kacheri.
Gawk At Art
India's most-renowned painters and its budding talent of edgy artists – all find a home in Bangalore. The stunning Manikyavelu Mansion, in Vasanth Nagar, houses the National Gallery of Modern Art (NGMA). Here, you can walk through pristine galleries showcasing the work of the country's greatest artists from Abanindranath Tagore to MF Hussain and Raza. In the recent past, Bangalore's flyovers and buildings have served as canvases to upcoming street artists that to the St+Art festival.
Explore The Pete Area
The busiest side of town, the pete is a maze of markets that are worth exploring. For the shopaholic, there are wholesale shops selling everything from silk sarees to fresh produce and vintage pens. In the wee hours of the morning, you can also check out a stunning flower market. And once the sun sets, you can chomp your way through a bustling food street.
Guzzle Beer
Bangalore's drink of choice is, undoubtedly, the beer. For those of you who'd like to go old school, India's pub capital offers a delightful array of beer pubs where you can tank up on pitcher after pitcher without causing a dent to your pocket. Beer lovers can also pick from the city's burgeoning list of craft breweries that includes the likes of Toit and Arbor Brewing Company.
Wolf Down Dosas And Idlis
Ghee-laden and fried to a crisp, Bangalore's masala dosas are one of the city's best culinary offerings. You can step into iconic establishments like Vidyarthi Bhavan or MTR and Shri Sagar for their divine masala dosas. Fluffy idlis doused in chutney or sambhar should also be on your must-have list. Veena Stores and Brahmin's Coffee Bar serve the downiest versions of this breakfast staple. And it's mandatory to wash it down with a piping hot cup of filter kaapi.
Walk On The Wild Side
The perfect picnic spot is right here in the city! The Bannerghatta National Park is popular with the young and the not-so-young too. Once you get there, you can start off your trip with a safari ride where you can encounter tigers, lions, and bears. Then, you can tour the zoo that includes majestic elephants, a variety of birds, and even a snake park. End your trip, with a stop at the colourful Butterfly Park.
National Parks & Wildlife Sanctuaries
Go Barefoot In The Park
The green spaces in Bangalore might have shrunk over the years but we've managed to go hang on to a few gems. In South Bangalore, there is Lalbagh that's been around since the 18th century. At the heart of the city, there's the lush Cubbon Park that's home to countless trees, an aquarium, and iconic statues. On the weekends, you can participate in a host of events and activities.
Embrace The Culture Vulture In You
You'll never be bored when you are in Bangalore, that's for sure. Theatre lovers can head to Ranga Shankara (and other spaces) for plays in English and in regional languages too. At Alliance de Francais, Atta Galatta and The Humming Tree and a host of others, you can sign up for music gigs. And don't forget to check out the colourful flea markets that happen over the weekends.
Catch A Sunrise At Nandi Hills
Sitting just outside the city are the majestic Nandi Hills – the site of many a picnic, bike ride, and trek. Bangaloreans also love catching sunrises and sunsets at this picturesque locale. Not in the mood to travel that far? Then the city's lakes make for excellent spots to soak in the sun.
Comments