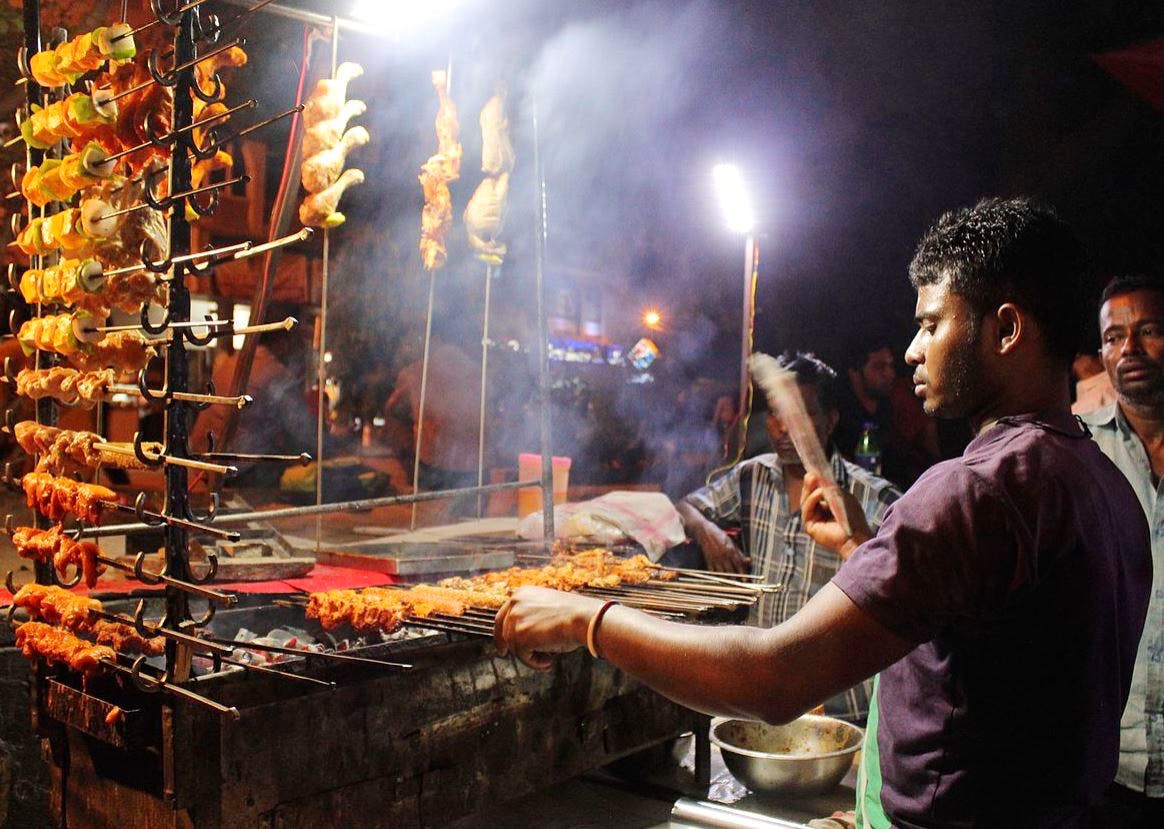 Nihaari, Biryani & More Dishes You Should Try In Nizamuddin Basti
LBB caught up with Madhulika Liddle and Anubhav Sapra from Delhi Food Walks, as they explored the ins and outs, kebabs and curries, and biryanis and bartans of the Nizamuddin Basti.
PS: She knows what she's talking about, so we let her do all the talking. In her words, all the must-do's.
Dahi Butter Chicken at Kit Care Kebab Corner
The first stop on the food walk: a small, rather oddly-named kebab stall, Kit Care Kebab Corner (T-21, Phool Waali Gali). Kit Care's Dahi butter chicken was like nothing I'd ever had before: tandoor-roasted chicken drenched in yogurt, then drizzled with lots of melted butter. The result is a curry-like dish, but with the chicken, with that lovely charry flavour a tandoor imparts to it. That, along with the tartness of the yogurt and the light spices (this wasn't a very spicy dish) and the butter, combined to create an unusual and very good dish, perfect with the silken, stretchy roomali rotis it came with.
Where: Shop T21, Near Musafir Khaana; Contact: 9899429062
Nihaari at Manpasand Nahari Roti Waale
I've always thought of nihaari as a breakfast dish; eating it after dark was an odd experience. This was just a few metres around the corner from the biryani place, a small roadside stall called Manpasand Nahari Roti Waale (on Mirza Ghalib Road). The thing to eat here, of course, is the nihaari: with a thick gravy, dark red oil (a given with nihaari, since the long cooking breaks down all the fat and sinew), and a generous scattering of chopped green chilies sprinkled over the meat. Served alongside were hot, soft and yeast-y khameeri rotis, the perfect accompaniment for nihaari.

Moradabad ki Mashhoor Biryani ki Puraani Dukaan
Our next stop, a couple of minutes' walk back into the basti, on Dargah Road, was a shop called Moradabad ki Mashhoor Biryani ki Puraani Dukaan. There are two types of biryani to choose from: chicken and buff. The Moradabadi biryani is a very simple one, the basmati rice very long-grained and fragrant, the chicken perfectly tender, the only visible spices being cumin seeds and thickly chopped green chillies. To add a little tang to the biryani, there was a large salt shaker of a masala that I couldn't quite identify: something like chaat masala, but possibly a proprietary concoction of this eatery. A little bit sprinkled on the biryani certainly added to the dish's charm. Served alongside this was a fiery-looking red chutney.
Where: Follow the directions in the description above, on Dargah Road.
Seekh Kebabs at Kit Care Kebab Corner
Equally good (actually, to my palate, even better) were the seekh kebabs. Made from 'bada' (strictly speaking, beef, though what you actually get here is 'buff'—buffalo meat), these were melt-in-the-mouth soft, and spiced the way I like them: enough to be flavourful, not enough to mask the flavour of the meat itself.

Where: Shop T21, Near Musafir Khaana; Contact: 9899429062
Kebabs at Ghalib Kebab Corner
After nihaari, it was time for more kebabs. A few steps down the road, at Shop 57 on Mirza Ghalib Road—near Lal Mahal, opposite the Markazi Masjid—is the Ghalib Kabab Corner, the signboard of which proudly proclaims that it's won the 'best kebab' award at a kebab festival organized by the Maurya Sheraton.
Anubhav ordered a selection of three types of kebabs: shaami kebab (which he mentioned as being their specialty); chicken tikka; and mutton tikka. I will admit that my mother's shaami kebabs are the very best I have ever tasted, so I invariably compare all shaami kebabs to those. Having said that, Ghalib Kabab Corner's shaami kebabs were good. In fact, far better than those I've had at most other commercial eateries: crisp on the outside, soft and velvety on the inside, and well-seasoned.
The chicken tikka was nothing out of the ordinary, but the mutton tikka was luscious. Spicy, yes, but not unbearably so; and so perfectly marinated (raw papaya, I wonder?) and cooked, it almost seemed to dissolve in the mouth.
Where: Shop 57, Ghalib Road, Near Lal Mahal; Contact: 9810786479
Chicken Tangdi Kebab, Chicken Korma & Karahi Chicken at Al-Quresh
Next up was the last stop on our 'main course' round (the sweets were yet to come). This is a restaurant called Al Quresh, at 224 Nizamuddin West (it's a few shops down from the somewhat better-known Karim's). Unlike the rest of the places on our itinerary till now, Al Quresh is a proper sit-down restaurant, clean and quite upmarket, what with its hanging lights and smart reception counter (not to mention air-conditioning!).
The tangdi kebabs were succulent and with a deliciously smoky char, so good I didn't even dip the tangdi in the green chutney that came with it (along with some sliced raw onions).
The two curries—the korma and the karahi chicken—were also good, though the korma was a little too oily for me. Unlike the more common karahi chicken, which comes tossed with barely-cooked tomato and capsicum and lots of spice, Al Quresh's version had the vegetables and chicken cooked in a thick gravy that had a lovely flavour of green chillies. Hot, yes, but also with the flavour of the green chilli skins, not seeds. Delicious, though by this time I was feeling so full I could only eat a mouthful of each of the two curries.
Where: 224, Near Markaz Market; Contact: 9268305211
Imartis At Mehboob-E-Ilahi
Finally, it was time for sweets. We followed Anubhav and Asif back along the road we'd come down, and at the corner, stopped at Mehboob-E-Ilahi. The two most visible items on sale here were samosas and imartis: a paper bag full of imartis was bought and passed around. I'm not much of an imarti fan, but these, all virulent orange squiggles, were pretty good. Sugary, of course, but not more than I can bear.
This stall is located near to Karim's and opens at 6AM.
Kheer from Nasir
We followed up with yet another sweet: kheer, set in little earthen bowls, from a stall called Nasir, a few steps down from the imartiwallah. Kheer is a favourite of mine (not surprising, considering I like milk sweets, and don't like my desserts too sugary or ghee-laden). While this was decent kheer (and with a little sliver of chaandi ka varq on it, too), it wasn't the best I've had: it was thick enough to be phirni, really, and could possibly have done with a hint of cardamom in it.
Where: 268 A, Basti Hazrat; Contact: 9891278628
Haleem and Kebabs At Zaika-E-Nizamuddin
Run by 11 women chefs, they do the yummiest homemade, affordable kebabs and haleem using 700-year-old recipes. If you are a vegetarian, then you can indulge in hara bhara kebab, soya kebabs, and veg biryani. The best part is that they keep adding options to their menu. You can read here to know more.
Comments