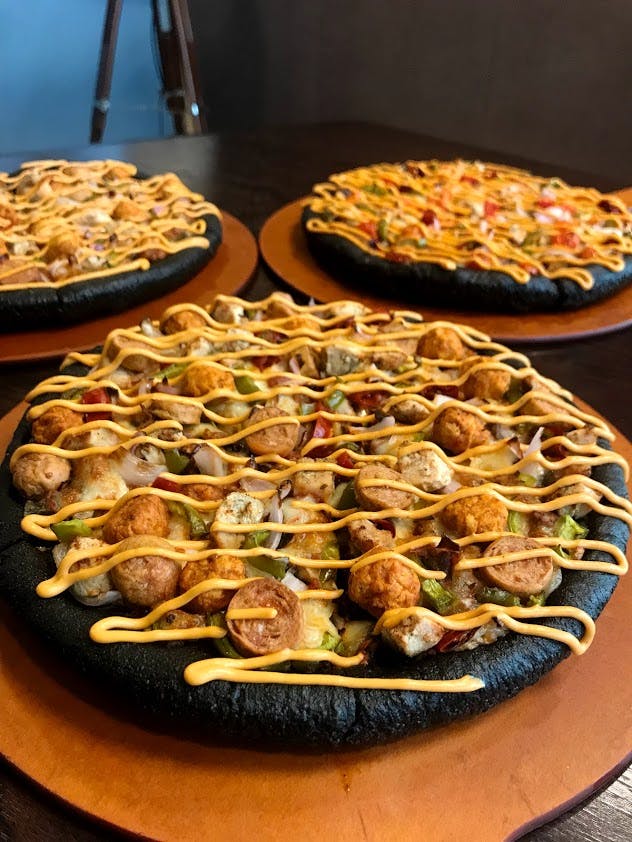 Black Pizza Is A Thing & Here's Where You Can Get It!
It's true! We're finally getting our own desi black pizza and leading the trend in our country is Pizza Hut. This popular pizza franchise has just launched (June 26, to be precise) their latest pizza option that's actually, truly, really black in colour (it's not grey, we promise).
We've had the chance to try their black pizza before everyone else (yay!) and our verdict: it's one wickedly delicious pizza.
Just like all of Pizza Hut's pan pizza options, it has a fluffy base that's loaded with chicken and chicken sausage chunks, veggies, and the company has used a spicy chipotle drizzle that adds an extra zing to the pizza. We personally loved the pizza, and more so, for its visual aesthetic.
We're told that unlike most black-coloured meals, this pizza doesn't use charcoal or food colouring, but it's a natural secret ingredient no one knows about. Secret or not, we really wouldn't mind having it for when those pizza cravings kick in (which is well, pretty much every 10 mins).
Just FYI, all pan pizza variants on the current Pizza Hut menu will be available with a black crust option at no extra cost. For now, the black variant is only available at the Pizza Hut outlets in Gurgaon for a limited period of eight weeks. They plan on introducing this pizza in other cities as well, but for now, lucky you, Gurgaon.
What Could Be Better
Nothing really. However, you should know that the black pizza doesn't taste any different from a regular pizza. But if you're ordering it for the 'gram and the grub itself, you'll be very happy.

Pro Tip
You can order a pair of personal pan pizzas starting at INR 208 (including taxes). So, go on, order two!
More Information
Pizza Hut
Nearest Metro Station: Sector 54 Chowk
Comments