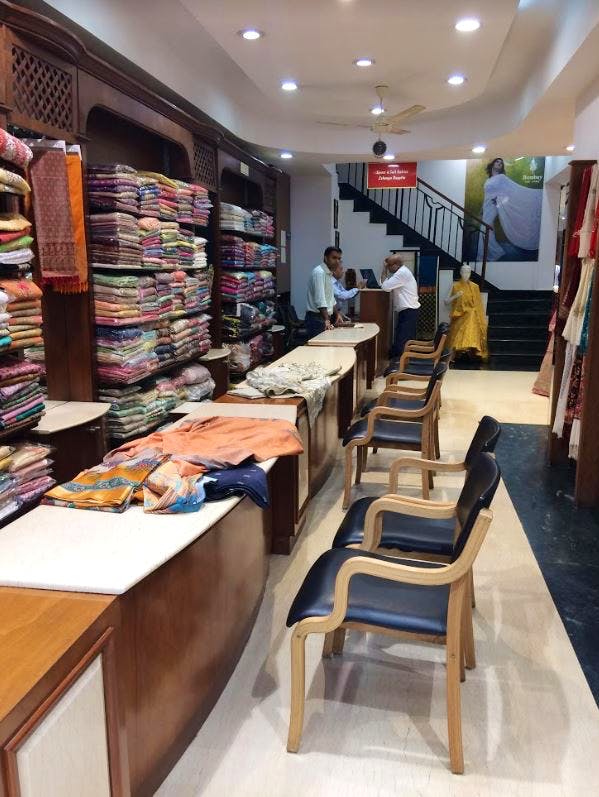 Ladies, Go Wedding Shopping At These Ethnic Wear Stores In Karol Bagh
Just as there are many wedding wear options for men along the famous Ajmal Khan Road in Karol Bagh, there are lots of affordable ethnic wear options for women as well. The Karol Bagh Main Market is huge and if you're planning on going here for some serious ethnic wear shopping, we suggest you head out during the earlier hours of the day and on any day of the week except Monday (as it is closed then).
The market is located very close to the Karol Bagh metro station. So, once you get down from the station, you can find it right across the street from Feast House (an eatery situated below the metro station).
Now, without further delay, here's a list of places that you can hit up in case of that upcoming family wedding or party. Read on...
Bombay Silk Store
The Bombay Silk stores is one of the largest showrooms in the entire market that promises pure, heritage textiles. For example, you can find pure Banarasi silks, Patola weave saris, and cottons here for sure. You can find saris here for INR 2K and above.
Suman's - The only Lucknowi shop
As the name suggests; Suman's is literally the only shop in the Karol Bagh Market that specifically sells Lucknowi, Chikankari fabrics and kurtas. When you first walk in, you'll see the entire shop filled with Chikankari kurtas (lots of simple basic, white Chikankari kurtas) and even elaborate suits in the same. They even have adorable, tiny kurtas for children as well. You can find 7 meters of Chikankari fabrics here for INR 695 and above.
Gopaljee
Gopaljee has a lot of affordable saris and suit fabrics for women. You can find every kind of sari here, from silks, to pretty chiffons and georgettes. Their saris are priced at INR 1K and above.
Khanna Sons
Khanna Sons is another basic sari shop. They've got a lot of suits and other ethnic wear options for women. But we recommend you go here for their saris. They've also got a large variety; from Banarasi silks to cottons and Chikankari. Khanna Sons sells their saris for INR 1K and above.
Nazuk Creations
Nazuk Creations in Karol Bagh has a lot of affordable ethnic wear; everything from heavy lehengas, saris, suits to floor length, ethnic gowns. In fact, we recommend you go here for their ethnic gowns for sure, they're quite nice and are within a reasonable budget too (starting at INR 3K).
New Woman
New Woman is a nice shop to go to if you're looking for affordable suit-sets and cotton kurtas, palazzos or even ethnic dresses in Karol Bagh market. The reason we found their shop interesting was that it had a lot of colourful cotton options which are quite nice for someone who likes colour but still wants to keep things casual and not go overboard. You can get clothes here for INR 500 and above.
Shakti Creations
Shakti Creations sells wonderful kurtas, palazzos and pashmina or woolen shawls. In fact, I was odly surprised to see that they had alot of woolen and furry ponchos lined up in their shop. As I quized them about having woolens in the middle of a sweltering August, they told me that they specialise in woolens. Which means, in a month or so, they'll have a lot of cool furry ponchos and shawls coming in guys!
You can find ethnic wear at Shakti Creations priced at INR 1,500 and above. You can find woolens for INR 600 and above.
Sri Kamakshi Silk House
Sri Kamakshi Silk House was a sheer delight to walk into as their owner told me about their ancestral business in silk saris and how they craft exclusive pieces where once they get sold out, you're never seeing that design again. They've got a lot of options in Kanjivarams, Tussars, Pochampally, and Patola. And, weavers all the way from Surat and Belgum (Karnataka) help them craft their designs. You can find silk saris here starting from INR 2,500 and above.
Zohra Emporium
Zohra Emporium is one of the oldest shops in the Karol Bagh main market. You can find all kinds of affordable ethnic wear here; actually, a lot of affordable saris here. They've got two floors of only saris and it's evident that they don't lack variety! Saris at Zohra Emporium will cost you INR 2,500 and above.
Comments