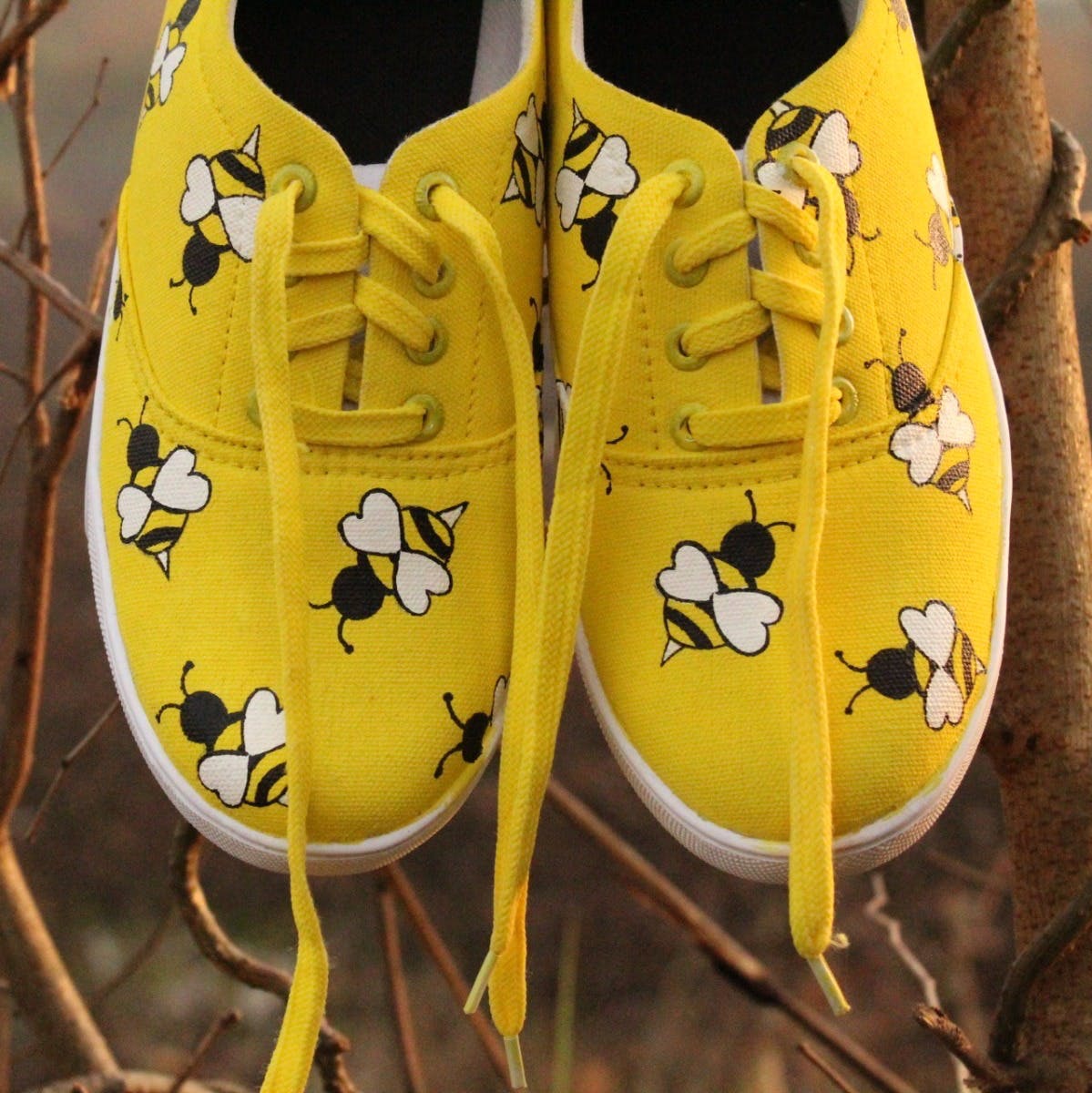 New Sneakers Under ₹1600 Just Dropped!
Sneakerheads, this one's for us! If you pair pretty much everything with comfy kicks and are always on the lookout for new ones, you need to cop these stat. Add some FIRE to your fits:
Jaipur Sneakers For Women
Let's reel you in with something *super* different. These sneakers are going to give your Vans a run for their money! With GORGEOUS indigo motifs and a satin bow, these are a super tasteful addition to your everyday slip-on collection.
SpongeBob Sneakers
20 years later... STILL love SpongeBob? Re-live your childhood (and adult) obsession with SpongeBob SquarePants with these bright, graphic sneakers. They're made with super comfy canvas for some practical, breathable sneaker-wear.
Ankle High Slip-On Sneakers
Sock-like sneakers are flying off shelves at high fashion stores and we thought we'd get you in on the trend as well - minus the exorbitant price tag, of course. Balenciaga, who? Get these slip-on shoes in a dusty pink or classic black or white and find the gateway to ultimate shoe comfort. You can thank us later.
Handpainted Bumblebee Sneakers
Get your outfit buzzing with a pop of yellow with these hand-painted sneakers! These super cute cartoon-y bees are made with a lot of love and attention, and the proof is in the pudding! They're super lightweight and easy to pull off. No painful shoe 'stings' here!
South Park Sneakers
If you've been part of this SUPER provocative cult-favorite show, respect. South Park never failed to give us a good laugh and we'd just like to share the love and get you some sneakers to express your fandom just a lil' bit more! So the next time you can't annoy your friends by playing re-runs, just rep' them sneak-ily.
Glossy Lace Solid Sneakers
Made with faux leather and a SUPER comfy insole, these shoes are for days you want to step up worry-free! Super versatile, comfy & classic - these sneakers are everything you've been looking for. And we love that intriguing lace concept!
Hand-Painted Snoopy Sneakers
Commemorating another classic we've grown up with, these hand-painted Snoopy Sneakers are the perfect cutesy addition to your outfits. The soft canvas shoe and pretty pink hue adds to the charm Snoopy exudes and has for so many hilarious and memorable comic strips!
GoT 'Three-Eyed Raven Canvas Shoes
Game of Thrones fans UNITE. The show might be over but our allegiance to The Starks has not ended (NEVER!). Throw it back to the days where we still had an episode to look forward to and honour The King Of The Seven Kingdoms with these canvas sneakers.
Camo Print Sneakers
Camo is ALWAYS cool and we're taking it beyond your usual tees and pants and giving you, CAMO SNEAKERS. Add these to any outfit to step up the vibe. Cool, casual, camo.
Handpainted Unicorn Doodle Sneakers
This is for the bright and bubbly individual in you that's loved the beauty and grace for unicorns! Add an unorthodox addition to your sneaker closet and snap up these handmade, hand-painted sneakers ASAP!
Comments