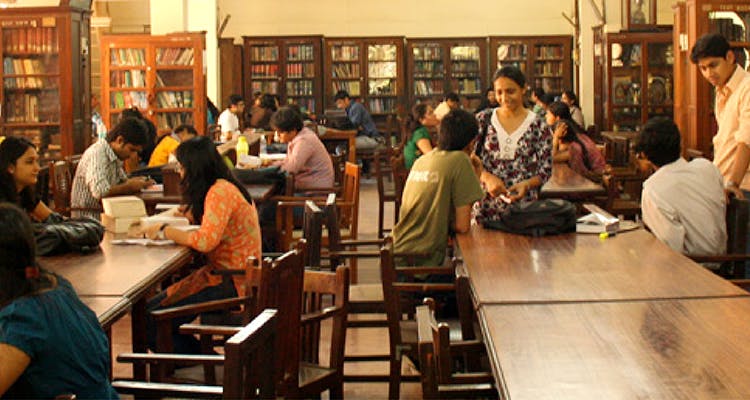 Libraries You Could Head To For When You Want To Study Or Even Browse
There's something romantic about libraries, and very rarely does it have anything to do with what you read. For those who are still trying to fight the digitalisation of society, or just want some quiet time to finish a project, here are libraries in Delhi you can access.
Delhi Public Library
All you have to do is carry proof of residency (voter ID, Ration card), to show you're a Delhi resident. The library is free of charge, and houses up to 16 lakh books, across languages, including English, Hindi, Urdu and Sanskrit. As for genres, expect competitive examination books, books pertaining to law, philosophy, religion, medical science, engineering, literature, and fiction.
If you do want to borrow, you'll have to sign up to be a member at INR 20, after which you'll be issued a borrower card.
Price: Access is free of charge, membership at INR 20.
The American Library
General public has free access to the library, in case you're just looking for some quiet down time. But, a membership will entitle you to borrow up to six books, two back issues of periodicals and two DVD's. A member is also allowed access to library accounts online, to create search lists, renew material and place hold requests for material available. Membership is open to anyone over the age of 16, and you will require proper photo identification. As for borrowing, you can ask for loans online, in person and even request an inter library loan, from libraries in different states. Also-free Wi-Fi within the library!
Price: Individual at INR 400/year, families at INR 500/year

British Council Library India
The British Council Library requires you to enroll as a member, which will entitle you to more than 85,000 online academic books and 14,000 e-journals online. Moreover, membership ensures you're invited to workshops, seminars, and events. They have a plethora of membership plans, that differ in terms of validity, fees, borrowing rules and access.
Price: Starts at INR 2,000
India Habitat Centre - Habitat Library and Resource Centre
The Habitat library is open only to members, and the staff isn't very well equipped to guide you or provide any real, useful information. The library itself offers a range of resources, including newspapers, electronic newspapers, internet, multimedia, videos, music and books. The books aren't exhaustive; Head to this library if you're looking for a quiet place to be able to get some work done.
The Japan Foundation Library
If you're a manga fan, you've just found a fan club. This particular library is country specific, and provides reference services for the collection, and research info related to Japan, and international cultural exchange. You are entitled to borrow, use available multimedia tools, and photocopy. Membership is open to all, provided you're a Delhi/NCR resident. In case you only want to use the library for a day or two, ask for a daily membership card.
Price: INR 300/year
Nehru Memorial Library (Teen Murti Library)
At their nominal membership fee, don't expect some grade-A service or information. Relatively well-stocked, they're open seven days a week and will definitely deliver, if you're looking for an old school library and some down time. Lending is allowed, and a fine is charged if and when you lose the book. Membership will involve you physically visiting and having a card issued. Old school, we told you.
Price: Starting at INR 1,000/year.
Sahitya Kala Akademi Library
One of the most important and well-stocked libraries in the city is the Akademi Library. It has books in Hindi, English and 24 other languages that students, researchers and almost anyone can come and refer to. Apart from issuing books, they also have a photocopying and scanning facility, in case you need hard or soft copies of any information. They mainly focus on cultural and historical books that are related to the cultural and social history of the country. We hope you visit and take advantage of the privilege.
Price: INR 2000/year
The Central Secretariat Library (Shastri Bhavan)
The Central Secretariat Library has a large collection of books and documents. It is only second to the other national literary treasure that is in Calcutta. Most ministries and government departments take information from the library, but you too can become a casual member. It has a great stock of encyclopedias and dictionaries. Interestingly, they also have a set of microfilm US Govt. docs for those who like to keep up with politics.
Price: For special members (eminent scholars, researchers and academicians) - INR 500; For corporate membership (organisatiosn) - INR 1500/year. No one else except these members are allowed to borrow books. However, a photocopying facility is available at the library, so you can get important pages (or even a whole book) photocopied.
Parliamentary Library
Established in 1921, it is a repository of books that are meant for research purposes, research scholars and other legislative members. It's the second largest library in the country and you can access it by completing the form that is present on the website. They also have a digital library that is in collaboration with other international journals and publications.
Archaeological Survey of India
Established in 1902, the collection of books at the library is around 1,00,000, which consists of books, documents and journals. They have information on History, Archaeology, Anthropology, Architecture, Art, Epigraphy & Numismatics, Indology, Literature, Geology, etc. They also have a fantastic collection of rare books and artwork that you can't generally see in galleries. Anyone can use the library for reference purposes.
Price: Free of cost for reference
National Gallery of Modern Art
The library here comprises books on design and art and all forms of the same. Ranging from graphic to paintings, from various ages, the NGMA library caters to all those interested in and/or learning art. The Art Reference and Documentation Centre subscribes to 32 art journals and magazines, take a look when you go visit.
Price: Contact library directly since anyone can access for reference.
Dyal Singh Public Library
Initially established in Lahore, DSPL was moved to our very own city by the Dyal Singh Trust Society. The library has a collection of 40,000 books, in the subject areas of literature, social sciences and the liberal arts. It subscribes to 100 different magazines and 32 different newspapers, so you can get your daily dose of culture and current affairs. The library also has audio and video equipment for those who need them.
Price: INR 500 onwards.
Dr. BC Roy Children's Reading Room and Library
Established by renowned cartoonist Shankar Pillai, the library has a collection of 40,000 books, covering a variety of subjects that could be of interest to kids (especially science, art and culture, mythology etc). The library has an open access system through which any child can gain membership. There are two kinds of membership: Normal and Special, and members are issued ID cards for future use. All kids between the ages of 5 and 18 can use the facility of this library. Ah! We wish we were kids.
Price: Special membership starting at is INR 700 (of which INR 50 is a deposit).
International Cultural Centers
Delhi is the hotbed of culture and has a number of international centers with events and exhibitions. Most of these centers also have libraries that are easily accessible. In fact, they are meant to be accessed by us common folk. We checked out Max Mueller Bhavan and Cervantes for you, and we recommend them as must-visits.
Comments