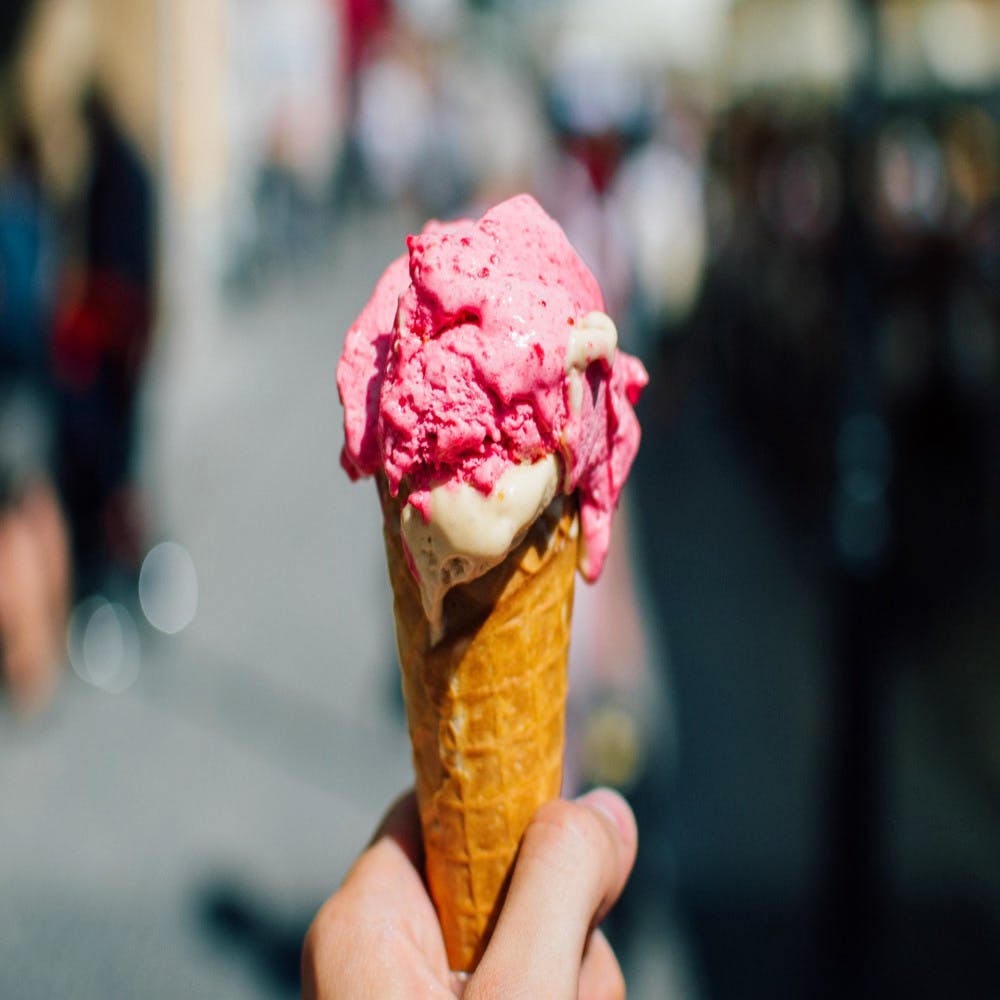 Got A Sweet Tooth? These Dessert Places In Goa Have Our Vote
Who in the history of mankind has been able to ignore the call of chocolate or an ice cream while strolling by the beach? Or hasn't been guilty of Netflix with a big slice of cake perched in the lap? And when in Goa, your dessert options are huge between boozy ice creams and traditional sweets (Bebinca and Seradurra FTW). So, go on indulge that sweet tooth a bit with all the sweet stuff at our favourite dessert parlours around.
Cream Choc
The adage "I scream for Ice-Cream" was never true-er — head to Cream n Choc and indulge your ice cream fantasies. Owned by an Italian, who makes them all in-house, this place is the go-to place for gelatos and sorbets. With an exciting mix of traditional and exotic flavours, you can try everything from peanut butter, Belgian chocolate, mango, pistachio custard apple and rum 'n' raisin.With ample portion size, you can make this a mini-meal. They even have freshly brewed coffees and amazing sorbet options including lemon and strawberry. A small, and intimate place, Cream n Choc, located in Anjuna is open till about 1am, but most of their flavours are done by the end of the day so if you want a platter of crazy delicious choices of gelato, don't wait for the night.
You can also check out: Omio in Porvorim and their Serradura ice cream is epic!
Golden Chantilly
A Goa-based home bakery, named after the Northern French town, Chantilly, this bakery patisserie specialises in frozen French desserts. The four flagship desserts — Cajo Verrine, Noisette, Caramel Entremet and Signature Dome, are a brainchild of Erica Fernandes, former PR professional. Signature Dome' has been created with much love and hazelnut. The 'Cajo' Verrine is a classic combination of caramel and chocolate that blends flavours of salted caramel with cashew, topped on a creamy chocolate cremeux. The 'Noisette' is constructed with a hazelnut praline cremeux, placed on a petit gateau that embodies the crème anglaise. And lastly, the 'Caramel Entremet' sits on a whipped chocolate ganache and a caramelised hazelnut sable. But remember you need to order three days prior, as each one is carefully prepared, by each layer, to lend its own unique flavours.
You can also check out: Flour Power (their upside down pineapple and strawberry cakes and brownies are ace!) and Artjuna for a variety of French pastries, homemade gelatos and pancakes.
Jila Bakery
A local favourite for all things sweet, Jila Bakery is known for the creamiest eclairs and decadent desserts and biscuits. Rumour has it that this place was a favourite of Indira Gandhi's and if that alone doesn't make you want to check what the fuss is about, head here to try their delicious eclairs. They are also known for their Geneva biscuits and apple strudel. With reasonably priced confectionery items, just make sure you have space in your luggage for takeaway! It's an old family business, in Camorlim, Salcette, and the owners are extremely sweet and friendly, but our recommendation would be to book your order beforehand, because their desserts sell out pretty quick.
You can also check out: Confeitaria 31 De Janeiro for Goan desserts like Bibinca or fresh plum and walnut cakes.
Hice Cream
Delicious boozy ice-creams that are the brainchild of Gopika and Ajay, Hice Cream has got a whole bunch of ice creams to choose from — alcohol-infused flavours, vegan ones, regular ones and some even made from local Goan liqueur. With flavours that are named after movies and songs, their fridge is always filled with some fresh, delicious flavours. Their chocolate and coffee infused flavours are amongst the bestsellers, while some of the other flavours that piqued our fancy were Sin City (Lavender Martini) and The Dude Abides (White Russian). Fluffy, fulfilling and deliciously boozy, their other remarkable flavour is the Pixie Dust, a beautiful blue ice cream that's made from vanilla pods and natural blue plant extracts. The best part about them — they are made from completely natural ingredients and the duo consciously stays away from artificial colours and flavours. They are located in Assagao for both pick ups and deliveries nearby, but usually need a 24 hours notice to whip up your favourite flavours.
Pastry Cottage
One of the oldest bakeries in Panaji, Pasty Cottage, has recently opened a bistro at its new location in Caranzalem, close to Miramar beach. With a cosy seating area, you can relish fresh fruit pastries, cakes and coffee though their chicken croquette is also definitely worth the mention. A perfect place to spend your wintery evening catching up with your old buddies or reading a book. If you're in a rush, you can also pick up warm and buttery cake slabs in all possible flavours like plum, banana, walnut, almond and many more.
You can also check out: Bakers Street for their epic custard donuts and The Chocolate Room for brownies, waffles and all things chocolatey.
Artisan Backerei
This bakery that recreates vintage recipes from Hungary, Germany & Italy, Artisan Backerei, is located in Calangute. It's a result of Vijay Nagpal, the owner's, decades of experience as a pastry chef and his romance with the oven. Their Zuccotto Fiorentino (INR 160), a dark chocolate dome filled with hazelnut, cherries and cointreau cream is one of those forgotten desserts from the 16th century (that is now served only in Italy) and is now in Goa. Try their popular Hummingbird cake (INR 180), a recipe brought all the way from Jamaica, or the Esterhazy Torte (INR 130), a recipe originally made for the King of Hungary. From a Feijoada Pie, to the Three Bean Pie, to the classic Quiche Lorraine, there is a story behind every delicacy here, and they put it out through tiny cards in front of every item. If you are a vegan, try their No Bake Chocolate Mousse Cheesecake (INR 150) made with tofu and vegan cheese.
Ask Aishwarya a question