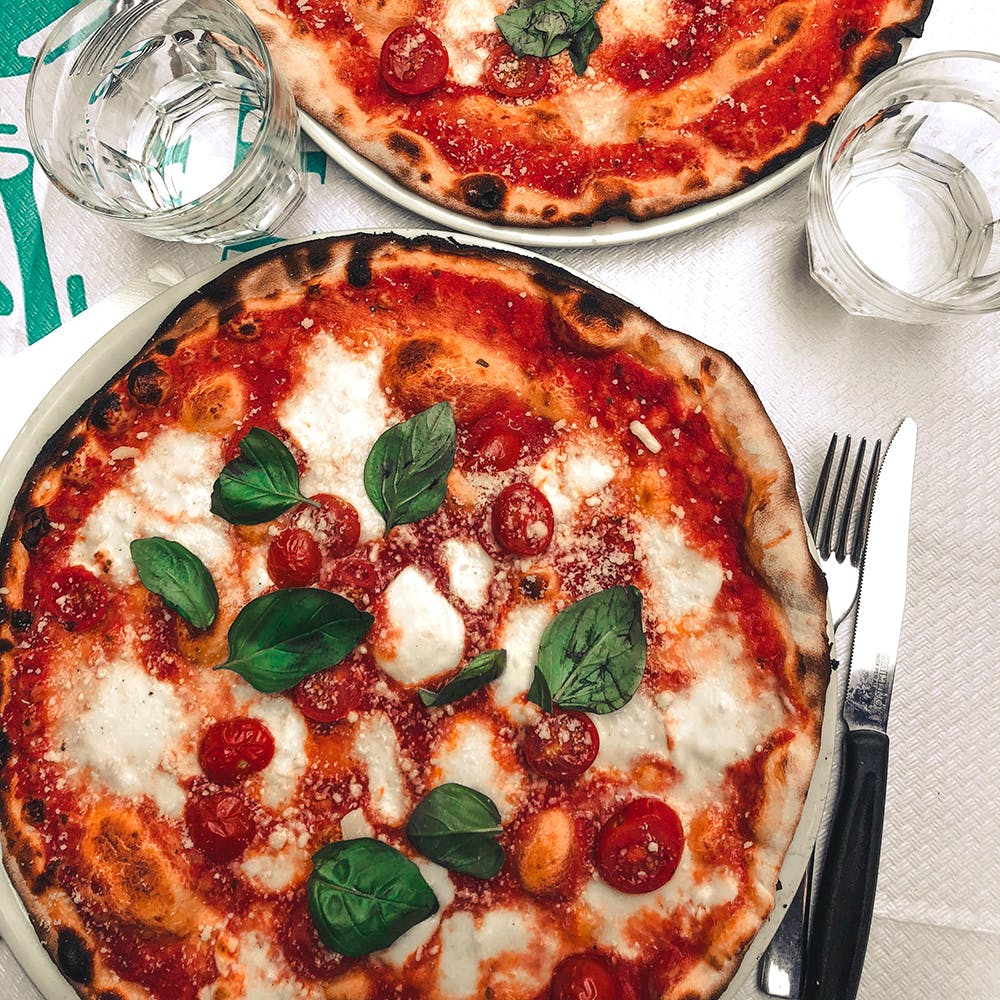 Slice Of Paradise: These 10 Restaurants In Goa Possibly Do The Best Pizzas
Who can resist the temptation of a good pizza? And while Goa is known for its seafood and coastal cuisine, we know that a pizza craving can strike anytime. For when it does, we've put together a list of some of the most delish pizza spots you'll find across the city!
Cafe Dona
Cafe Dona is a tiny pizzeria in Aldona doing burgers, pizzas, fries and all things nice. Set in an idyllic village, this one is a low-key hangout spot where the neighbours drop by for a leisurely bite. If you love a scenic drive and unpretentious comfort food, this might be right up your alley. Everything about this place, right from its location to the warm, comforting pizzas and craft beer, spells susegad. The owner duo — Priyak and Mudit — believe in creative food that speaks right to the heart. This is why, everything from their ice cream to the sundried tomatoes and burger buns, are made in-house. Our favourites from the menu include the Pepperoni or bacon bomb pizza for the carnivores and the margherita or roasted peppers and garlic pizza for the vegetarians.
Orto Garden Cafe
What's not to love about a garden cafe that serves up some scrumptious wood-fired pizzas? Orto Garden Cafe combines the best of both worlds, where you can gorge on some delish Italian food, healthy salad options and all-day breakfast, all the while relaxing under the shade of numerous coconut trees — better still pick a hammock and laze till your pizza is delivered right out of the wood fired oven. They have both vegetarian and non-vegetarian pizzas, at very reasonable prices. Finish off that pizza experience with some yummy craft beers and spend a chill afternoon lazing in their garden.
Tio Tilly's & Uncle Tilly's
A cute pizza joint, this one's easy to spot with its sunny yellow facade. It's got a lovely pool and the option of indoor or outdoor dining. Their forte is their pizzas so you can also get one with pineapples (Hawaiian pizza FTW) or a half and half if you're with friends and want to try different toppings. We love their cheesy Olive balls… the perfect accompaniment with Eight Finger Eddie beer or Urak. Their new outlet in Panjim is tiny and doesn't serve liquor but if you're looking at a quick pizza bite and some great shakes to refuel, hop over to Uncle Tilly's.
La Cucina
Late night pizza cravings? Worry not, La Cucina at Ashwem will satisfy them to the T. One of the few spots in the Ashwem-Morjim stretch that is open till 2am and serves up some mouth watering delicious pizzas, La Cucina is one of our absolute favourites. While the space inside is beautiful with spacious seating, tasteful furniture and interiors that doesn't scream excess, the place has got a very relaxed vibe about it and the very polite service. Thin crust pizzas are their specialty and our recommendations would include the cafreal pizza and the tuna pizza; both of them are cooked to perfection. The Patrao, an all meat Pizza, with Parma Ham, Pepperoni and Salami Milano are another great choices.
Saraya Art Cafe
Known for their delicious vegan pizzas that are served between 7–10pm, Saraya is home to some of the most delicious healthy food you'll find in the city. The pizzas are baked in a wood-fired cob oven, with veggies that are grown locally in their small organic farm, while the pizza bread itself is made from whole wheat, and a gluten-free pizza can be made on request. The Spicy Hawaiian pizza with pineapple, jalepeño peppers, onion, mozzarella and feta cheese on the home-made tabasco sauce made from birds-eye chillies grown in their own farm is a favourite among patrons, while Saraya Special is one of their best selling pizzas which comes with herb roasted mushrooms, spinach, black olives, feta cheese, caramelised onions, cherry tomatoes and rucola. Drooling already? We thought so!
Melt Pizza Bar
A pizza bar that is located in the picturesque backyard of an old Portugese house, Melt is amongst our favourite new pizza spots. Though the service here can be inconsistent, the ambience and the experimental pizzas more than make up for it. Seated amidst a garden, under dreamy fairy lights, pick from one of the delicious veggie or non veg pizzas. Among veggie pizzas their Za'atar 360 is a scrumptious choice, seasoned with Egyptian spices, while their mushroom and eggplant melazane pizzas are definitely worth the shot too. Among non veg pizzas, the glazed bacon and meatball marinara were our favourites. Top it off with one of their chilled beers or their signature gin based cocktails and you're all set for a breezy relaxing evening.
Goodfellas Italian Restaurant
A quaint Italian restaurant located on the Benaulim beach road, GoodFellas serves some of the most delicious pizzas in South Goa. Authentic Italian woodfired pizzas that come with a super thin crust are their specialty. Simple, fresh and clean Italian flavours dominate their style and we highly recommend their Calzone Fungi e Salsiccia and the beef tenderloin that is grilled with salt and pepper and served with a red chilli jam. Remember they are priced slightly on the higher side, and are often quite busy so it's advisable that you call ahead and book a table.
Davide's Pizzeria
Located on the quiet stretch in Candolim, head to Davide's for an authentic Italian pizza experience. At Davide's you'll be seated in their beautiful garden, under the soft glimmer of the fairy lights and gorging on some of the most delicious thin crust pizzas you can find in the area. Most of his ingredients are imported from Italy, while the showstealer — the bread is made in-house with Davide's secret recipe. The Proscuito e rucola and artichoke pizza are amongst our favourites, and while you're here do try their meatballs and tiramisu cake; it's the stuff of legends!
The Place
The Place, Morjim is a cosy Italian restaurant that is known for its stellar pizzas, coffee and handcrafted cocktails. Their woodfired pizzas are delicious and come with an interesting assortment of ingredients and some homemade chilli infused olive oil that is to die for. We've even heard great things about their sushi.
Picolla Roma
With two outlets, one in Vagator and another in Calangute, Piccola Roma is another great one for pizzas. Their thin crust pizzas come piping hot from a woodfired oven — the pizza amore and pizza ortolana with grilled veggies are amongst are our go-to options. And while you're here, do try their caprese salad and their roasted potatoes. Oh and if you fancy some dessert we can totally vouch for their gelatos.
#LBBTip
If you're looking for a quieter, more hidden gem kind of pizza hangout, our suggestion would be to check out Boun Appetito. It's an underrated cafe in Vagator that's open round the year and has some delish woodfired pizzas and salads made by Jeet, the owner and hands-on pizza guy. You can carry your own booze and get yourself some pepperoni pizza without burning a hole in your pocket.
Comments