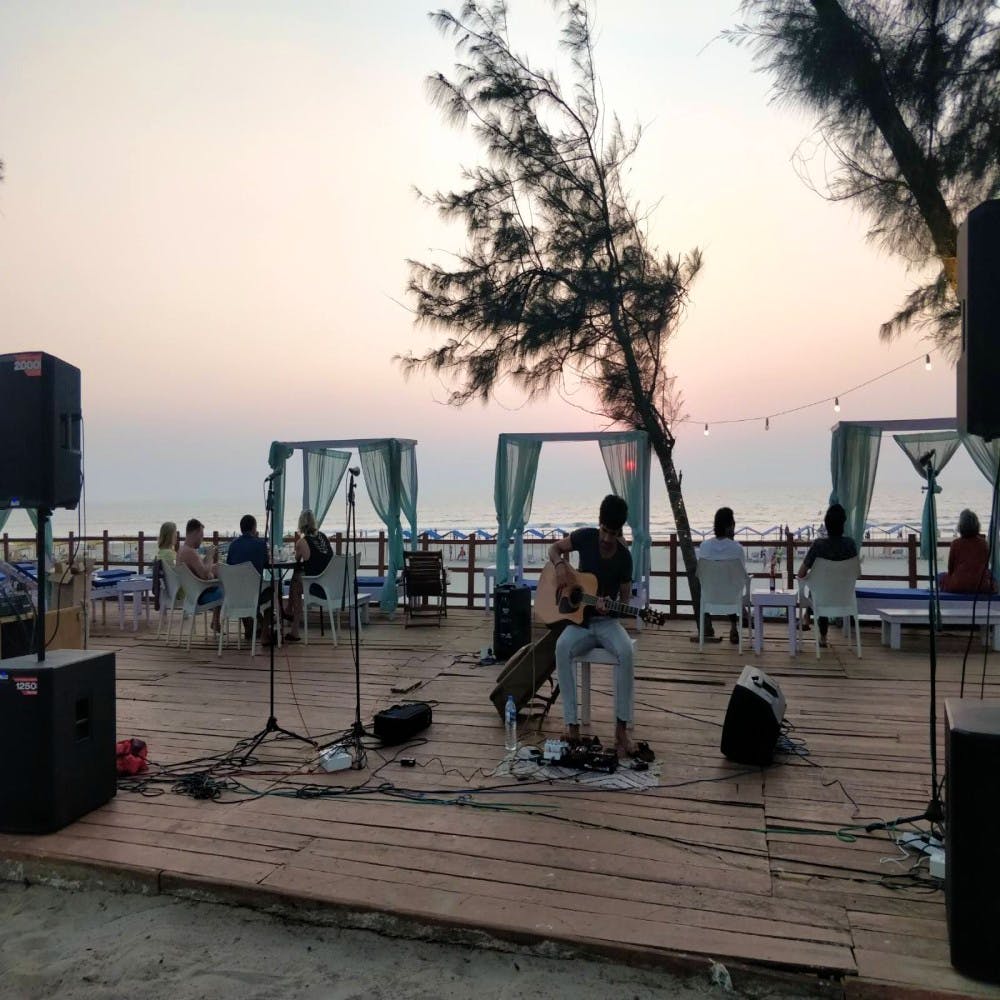 The Best Places To Catch Live Music In Goa
The one thing that Goa has always had is talented musicians and bands. We're also glad that live music is such a big part of the local culture. Bring these two together and it's a party you never want to leave. So, we went around and found bars and restaurants that have great live music on most days (if not every day).
Cantare in Saligao
Located in an old Goan house with a lovely balcony skirting the upper floor and live music on most days, this place maybe away from the tourist hot spots but is still well loved. The name actually means to 'to sing' in Italian and they sure live up to it. A popular Jazz band plays on Mondays and Fridays and they have rock and retro music playing on Thursdays. This place is also open throughout the year.
Cohiba in Sinquerim
Cohiba has some of Goa's most popular live bands performing with live music every day of the week. These gigs also go on till late in to the night. With its open air location, lively crowds and variety of drinks, it is a great place to sit back and watch the crowds whilst listening to some great music or join in the crowded dance floor. Their ladies nights every Wednesday and Retro Saturdays are hugely popular.
Ciaran's in Palolem
Ciaran's continues to be one of the liveliest spots to hangout on Palolem beach. Open from October till May end, they host live music nights every day (what a win). So, if you like your strawberry daiquiris and seafood with the side order of reggae or country, this is the bar to head to. Their gigs though, are mellow and groovy (think more jazz and blues) so if you're into electronic, you might want to skip.
Cirrus on the Anjuna Highway
Now if you're really on the search for something meaningful, hip and underground, Cirrus has to be on your radar. This mysterious place whose exact whereabouts are shared with you only when you're a part of the inner circle, has some of the most rare talent behind the DJ console and the most spectacular sound system. Run by DJ Iggy, Cirrus champions sustainability, collaborates with fellow musicians and hosts music lovers who often stick for the night and end up sleeping in hammocks. While here, you'll also be in the middle of wilderness... Look out for their Vinyl Ambulance (and stay clear if doggies scare you). Their events are made public to only a group of people who respect the rules of the place. As Iggy would say, "good luck finding Cirrus'.
Hopping Frog in Anjuna
This hostel was on the lookout for that one thing that'd set them apart from other hostel spaces in Anjuna and Vagator. The live gigs also initially started as a way of keeping the hostel guests entertained through the evenings. A few evenings of handpicking artists and bringing them to play piqued the interest of folks chilling around Anjuna and the gigs started to attract lots of out-of-hostel guests too. They keep switching between genres and have jam sessions every Tuesday, Thursday and Saturday. At the end of the performance, you-pay-as-you-like and all proceeds go to the musicians.
Guru Bar in Anjuna
Located on the beach in Anjuna, this has emerged as a popular location for live music over the years. They have live gigs every other day and a good way to keep track is to either follow them on FB or get added to their events group on Whatsapp. The variety of genres is also pretty expansive with retro, Bollywood, Sufi, reggae, rock n' roll, blues and more. If you're someone who likes partying till late into the night, head on over.
Cavala in Baga
Everybody knows Cavala is one of the oldest places in Goa to hear great bands, and they have kept the tradition going. They have various well-known Goan bands performing mostly every night as well as occasionally bands visiting from Bangalore, Mumbai etc. A huge bar, lots of open-air seating and a dance floor that is perpetually packed, all make this a must visit place. On weekends is when it really comes to life with couples jiving and retro tunes filling the air.
The Rice Mill in Morjim
This is the only place on the list that's made it to the selection despite hosting but one gig a week. Why, you ask? Well, because of the love that goes into getting the best jazz musicians (both locals and long stay foreign tourists) to perform every Saturday. They even hosted a DJ night on last Friday and we're hoping it's here to stay. Ask anyone who's been here will vouch for The Rice Mill's Saturday Night Jazz that brings the music-loving community together over drinks. See you next Saturday at 9pm, then?
Terra & Mare in Mandrem
This beach view kitchen and bar offers stunning views of the sunset. So, if you're a sucker for beachy vibes, acoustic tunes and GnTs, this bar right on Mandrem beach has to be on your checklist. Jazz, blues, folk and other genres that go with the laidback vibe here can be expected here every evening.
Rumi Goa
A modest little garden that's a performance-arts-space-meets-thali-spot, Rumi is relatively new on the live music scene but the gigs here have been memorable, to say the least. They host Rumi Live twice a month and have had artists play everything from jazz to retro to folk and country. In addition, they also do pop-up kitchens twice a month accompanied with live music. So, every weekend, you can try out an experimental cuisine (progressive Goan or Naga food, anyone) and enjoy some music while you're at it. Its location (in Taleigao) and artist line-up gets every music lover to their yard and it helps that the vibe is super chill. These events usually happen as Sunday brunches or as Saturday dinners.
P.S. You can keep track of their events by following them on social media.
Comments