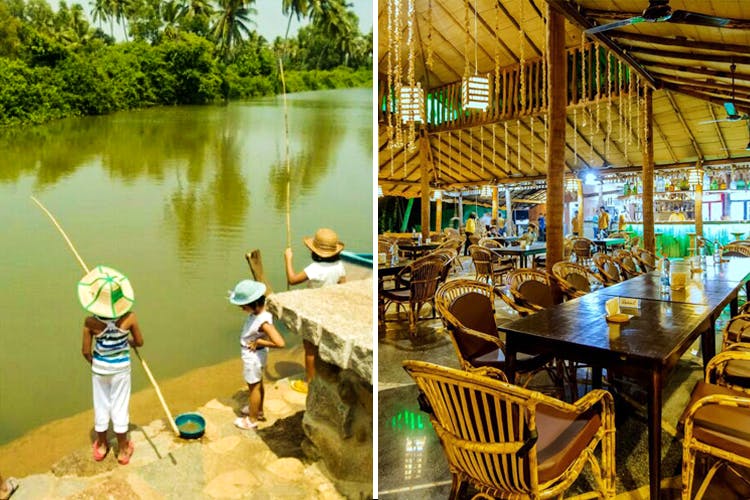 In The Mood For Seafood? This Restaurant In Goa Will Cook The Fish You Catch
Shortcut
Hidden away in Benaulim is the Farm House Bar & Bistro, a lovely open-air restaurant by a beautiful water body. It has been around for some 2 years now, and is a great place to go to especially if you are in a large group. And the best part, you can even try and catch your own fish for them to cook it for you.
What We Like?
The place is beautifully designed out of wood, and sits on a really beautiful spot with the glistening water to add on to the charm. And yes they have boats that you can take out on to the lake, or even try your hand at catching your own fish to eat. Fortunately, you are not solely dependent on your fishing abilities to avail a meal here. And on Weekends they even have live music, including their Sunday brunch. Fridays is Karaoke time, so get in to the groove and belt out some tunes. Since this place is huge, even though it gets quite crowded on weekends you will still always find a table.
#redsnapper #food #farmhouse #goa #vacation
A post shared by Carvãlhö (@atsoncarvalho) on Aug 27, 2016 at 11:31am PDT
https://www.instagram.com/p/BOpjX00DaWI/?hl=en&taken-at=1019909239
The prices are pretty value for money for the food & drinks. The food may not be Michelin starred but still plenty good, especially their Fish preparations. And be prepared for a little it of off roading, as the road leading to the Farm House actually becomes a Dirt Track towards the last few metres. The service is the only weak point here, but then again one is in Goa and not expecting anything in a hurry. They are open for lunch and dinner, though the kitchen closes sharp at 3.00pm and they are usually shut on Mondays.
#LBBTip
Since this is quite a large restaurant, it is easier to just get up and catch hold of the waiters instead of waiting for them to see you.
Comments