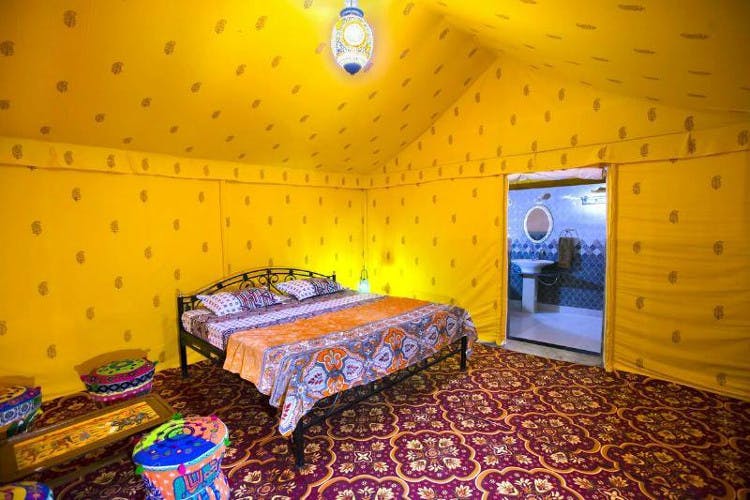 Salvador Dali On Walls To Pool Views, Here Are The Best Backpackers Hostels In India
Whoever said backpacker's hostels are low on the killer environment, definitely hasn't explored the best hostels across India. Are you a backpacker who enjoys putting up at hostels or are you someone who is interested in exploring what the deal about a backpacker's hostel is? Whatever is your reason, you've got to check into these hostels in India that score high on affordability, community engagement, and space that looks like a bomb.
Hammock Hostels, Mysore
If you're booking Hammock, you are quite literally walking into the green as it's surrounded by coconut trees and well-manicured gardens. All the rooms come with a seating area and a patio, while a few rooms on the property have a garden view. The stay is super close to Mysore Palace and other tourist attractions but why would we want to step out when it has Salvador Dali on its walls? With bright-coloured trunks under the bunk beds and more paintings on the walls, this hostel lends an ethereal experience to every backpacker.
Zostel, Panchgani
Made out of shipping containers, the Zostel hostel in Panchgani is one of the best Zostel properties. The rooms are cosy, and the private rooms have a mountain view that is totally worth waking up to. Like all the other Zostel hostels, this one too comes with a well-stocked games room, books, cafe etc. Let the night fall and the campfire begins for you to make new friends and have conversations.
BeeHive Hostel, Hyderabad
BeeHive is Hyderabad's first backpacker hostel and we love it as it imbibes a DIY culture that is trust-based. The dorms are spacious and ventilated. Most of their interiors have a story — they've used industrial packaging wood and turned it into sofas, tires are hand painted to make seatings. The dining table was an unwanted piece of glass before they picked it up. There's a pop of bright colours against subtle shades that make the place very dynamic. If you are ever in Hyderabad and looking for a hostel, flock to BeeHive.

Crashpad, Ghanerao
In the Pali district of Rajasthan is Ghanerao, a village that is close to Ranakpur and Kumbhalgarh. Owing to this proximity, a lot of tourists stay in Ghanerao. Plus, it has an old-school charm that you cannot help falling in love with. Crashpad hostel at Ghanerao offers more than just dormitories with bunk beds as they have the prettiest tent rooms with patterned lights, floral carpets, and sweet seating area. It has unlimited WiFi for those of you who love to stay connected all the time.
Jugaad Hostels, Kyari
Are you the kind that travels to the offbeat destinations? Then Kyari should be on your list (If it isn't yet). Jugaad in Kyari is tucked amidst sugarcane and wheat fields and these rustic homestays are known to whip delicious eats from organic produce. The hosts take you for bird watching, swimming, and mud cycling. Watch the sunrise (or set) over the Himalayas and explore the Baur River all you want. Either way, this is a stay that offers a fullsome experience.
Wanderers Hostel, Goa
Wanderers Hostel in Morjim is the only hostel with a pool in Goa, and that's why it wins its way to the top. This hostel has dorm rooms as well as tents, but the best part is it offers rooftop movies. The dorm rooms look quite basic while the tents have a pool view. Here, you can interact with other backpackers, chill on the hammocks, cook together, and explore the beauty of Goa. Psst. don't forget to check out the epic wall art on the hostel.
Comments