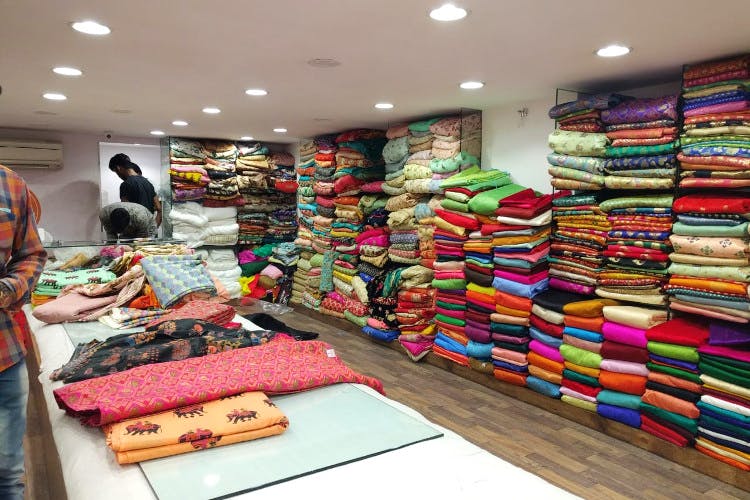 Look, Look, Fabric Everywhere! Here's Where To Find Fabric On Budget In Hyderabad
The streets of Hyderabad are full of several fabric stores that you can Sabyachi your way into getting a dress designed just the way you like. Whether you want to get an outfit stitched for a wedding or a summer dress, here's a list of best fabric stores in the city. Mix, match, and slay!
Sri Narsingh Cloth Emporium
Narsingh has multiple branches all across the city but we heart its first branch in Ameerpet. This store has fabrics like pure cotton, raw silk, pure georgette, brocade, pure crepe, Benarasi silk, and a lot more. We found dainty printed materials fabrics – ikat and Kalamkari have their own dedicated sections. While ikat is priced INR 130 upwards per metre, Kalamkari's starting price is INR 110. The Benarasi Silk section also has fabrics that are priced INR 350 upwards and we think these are perfect for your social events.

Mahila Art Centre
Mahila Art Centre is tucked inside a gap between shops, and it is an emporium of fabrics of all kinds. One entire section of the shop is filled with fancy border cloths and it looks nothing less than a gallery. They are neatly curated by colour and the type of work on it. Find vibrant hues with heavy embroidery, mirror work, pearls or patchwork; as well as shades of gold with intricate design. One look at these and your dream Manish Malhotra or Sabyasachi lehengas will not seem unattainable.

Thunga Swamy
Thunga Swamy Silks
is an 80-year-old fabric and readymade emporium that sources fabrics, sarees, and dress materials from Pochampally as well as Kancheepuram and other Indian towns. We were told that the owner handpicks the ikat and Pochampally sarees at Pochampally himself. Right from peacock greens and sunflower yellows to subtle beige and furious reds, they have stocked up on plenty. The price range starts at INR 150 per metre.
Cheap Jack
Cheap Jack is a three-storied store in General Bazaar that has racks and racks of ikat fabrics in both earthy and vibrant colours, Pochampally cotton dress material and sarees, Bandhani and Banarasi dupattas, embroidered and netted fabrics, as well as plain solid colours. You will also find a collection of soft coloured cloth done up with intricate gold designs that you can stitch for a reception or party. If ethnic wear isn't really your style, don't worry as they have floral prints that we think will make super pretty sundresses too.
KR Kasat
Your Bollywood attire dream is finally going to come true. For floral dupattas, accessories, and fabric pieces that you can mix and match to bring out the inner Manish Malhotra in you, K R Kasat is where you should head to. It has two floors — the ground floor has accessories and dupattas. The first floor is a non-fussy affair with aisles and aisles of fabrics. From Benaras silk to brocades to fancy cotton fabrics, discover the most trending designs here. In fact, we were told that the store doesn't make space for outdated designs.

Amaravathi Saree House
Tucked away in the oldest lanes of Ameerpet, Amaravathi Saree House is a hidden gem with some of the best fabrics out there. We found a huge variety of ikat and Kalamkari which are rarely found in other stores along with beautiful Shibori print sarees and dress materials. Got a thing for Benaras dupattas? This store has lovely ones that come in offbeat colours like turquoise, tangerine, and mehendi.

Fair Price Extension
Fair Price offers fabrics and readymades at reasonable prices, and shopping here won't leave you broke. Walk past those readymades and step into their fabric zone where you'll find two-toned fabrics (INR 300 per metre), ikat (INR 150 and upwards), Benaras Silk (INR 500-5,000), kalamkari (from INR 80) along with fancy brocades that are grand enough for wedding couture.

Laad Bazaar
Strolling through Laad Bazaar, we found plenty of fabrics that we couldn't stop hoarding. The wholesale stores lined along the market have stocked up on fancy fabrics, ikat, kalamkari, brocades, Benaras silk, chiffon, and so much more. We showered some love on Kalamkari cloth pieces and at INR 80 per metre upwards, we got ourselves some. While the price range of Benaras silk is around INR 350-850 (depending on your choice), they are quite good for weddings and festive collections.

Comments