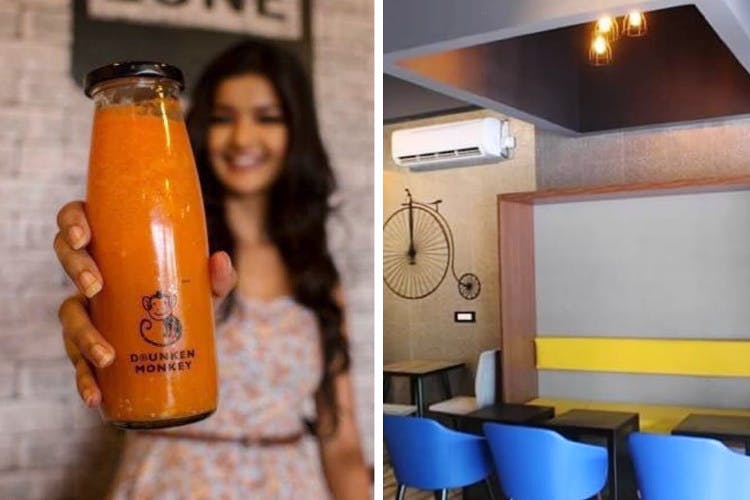 Play Jenga & Down Fresh Fruit Or Meal Smoothies At This Beverage Shop
Shortcut
Drunken Monkey, as the name suggests, isn't a cocktail bar but a bespoke smoothie and juice shop that whips delicious but also the most bizarre drinks.
What Makes It Awesome
Drunken Monkey is full of surprises and it makes healthy food fun. When we walked into the Madhapur outlet, we were welcomed by a corner full of board games (Jenga and Uno, anyone?) and a blackboard with quotes written. The ambience has a mix of amusing elements that include sketches of monkeys, wooden crates, guitar, and vinyl records. The seating is rather simple and goes with the woody wall art.
We usually ask for the Nut Case which is a smoothie made from cashew, almonds, figs, and ice-cream or Dragon Fruit Smoothie which has two variants. The magic variant has all the jazz as it comes with the goodness of nuts and strawberry. Drunken Monkey makes an amazing array of veggie drinks too and like Popeye (and us), if spinach is dear to you, Sexy Spinach is your thang. We love the tang of lemon and the right amount of sweet the green grapes add to this. Whenever we're craving some coffee and don't want to go for a cappuccino, Coffee Nutella Magic or Arabian Coffee (ask for cashews in it) are our go-to choices. Served cold, these are the perfect caffeine fix for balmy noons! All the drinks come in glass bottles that the staff cleans and packs for you to take home after you've slurped your smoothie/juice. Sounds good, no?
What Could Be Better
Rather than just sandwiches and wraps, we'd love to see more food options on the menu. Some rice bowls or steaks, maybe?
Pro-Tip
Drunken Monkey has more branches in the city and it also offers detox, meal, and hydration drinks that are equally yummy. So, if you cannot have a large meal on a certain day, dash to one of their outlets and pick a filling drink.