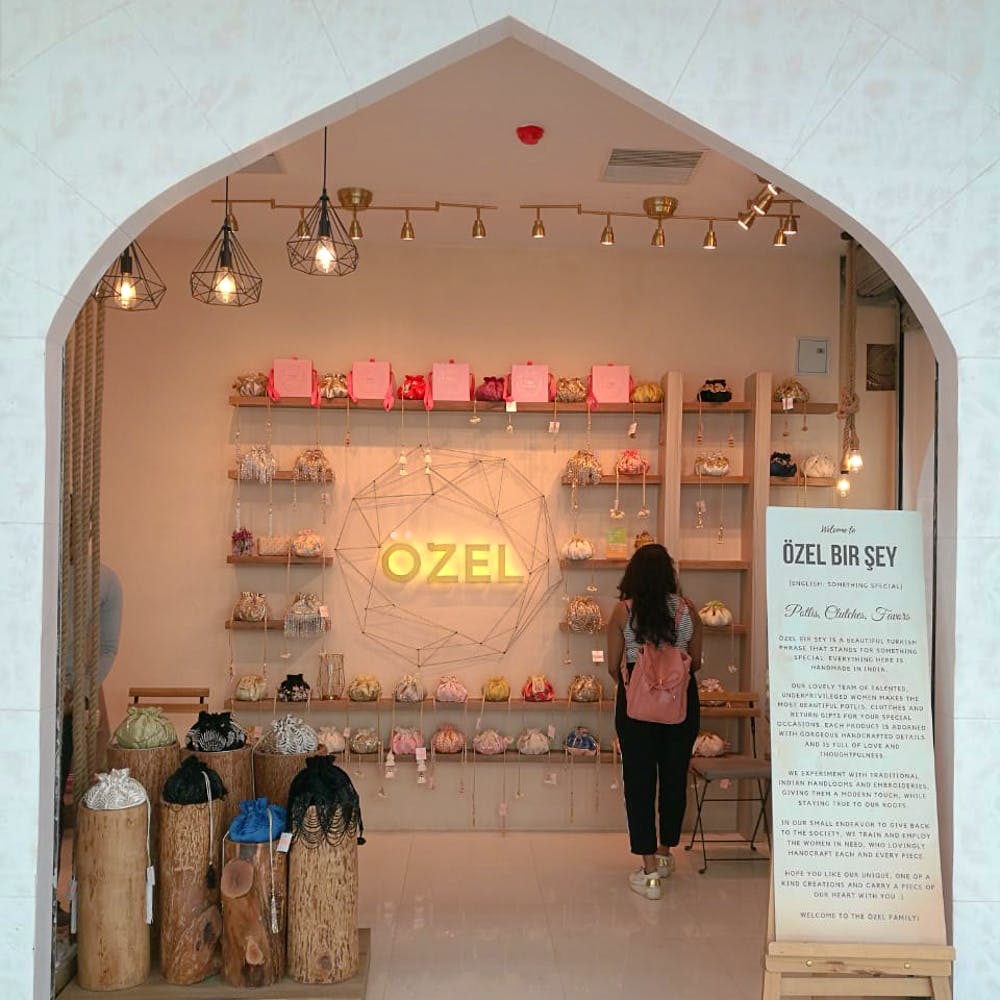 Games & Decor: Stores Worth Checking Out
Honestly, no mall in Hyderabad is making space for indie stores like Sarath City Capital Mall. While we're loving the handicrafts and home decor stores, you've got to check out The Bazaar. This section is designed to resemble a street market and it has tiny shops that retail fabric, bags, games, and snacks. So, let's get shopping, shall we?
Miniso
This might sound like a cliché, but this outlet of Miniso has just gotten bigger and better. At this Japanese lifestyle brand's outlet, we found ourselves in fluffy neck-pillows heaven, and the regulars like Pink Panther notebooks, massagers, quirky bundling belts, and flipflops were a common sight. Storage options and crockery find a major place in the store along with bath and body products. We're loving the peach and sake incense diffuser. The prices are all budget and most of them are on an offer too.

All Things Sundar
All Things Sundar is a cool merch brand that makes hippie-looking bags, wallets, sling bags with very Indian designs like mandala art, rural women, paisley prints, tribal art, and more. They have quite a few cutting chai glasses that can also double up as shot glasses. The artisans who work on these designs are only given a creative brief and all the freedom to create the art they want. The artwork from the canvas is then printed on bags. These bags are made of faux leather, satin, cotton, jute, and handloom fabrics.

The M Store
People will say The M Store looks a lot like Super 99, but we think it's much better. Get kitschy garden decor and tools, kitchenware, and decor accents. And oh, you can stock up on snacks too. The fact that The M Store has everything — funky bags and backpacks, scarves, DIY tools, decor accents, and so much more — under one roof is what makes it awesome. We were a little lost in the store and didn't really know where to begin. While the ceramic mugs and kulhads beckoned us, we were also drawn towards checkered and polka dot backpacks. Of course, the faux leather backpacks can easily hang out with the big guys of fashion labels.

Ozel Bir Sey
When we discovered Ozel Bir Sey at a flea market in Hyderabad, we were quite overjoyed to find such an offbeat collection of bags. Right from weddings to brunches, the clutches can be styled just as you like. Located in The Bazaar, we found a myriad varieties of potlis such as petal-shaped ones (the top part of the potli is like that), box clutches, square-shaped clutches, and simple envelope sling bags. We're totally eyeing the square-shaped clutches as they come in ikat and they can be worn with ethnic wear and western wear like dresses and denim too.

Ximi Vogue
Ximi Vogue has set up its second store in Sarath City Capital Mall, and we went bonkers. Full of all things quirky and cute, the first thing you'll notice as you enter the store is an aisle full of chunky jewellery, something that I didn't expect I'd find. The earrings collection is great for workwear too. They've got Korean beauty products too.

The Cowboy Shoppe
Very little can go wrong in the Wild West, and if you're grabbing accessories from The Cowboy Shoppe, you are in for a great game of fashion. We couldn't stop ourselves from gawking at the satchels and laptop bags. The tan coloured backpacks and camera bags are all designed and handcrafted in-house, and if you're looking for more, those sling bags and circle bags will have you sold.

Yellow Verandah
Yellow Verandah curates offbeat handicrafts, vibrant kitchenware, and wall decor that'll make your home stand out. Yellow Verandah works with Indian artisans right from Kashmir to Kerala, which explains the diversity in all its products. We spotted Cheriyal face masks, floral tumblers, storage tins and boxes, masks (wall decor), and vases, it also has incense cones, essential oils, and handmade soaps.
Decorza
They say gift shops are a blessing in disguise, and we agree too. Because we love gifting ourselves awesome. Decorza is one such store that's full of surprises. We've passed by it many times but only when we stepped in that we realised there's more to it. Who's saying yay to drinking games? We sure are and with games like Drinking Roulette, Tic Tac Toe with shot glasses, Truth Or Dare, all our house parties are going to come alive.

Saincher Jewellers
Known for an exquisite range of Polki and pearl jewellery, Hyderabad-based Saincher Jewellers has made its way to Sarath City Capital Mall. Two things worth checking it out for — silver neckpieces and bridal jewellery. Sunita Saincher is totally up for customisation, and if you'd love kundans instead of pearls or vice versa, hit them up.

Comments