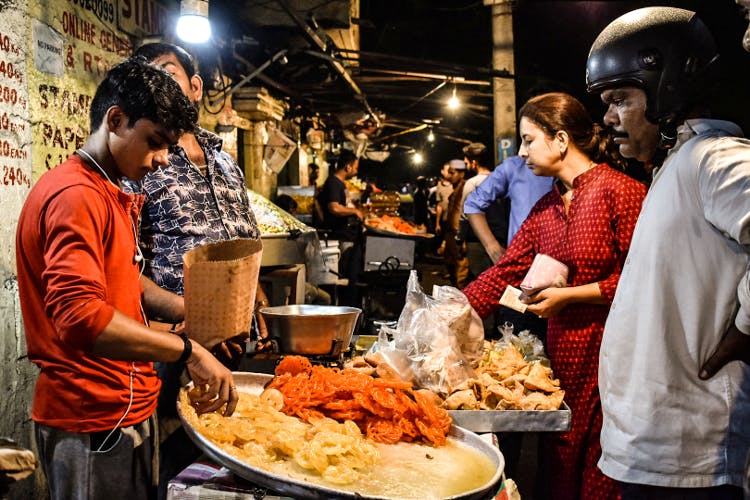 Want To Hang Out Beyond Cinderella Hours? Bookmark These Places
If you think about it, there aren't many things you can do beyond midnight, in Hyderabad. But the ones that are there are surely worth strutting out for. Here is our list of places that you can visit in the night.
Midnight Drive To Charminar
Charminar is arguably at its prettiest during the nights, and if you haven't driven to Charminar beyond the Cinderella hours, you're missing out. Like on a lot. The streets are almost desolate but you'll find street vendors making kebabs, fish fry, falooda, and food lovers usually enjoy hogging at this hour as they can score the best views of Charminar. Plus, if you saunter around till 4am, your first cup of Irani chai at Nimrah Cafe is an amazing start to the day.

Order In Pizza From NY Slice
Delivering pizzas by slice or full, we were quite over the moon when we tasted pizzas from New York Slice Pizza. No grease or excess of cheese, these slices are just like how they are made in New York. Fancy eating them by folding 'em like Joey? Then try out Rockefeller which is sure to spice up things than they already are, or go for Brooklyn Heights which comes with chunks of Chilly Chicken. If bacon is what you demand, you shall have it with United States Of Bacon. These guys are quite inconsistent with timings so please check when you order.

Go Karting Near Airport
Rajiv Gandhi International Airport is apparently the first and the only airport in the country that can boast of a go-karting track. Calling all the thrill seekers are two racing tracks of 600 metres (for recreation) and 900 metres (for professional championships), this is open till midnight and on some days, beyond midnight too. This fun and adrenaline-pumping activity will not only help you unwind, but it is also a great way to improve your reflexes and connect with your family. Perfect for a weekend outing, go here if you like to experiment with speed and enjoy some twists and turns along the way.

Tuck Into Midnight Biryani At Chichas
Gotta love the weekend specials at Chicha's because there's haleem, marag, and paya to be had. Popular for its Khatti Dal, Gurda Fry, and quirky Hyderabadi ambience, Chicha's will offer you more than just biryani. Arrive with a hefty appetite, order the specials along with a Masala Coke and eat away. Discover more midnight biryani spots here.

Trek Up To Moula Ali Hills
A trek to Moula Ali Hill is a fairly easy and rewarding one. With 500 well laid out steps, beginners who want to do some serious trekking in the future often practice here, but we trek for different reasons. This dome-shaped hill gives you a brilliant panoramic view of Hyderabad, especially after the sunset (when the city is lit up). While you might not able to wander around and walk into the dargah, we recommend checking with a security guard there.

Devour Ice Cream At Cream Stone
It's natural to crave ice cream in the middle of the night and Cream Stone is what we reach out for because they have several outlets across the city. And most of these run until 1am and beyond. The Gachibowli outlet, in fact, is open till 1.30am over the weekends. So, load up on scoops of Willy Wonka.

Take A Long Drive Along Necklace Road
Now that the monsoon has fully hit Hyderabad, there is no way we're cutting back on long drives. If you cannot get as far as ORR or Financial District, you should check out Necklace Road. The Buddha Statue is lit up and you can grab an ice cream from one of the street vendors and take a walk. While the entire stretch is mostly isolated, you'll find several individuals like you who enjoy the silence and walks.
Dine In Style At Link
Get to Link At The Sheraton for Double Decker Sandwich and coffee. This cafe is open all round the clock and if you enjoy a luxurious meal with your 3am friend, this is your thing. Their menu boasts of amazing dishes like Kothu Paratha, Pomodoro, Cocktail Dal Vada. You are in for a treat!
Eat Up Street Food At DLF
A popular hangout for tech folks and residents of Hitech City and its tech belt, the street opposite of DLF, Gachibowli is a treasure trove with abundant food stalls. Go here anytime after 9 pm, and you'll find it super crowded. Hustlers are always bustling in this food street with more than enough on one's plate. Stretching from DLF's Gate 1 to Gate 2, get dragged into stalls with dishes like shawarma, french fries, rice bowls, and more. Interested in doing a food crawl? Then you're sorted because we have just what you need. Find more deets here.

Comments