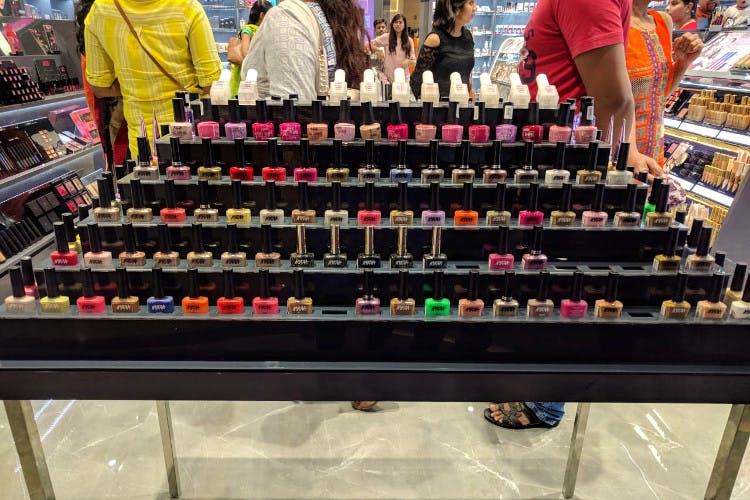 Here's What You Can Expect At The Nykaa Luxe Outlet In Next Galleria Mall
Shortcut
Nykaa Luxe in Next Galleria Mall has brought to Hyderabad its bestsellers, luxe products along with its in-house products. Let's see what else we found at the store.
What Makes It Awesome
Ladies, let's accept it – we're all guilty of browsing Nykaa for hours. And when Hyderabad got its first Nykaa Luxe store, we've only been waiting for it to stock up entirely to go splurge. The store has all the bestsellers like The Face Shop, Ciate London, Clinique, Natio along with its own product ranges like nail paints, eyeliners (We swear by these), lip colours. We've been looking for It's Skin's mask sheets (Which are barely stocked up online) and found several variants that include Carrot, Avocado, Bamboo.
Got a thing for luxury fragrances? You won't be disappointed as you'll be surrounded by Gucci, Burberry, Estee Lauder, and Givenchy. We spotted a wide range of nail lacquers and the ones by Nykaa are a total win (Plus, budget) for us. At the centre of the store is a makeup/makeover platform where you can try out the makeup and take an expert opinion too.
However, we would love to see more of Innisfree and The Face Shop, especially the mask sheets. Nykaa, are you listening?
What Could Be Better
Nykaa REALLY needs to bring in more stock. And unless you want to buy something and have limited time, there is no good reason to visit this outlet. The service is pretty flimsy as well.
Pro-Tip
If you've got the patience to wait 2-3 days for your products to be delivered, we recommend using Nykaa online, which is 110 per cent better than the outlet.
Comments