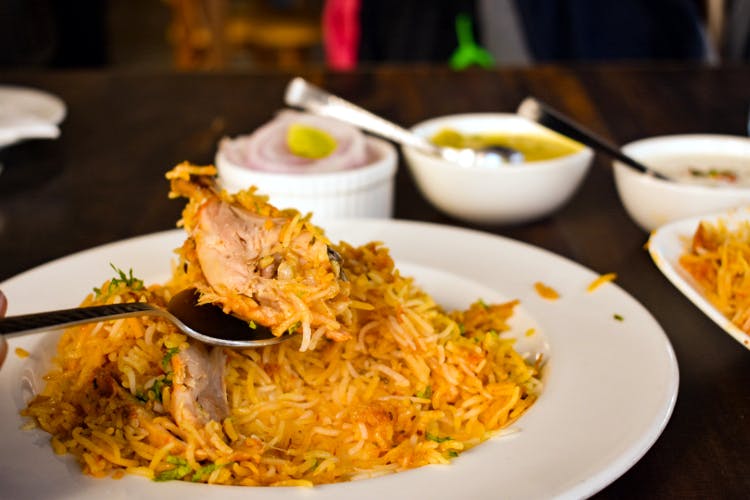 Andhra Meals To Midnight Biryani: Here's Where To Eat In Ameerpet
Come evenings, Ameerpet comes alive with tiny food stalls, tiffin centres tossing ghee-doused idlis and dosa. Haven't explored the food scene here? Fret not. For here is a list of restaurants in Ameerpet that'll help you plan a proper food crawl. Let's get eating, shall we?
Mekong
Do you live in and around Ameerpet or Begumpet? Don't go all the way to Jubilee Hills or Kondapur for a fine brunch as Mekong hosts an amazing one, right in your neck of the woods. Known for its amazing Pan Asian delicacies, this restaurant will give you a good run for your money. From Peking Duck to all your sashimis, makis, and uramakis, go here for an elaborate Asian dinner with bae.
Naivedyam Restaurant
We've got a thing for simple homecooked meals and we've scored plenty at Naivedyam Restaurant. This is an all-vegetarian restaurant that uses very little oil or masala in cooking food. But don't let that fool you because the restaurant whips delicious food. Go for the thali which comes with roti, rice, fresh cut vegetables, dal, and a curry. Just what we need to keep those calories in check.
Kakatiya Mess
A proper Andhra (and an unlimited) vegetarian meal will cost you a mere INR 90 at Kakatiya Deluxe Mess in Ameerpet. And you can add on some tasty seafood and meaty fries to make your meal spectacular. This is an iconic mess where you'll get the taste of authentic Andhra dishes. Go for the plate meals and eat your way to glory!

Tulips - Hotel GreenPark
It's always a good time for biryani, but late night is the best. Tulips at Hotel GreenPark serves midnight biryani and if you're one of those who has terrible hunger pangs beyond midnight, this is where you should go. They serve biryani till 2.30 am, so go wild!
Kashmiri Lassi
As the clock strikes 6pm, a large gathering of foodies throngs to Kashmiri Lassi for their share of lassi. Although a popular hang-out spot in Ameerpet, it is quite a hidden gem in the city. Unable to contain our excitement after hearing the raving reviews, we hit the stall one evening, which is more of a table with matkas full of lassi and khoya neatly arranged. Forget a parking lot, you'll barely find space to stand and relish your lassi, so be sure to share your (private) space with a bunch of merry strangers. Don't let that turn you away. Gather your squad (just like we did) and go here to gratify all your street food (and sweet tooth) cravings.

Comments