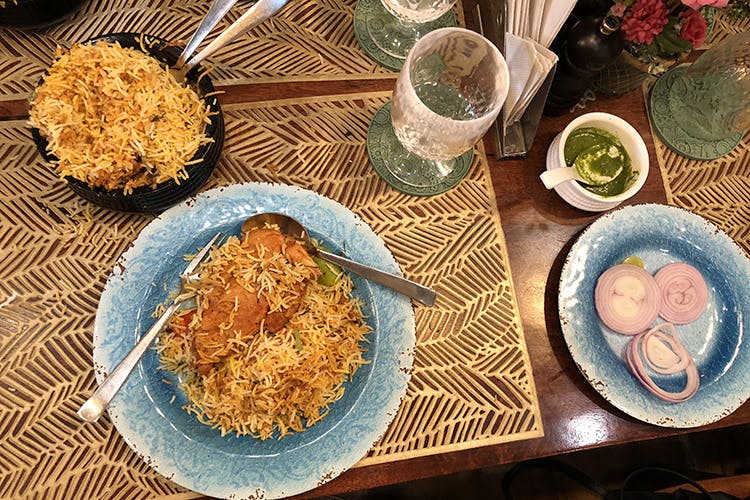 This Eatery Is Banjara Hill's Best Biryani Address & Their Pathar Ka Gosht Is Killer Too
Shortcut
In a city full of biryani joints — iconic, hole in the walls and chains, can a biryani joint like Biryaniwallah & Co hold its own? The lunch time crowd we saw proves it. Plus, the pathar ka gosht and biryani is really bae here.
What Makes It Awesome
From outside Biryaniwallah & Co looks like a regular shawarma joint with hanging seekhs ready to grill meat for the day, but you enter and there is an elegant restaurant situation going on with gorgeous paper lights, elegant vintage-esque chairs and blue crockery we want to steal. The logo of the restaurant did remind us of another popular chain in the city, but the menu quickly made us forget that comparison because the other place does Parsi and Irani food. The menu here is out and out Hyderabad with biryanis, kebabs, and even a Chinese section.
Give the Chinese section a miss and head straight for the kebabs — the pathar ka gosht here is so sublime and delicate and just charred right at the edges that we couldn't stop singing praises to it. From the vegetarian section, the paneer malai tikka was jumbo in portions and the paneer came marinated in a fiery spice mix and grilled to a melt. Coming to the biryani, we picked the chicken over mutton and fish, and it didn't disappoint. The biryani came layered thick with masala and caramelised onions and garam masala, and the chicken was not cut into measley chunks but was like a quarter of it cooked in spices and nearly pan fried. We found the chicken a bit stringy but that might be because of the part of chicken chosen for the biryani. The vegetable biryani was surprisingly good and came with a tang (a dash of lime was perhaps responsible and reminded us of Shadab's biryani). It wasn't oily or greasy either which was a winner for us.
Biryaniwallah & Co has a bunch of desserts too like khubani ka meetha and gajar ka halwa, but after that biryani (seriously portions are gigantic and can be easily shared between three), we couldn't handle anymore. If you are really keen on some sweet though, Gourmet Baklava is a just a two-minute walk. Do try the Kunafa there.
Comments