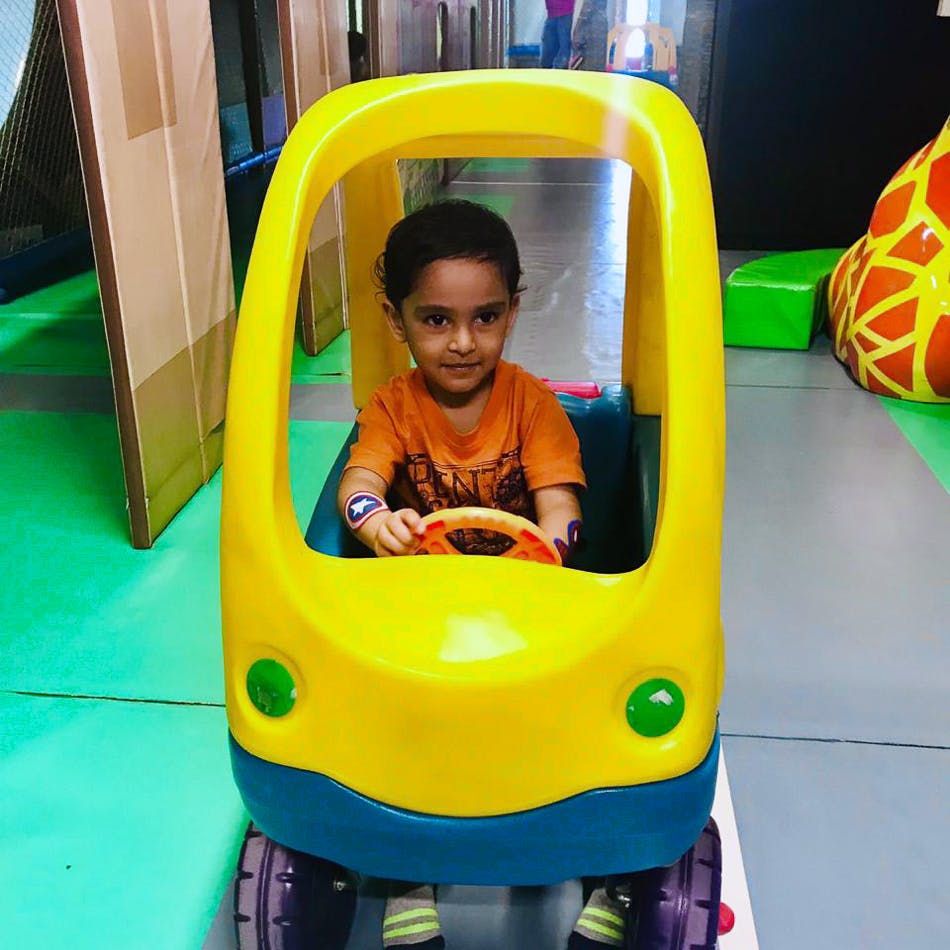 Keep The Kids Busy At These Indoor Play Areas
If you are a parent, chances are, more than the heat you dread the thought of having extremely bored children at home. Fret not, don your sunglasses and head over to these cool indoor play areas with your bubs in tow.
Wonder Beans
Wonder Beans is a fun, safe and creative play environment for young minds. Think play house, spinning cups ride, toddler zone, trampoline, motion-sensing floor games, touch-screen interactive activity console, board games and books for tots and teens. Strategically located, Wonder Beans is a stone's throw away from Bhagirathi Neotia Women and Child Care Hospital, which might be a huge boon specially if you are looking to indulge or distract your child post check-ups. While your kids are busy letting their imagination and feet run wild, you can put your feet up and tuck into yummy pasta, hummus or waffles at the Wonder Beans Cafe.
USP: An exclusive party room with an attached terrace area for hosting birthday parties has plenty of free space for the kids to run amuck.
Kids Stop
Kids Stop opened its doors in October 2017 becoming the newest kid on the block. An adventure play paradise tucked away in a narrow lane that leads to Ashoka Hall Girl's School. Spread across 2,000sqft, it is a jungle-themed children's play area-cum-cafe with some unique activities on offer for children between 2 to 10 years. Think slides, ball pool, trampoline, merry-go round, swing, tunnels, Lego wall, sand pit, kitchen set and tree house. The in-house cafe offers a delectable vegetarian fare.
USP: A dedicated role play area with a range of costumes for pretend play. From chef to doctor to sailor to cop, your child can be who she wants to be here!
Stone Paper Scissors
Stone Paper Scissors housed opposite City Centre Salt Lake is spread across 3,200sqft. A one-stop solution for fulfilling every desire of your little ones (and not so little ones too!) as they cater to different interests for children of ages between 1 to 16 years. For the tiny tots there is toddler soft play gymnasium, baby bungee, soft slides, ball pool, trampolines, and crawl tunnel. For the adventurous kind, there is a rock climbing wall, rope walk and spider-web climb. What's more, after all that workout, your kids can put their feet up (literally!) and indulge in a spa at the in-house salon, which by the way only uses organic products. The salon parties here are a huge hit among teenagers. On the cafe menu are some lip-smacking delicacies, sample this Nutella Sandwich, Spicy Paneer Wrap, Lavash Sticks, Berryland Shake or Intense Belgium Hot Chocolate!
USP: An 18-foot indoor rock climbing wall, Eastern India's first aerial rope walk and Children's Salon.
Whooppee
Whooppee boasts of being the city's largest indoor amusement park spread across a whopping 8400sqft! This kid's attraction adjacent to Quest Mall is divided into four entertainment zones comprising a soft play area, circuit racing, projector ball throw where kids throw soft balls at a sensor-enabled screen, a water bed, a ball bin, magnetic fishing, carousel, jungle gym, rock climbing, Lego wall, trampoline, Buddha bridge, shooting, video games and more. Phew! The cafeteria is managed by the Chai Break franchise serving up lip-smacking food and beverage for parents and their tots alike.
USP: Discotheque for kiddos with colourful wall art, laser lights and a gel floor that creates fun imprints when stepped on!
Atom
Atom, the oldest amongst the lot is the pioneer in the indoor amusement parks segment in Kolkata. With happiness, fun and entertainment at its nucleus, the place triggers a rush of adrenaline as well as brings out the most creative side in the little super stars. It is divided into five unique fun-filled zones namely Naughty Castle, Adventure Hall, Creative Corner, Toddler Zone and Party Place. You name it and they have got it — a ball pool, balloon pool, wide trampolines, bridges, rollers, rock climbing, slides, role play sets, building blocks, see-saws and the works.
The in-house café serves quick bites and beverages perfect for a play date and to curb hunger pangs after all the hopping, skipping and jumping.
USP: A creative corner that has only one rule 'follow your heart'. Children can paint, draw and scribble on the walls and floor all quoted with a fine layer of acrylic sheet which enables the room to bud the imagination of little Picassos.
Comments