Kolkata's First Travel Cafe Will Put The Wanderlust In You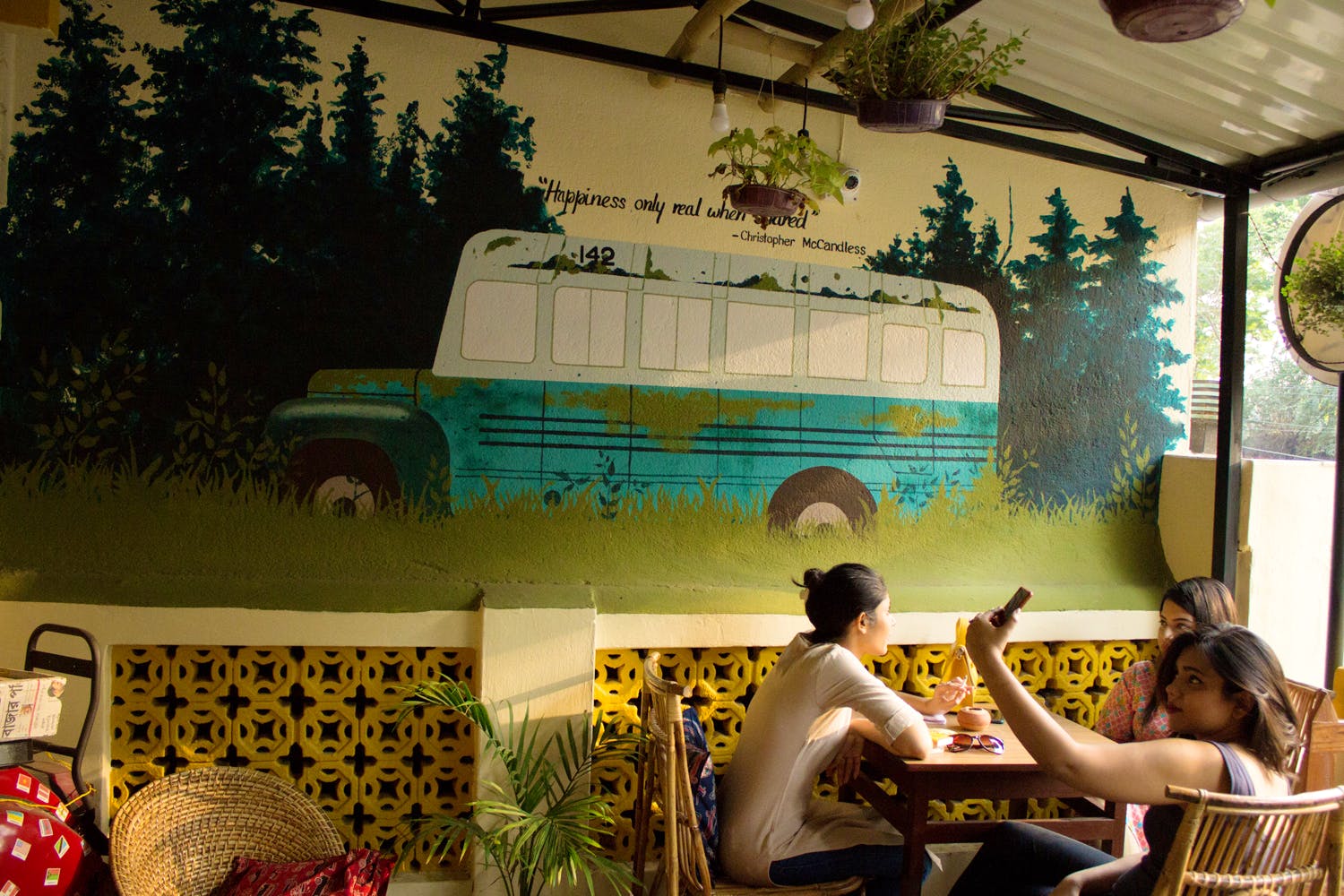 Shortcut
Barely a week old and already creating a buzz, Travelistan is Kolkata's first ever travel cafe.
Pictures Speak A Thousand Words
Every nook and corner of this coffee shop will incite some serious wanderlust, starting with the wall outside with a quote by famous American hiker Christopher McCandless (above a poignant picture of the rusted van he was found in): "Happiness is only real when shared".
Step inside, look up and you will see a colorful world map on the ceiling and running around the rim are figures from Tintin comics ostensibly to get to point X — which is Travelistan. Owners Paromita and Arijit feel there's no traveller as big as Tintin. Look out for the sprawling intricately detailed ink sketches of Kolkata by renowned artist Rathin Mitra. And the framed photos of landscapes, mountains, birds and wildlife sent by by friends and travellers.
In a couple of corners, they have strung up headlights from a Jeep, one of the most favored vehicles for driving through rough terrains.
The cafe is the brainchild of Paramita Gain former journalist with Kolkata newspaper, Sanvad Pratidin, and her husband Arijit Dutta, an executive producer with a film production company.
Every bit of the cafe has been put together painstakingly by the couple. They picked up the Jeep headlights from Mallik Bazaar and got local artists to paint the ceiling and walls.
Stories From Traveller
One of the highlights of our visit was discovering a treasure trove books on travel (in Bengali and English). We spotted Jack Kerouac's On The Road, Che Guevara's Motorcycle Diaries, Dui Chakaye Duniya by Bimal Mukherjee, Vagabonding by Rolf Potts, Syed Mujtaba Ali's seminal book on his travels to Afghanistan, compiled travel writings of Nabaneeta Dev Sen, Shirshendu Mukhopadhyay and others, and several Feluda books with Satyajit Ray's trademark cover art.
You can look forward to talks and discussions with travel writers and photographers about their experiences on the road — such as poet and writer Kamal Chakraborty (who has regenerated a forest in an arid landscape. Read more about him here), and Parimal Bhattacharya who has lived and worked in Darjeeling and written several books on the town, including No Path in Darjeeling is Straight published last year.
Food For The Traveling Soul
The food is a high point here with everything from sandwiches, grilled and roasted mains, pasta, salads and shakes. We are happy to report that the prices are extremely pocket-friendly (sandwiches from INR 100 and mains from INR 175). Do try their special slushy drinks (called "zuzus") — perfect for the summer. It was a warm afternoon the day we visited, so we had a Fruit Sangria (INR 120) and a Coriander Zuzu (INR 85). The former was a heat-defying cocktail loaded with fruits and the latter was a tangy, refreshing slushy ice drink that packed a punch.
You can just settle down with a cup of coffee, tea and a book. The tea they serve is authentic, coming from some of the best tea estates in Bengal like Makaibari, Gopaldhara, Sungma and more.
Anything Else?
We love that the 'chief guest' at the inauguration of the cafe was Satyen Das, a cycle rickshaw driver from nearby Naktala who has been to Ladakh twice in his rickshaw! Read more about him here.
The cafe opens from 11am and shuts at 10.30pm, and the last order is at 10pm.
Comments