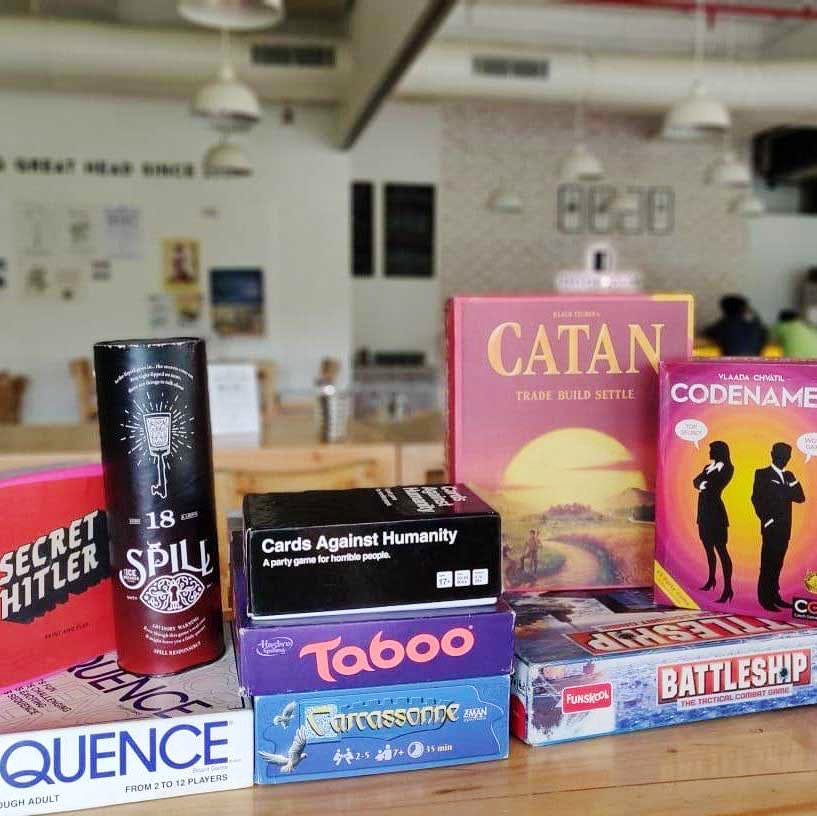 Taboo, Scrabble, Jenga And More: Board Game-Lovers, Bookmark These Cafes Now
If you're always up for a game of Ludo, or are ready to call checkmate in a game of Chess, these are the best cafés in Mumbai to go to. We hope you're calling in your friends already.
Snack And The Beanstock
Tucked away in a narrow lane, hidden between other shady shops is Snack And The Beanstock, an aesthetically done café with white iron chairs and blue tables, oozing perfect English café feels. Be it Uno, Taboo, Chinese Checkers, Ludo, Snakes & Ladders, or Cards Against Humanity-you name it, and the chances are they'd have it. And while you're there, why not indulge in some quirky menu options like their chicken maggi and butterfly prawns.
Price: A meal for two will cost you approx INR 800
Cat Café Studio
Low seating, a bunch of happy cats to pet, and cozy ambiance makes for the perfect recipe for an ideal weekday evening. Head to this Mumbai café, India's first cat café, for a game of Jenga or Monopoly. And while you're there, don't forget to order a cold coffee/hot chocolate with brownie, a forever classic combination that they nail.
Price: Price for two is approx INR 400-450
Pair-A-Dice Café
The first thing you'll see as you enter this café is the checkered tabletops screaming board games. They have over 100 games for you, which means you will never have to hustle with another group. Don't hesitate in picking a new game because their courteous staff will be more than glad to assist you with the rules too! Excite much?
P.S - Get yourself some Peri Peri fries and Mexican bhel too, while you're at it.
Price: Approx INR 650-700 for two
Creeda Board Game Cafe
This one charges you separately for your gaming hours while you're here but it is so worth it. Creeda has around 200 types of game for you and the staff there is happy to help you identify which board game is perfect for you, depending on your group size. You can also munch on some sandwiches and drink up some chocolate milkshake while you're here, coz they're really good at making these.
Price: Approx INR 400-500
Playteria
Mikado, Housie, Scrabble, Brainvita, Scotland Yard, and many more, Playteria takes care of all your gaming needs and is a very pocket-friendly option. They're also known for their fusion food items like the Pav Bhaji Fondue and Papdi Pizza. You can also try their Pani Puri shots.
Price: Price for two is approx INR 650-700
Ministry Of Games
Ministry of Games in Mulund is for the true board game enthusiast. They have over 250 games to choose from plus play station and pool too! What's great is that they have a day package that allows you to play unlimited games, play station and pool at affordable rates. There's everything from Monopoly: The Game Of Thrones version to Alcatraz, Settlers of Catan, Jenga, and more. And if you feel peckish they have eats like sandwiches and snacks plus coffee to refuel.
Price: Approx INR 500 for two people
Chai & Games
If you're in Vile Parle West, and looking for a place to chill with your equally board-game mad friends, then head on over to Chai and Games. This cute and comfy cafe has a great selection of games to choose from. They have an INR 150 cover charge for the first hour that gets you unlimited tea and access to games, and every subsequent hour is charged at INR 100. You can also opt for an all-day pass at INR 250 on weekdays and INR 400 on weekends!
Price: If you order food, it will cost you approx 350-400 for two
Doolally Taproom
We love Doolally not just for its laid-back pet-friendly vibes and great beer, but also for its fun selection of games. We've spotted Jenga (more fun after a couple of drinks, trust us!), Sequence, Monopoly and more. The large tables and relaxed atmosphere makes it super easy to grab your gang and head on over for an afternoon or evening of games.
Price: Approx INR 1,000 for two
Comments