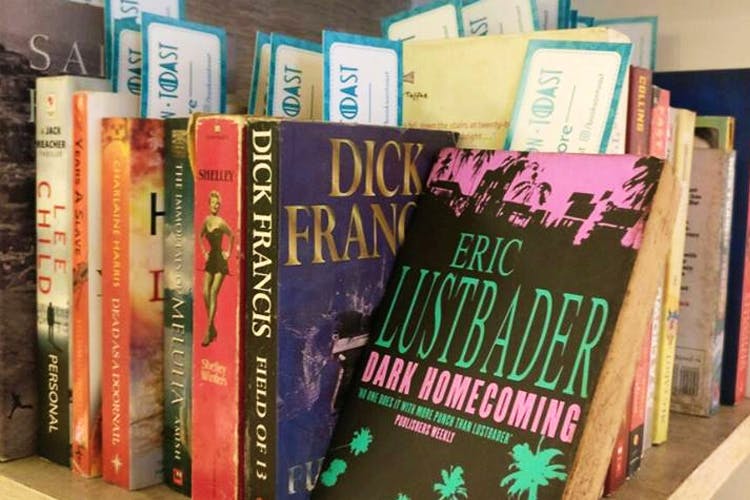 Book Lovers: This Is The One Group In Mumbai You Absolutely Need To Follow
Shortcut
A duo of readers and lovers of books sit together every once in a while, and discuss fiction as if fact, protagonists as though dearer than family, and plots thicker than reality – and we love them all the more for it. This community calls itself Books On Toast. Intrigued? We thought you might be.
What Do These Guys Do?
Read, read and read. They eat books, enjoy it wholeheartedly like a wholesome meal, layer it with puns, load it with witticisms and present it to us. 'They' namely are Sharin Bhatti, co-owner of the Cuckoo Club and Anuya Jakatdar, now full-time writer. They are unabashedly not 'arty-farty' and make books approachable.
Books For Sale
One of the core activities of this group is to sell books. Yay. Now we're talking, right? In fact, it was what the idea began with – massive book sales organised with the collection of books donated by thoughtful (or space-deprived). These secondhand books were then sold for INR 50 ( for paperbacks) and INR 100 (for hardcovers).
The money from these sales then goes to Dharavi Art Room, which is a non-profit initiative to teach art and reading to children from Dharavi. So what you buy at these sales will give you books, and will encourage young, young readers to have books as well. Win-win.
While a chunk of these books is always available for sale in the Books On Toast headquarters in The Cuckoo Club, a huge event is organised once in a while with a much larger collection of fiction, non-fiction and children's books.
The next such big sale is coming up on April 22 and 23 and will be spread across three venues – The Cuckoo Club, Bandra, Fun Republic Social, Andheri and Todi Mill Social, Lower Parel. Find the event here.
What Else?
If you love books, these guys are the epitome of fun for you.They do weekly podcasts called BoTcasts, in which they just talk about books, breathe books and laugh about books with their guests, who have included comedians and avid readers till now.
Readers will love it, but even if you haven't opened a book in your life or are a compulsive book-leaving halfway person, dontcha worry. They have fun with you with topics such as 'Books We Could Never Finish' or doing books like "Never Read A Book In Your Life'.
They also organise offline events such as Stories On Toast, which is an open-mic event format for unpublished writers to come out and read their words. Daunting, yet worth it, we've heard.
Comments