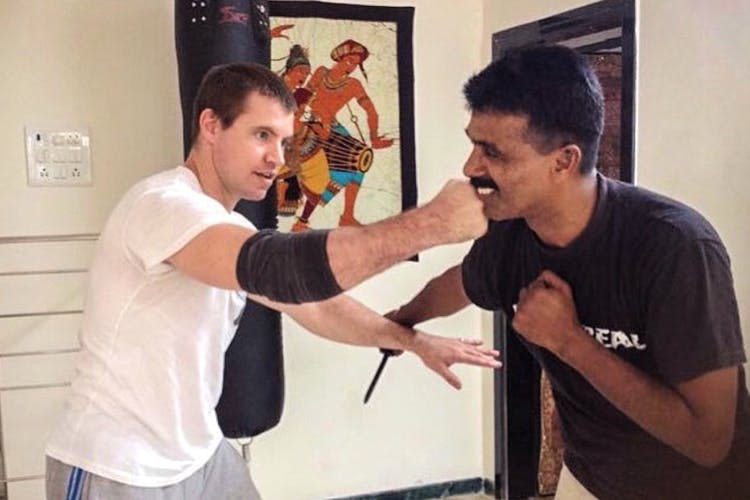 This Boxing Trainer Will Come To Your Home And Teach You How To Spar
Shortcut
Have you always wanted to learn boxing? Check out Vincent Boulle's boxing classes, and learn at home as the experienced trainer comes to you for a personal class.
What's It About?
Boxing is a great sport, and training involves more than just flexing your muscles. It's also a great way to keep fit, if you're bored of the gym. And, if you happen to be between Bandra-Juhu, there's always Vincent Boulle.
Vince from VMB takes training seriously. It's not just a job for him, it's what he's about. He's a former professional boxer and certified personal trainer with the American College of Sports Medicine. He teaches all aspects of health and fitness, but for him boxing is the ultimate pathway to high levels of strength, endurance and conditioning for varied reasons. He's been boxing for about 12 years, and teaching in Mumbai for about three years, having come to Mumbai from Holland. Currently, he's keen on taking classes in Khar, Bandra, Santacruz and Juhu.
Little bit of body sparing today! @rahuldlewis #boxing #mma #kravmaga #mumbai #personaltrainer
A post shared by @ michelboulle on Jul 3, 2015 at 8:18am PDT
You can look forward to extremely high intensity sessions, involving a variety of workouts. No matter your fitness level, you'll feel challenged. You don't need much in terms of equipment. You'll learn boxing combos, how to take hits, defence, and offence strategies, and so on. This all starts from the first class itself. The first class would be high intensity to gauge your fitness levels, and then following that a plan will be charted out. A session is about an hour long.
So, We're Saying...
If you feel like sparring, taking care of that city-caused aggression, releasing some awesome endorphins, keeping fit and getting into the best shape of your life, with someone who understands your limits, and pushes them, while keeping your health in mind, then VMB is the way to go.
Where: Vince will come home to teach you if you live around Juhu, Bandra, Khar, and Santacruz.
Price: 5,000 INR per session
Timings: According to your schedule.
Contact: +919167921372
Comments