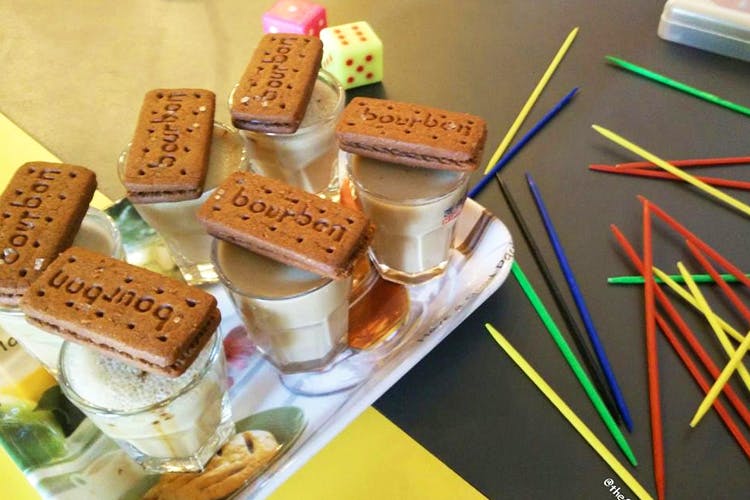 Some Chit Chat, And Some Chai: This Borivali Joint Is Where You Can Weave Conversations!
Shortcut
Chitchat Chai in Borivali is a tiny outlet that serves a variety of pocket-friendly teas, food and non-alcoholic beers to choose from. And if you want to catch up with your friends old and new, here's where you need to be.

What Makes It Awesome
Tucked away in Borivali's busy lanes, is this rather tiny but bright outlet Chitchat Chai. As the name suggests, this quirky joint is known for offering an array of tea, snacks and coffee. From classic masala tea and green tea to fruit infused tea and tea shots - they've got a pretty impressive menu. When there, we recommend their kawa, ginger and elaichi tea varieties.

Apart from chai, they've got chai partners as well which includes khari, rusk toast, bun maska etc. Looking to munch a wholesome snack? For your hunger pangs, they have some amazing Mac and Cheese sliders, something called the Junglee Bread Pudla, Maggi etc. Then there are burgers that have pretty catchy and interesting names. For starters, they have an A-Kela Burger, Burj Khalifa Burger whose height will blow your mind. You've gotta try it to believe us. We missed out on their Judwaa and Jabra burgers but there's always a next time. (We might end up going only to unlock the mystery behind these uber cool names)
Our pick of the day however, were the Coffee Shots. Choose between hot or cold coffee that is served in cutting chai glasses with Bourbon biscuits. Nostalgia's got to be a little comforting and sweet, isn't it?!
What's best is that they even deliver to nearby areas, so if you're lazy, just hit them up for your dose of coffee shots while Karan Johar has his.
Pro-Tip
Coffee and Bourbon biscuits is definitely a kickass combo, you don't want to miss out on it!
Comments