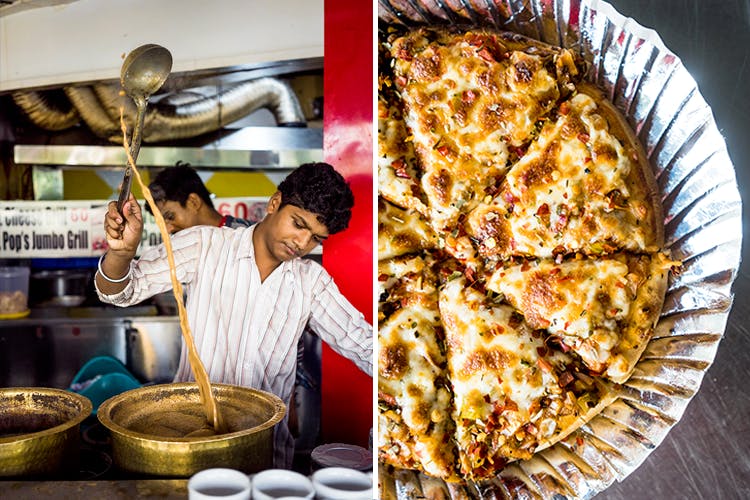 Hog It Out For Less: A Guide To Eating Around Vashi Station
At the risk of sounding like a school essay, we think eating is one of the most important activities during a day. To cater to the needs of the hungry traveller on the train, Vashi Station has a range of options. We explore further.
For The Light Snacker
Sai Baba Sandwich is a small setup outside Vashi Station. Flanked by two giant malls on either side, this tiny stall serves tasty sandwiches like the Aloo cheese paneer, chilli cheese, mayo and more, and they'll have you fuelled up for under INR 50.
For The Heavy Snacker
As you make your way out from Vashi Station, its vastness may intimidate you a little. But worry not, because the eateries compensate with their warmth. If you're in the mood for some chai and pav, head to Pop's Jumbo Vada Pav. They will sort out your snacks under INR 100 (for two). Whether it's vada pav and chai or chhole bhature and lassi, they nail both quite well. Also, do anything but do not give their 'simple best pizza' a miss.
For A Quick Chaat
While you may wonder why a shop called Vaibhav Communication is on this list, but let us tell you that this one is quite the juggler. Apart from being a phone recharge kiosk, ticket counter and a travel agent, it also serves a decent plate of pani puri and chinese bhel. Take out some 20 bucks and they will feed you well. P.S- Their nimbu soda rejuvenates on a tiring afternoon, give it a try.
For The Non-Vegetarian
The food court outside the station is a versatile mix of eateries. Hotel Sparshleela and Swayamsfurti are two eateries where non-vegetarians meet. Whether it's kebabs, a full tandoori chicken or a full-blown meal with kadhai chicken and naan, both eateries are at par with their taste. Go here when a hot plate of tikkas is your calling for the day.
For Lovers Of Shady Chinese
Krishna Chinese, owned by an old lady, is near the parking space of Vashi railway station and its chicken chowmein with manchurian is on point. If you're the manchow-soup kind of a person, you'll fall in love with this tiny joint. And if you aren't too fussy about hygiene, this won't disappoint you. A plate of noodles will cost you not more than INR 80.
Comments