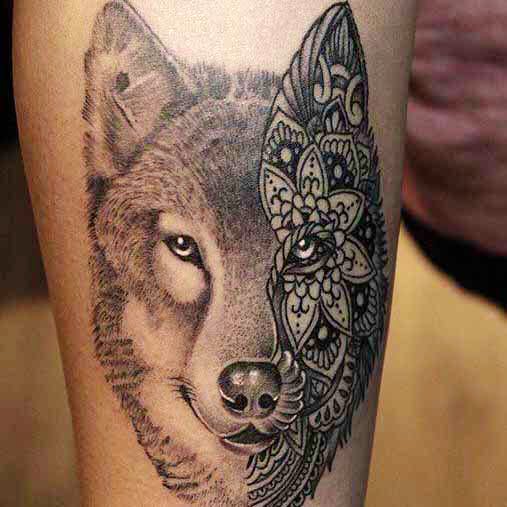 Inked And Proud: Mumbai People Reveal Their Favourite Tattoo Artists In Town
What Is It?
We spoke to Mumbaikars who've been there, and done that, and are inked and proud. Here, they recommend their tattoo artists, and state why you ought to bookmark them.
(P.S: As a heads up, most of the prices were applicable at the time tattoos were done. We'd advise you to take that as a ballmark figure, and go on from there)
Al's, Bandra
Shalvi Mangaokar had always wanted a tattoo, and so in 2012 she got her first tattoo from the famous Al's Tattoo And Body Piercing Studio in Bandra followed with her second one in 2013. A Tribal sun on the back on her neck, and a pretty one with flowers, stars and ferns on her anklet.
Recommended because: The artists are friendly and keep the customers engaged in conversation (to distract them from the pain) The studio has good music playing in the background which is comforting. Additionally, they are quick and really efficient with their job.
Ask for: Arun at Al's.
#LBBTip: They do proper post ink care by giving rock salt and an antiseptic medicine.
Price: INR 3,500 for back tattoo and INR 9,000 for the anklet tattoo (subject to change as per the tattoo design)
Aliens Tattoo, Malad
Samara Tijori has two tattoos, one on her ankle from 2013 and another one that she got in 2017. Both of her tattoos were done at Aliens Tattoo in Malad, which is run by Sunny Bhanushali. The tattoo on her ankle is the feather of a Phoenix, and the one on her back is the shape of her two dogs (basset hounds), with each of the years they were born in.
Recommended because: She tells us Sunny is excellent with his work, and has other tattoo artists as well. All of them are friendly, hygienic and engaging. If you have a design in mind, they will discuss it in length with you before inking you.
Ask for: Sunny Bhanushali
#LBBTip: Do book an appointment in advance.
Price: INR 8,000 for the anklet tattoo, and INR 5,000 for the back tattoo (subject to change as per the tattoo design)
Krayonz Tattoo, Bandra
Shona Dias Daniell has four tattoos out of which three she got done from Krayonz in Bandra. Every tattoo on her body comes with its story, be it her love for music or something that really fascinates her (spiritually and otherwise)
Recommended because: With Shona getting three tattoos from this studio is her own way of validating the quality of the artists there. The studio is headed by Sameer Patange. She tells us that though he only takes up a complex tattoo personally, the other tattoo artists are all trained under him and equally trustworthy. Krayonz maybe on the expensive side but for Shona the result is absolutely worth it as they are true professionals.
#LBBTip: The studio's illustrious celebrity list also includes the likes of Hrithik Roshan and Suzzanne Khan.
Ask for: Deepak if you want a water colour tattoo as he is known for his water colour work.
Price: INR 2,500-INR 11,500 (subject to change as per the tattoo design)
Zaheer Chhatriwala
Raie Mahapatra got four of her lovely and meaningful tattoos from Zaheer Chhatriwala, a Bandra-based tattoo artist. Raie's tattoos comes from a very personal space, be it the "Hope springs eternal" to the roses from The Tales of the Beedle Bard (Harry potter anyone?), or her ode to her grandparents with the panda and their initials carved on her body.
Recommended because: For Raie, Zaheer's studio is like home as she felt comfortable there, sharing her vision with him. He is engaging, kind and non-judgmental, which she believes is a nice quality for any artist to have, especially when it comes to inking someone else. She does suggest booking in advance with him as he is a popular one with the celebrities.
#LBBTip: Do make sure you take a photograph/print out of the design you want the artist to work with.
Price: Ranges between INR 3,000 and INR 5,000 (subject to change as per the tattoo design)
Body Canvas, Bandra
Roopali Singhal got her first tattoo three months back from Body Canvas in Bandra. This being her first tattoo, she wanted it to be unique and special, and thus, the angel wings were born. A design carefully chosen by her and her mum (also an ode to her) along with Everglow, a song from the band, Coldplay (which she tells us reminds her of her mum) in her mum's handwriting has been inked beautifully.
Recommended because: The tattoo was better than what she expected it to be. As generic as the Angel Wings are, the tattoo artist customised it for Roopali, giving her the better bargain of things. Sudhir Rao, her tattoo artist, made sure to keep up with her until she was a 100 percent satisfied. After endless debates and discussions, she believes it could not have turned out better.
Ask for: Sudhir Rao (or in Roopali's words the superstar tattoo artist)
Price: INR 8,000 (subject to change as per the tattoo design)
Himgauri Wakle
Samprati Sharma got two of her tattoos from a freelance tattoo artist who came home to do it. Himgauri Wakle, suggested to her by her friends, is now her go-to tattoo artist.
Recommended because: Himgauri is receptive, friendly and has a calming affect while working with the needle (which can be daunting for many). Since she herself has a tattoo which she did on herself, she talks about her own experience to keep you distracted and engaged while her needle does the magic. She has a firm hand, is gentle and follows up well checking up on the tattoo and if her instructions are being followed or not. In fact, since Samprati was confused about her design, Himgauri helped her design it as well.
Price: INR 3,500 for both tattoos in 2012 (subject to change as per the tattoo design)
Contact: 8451809176
Comments