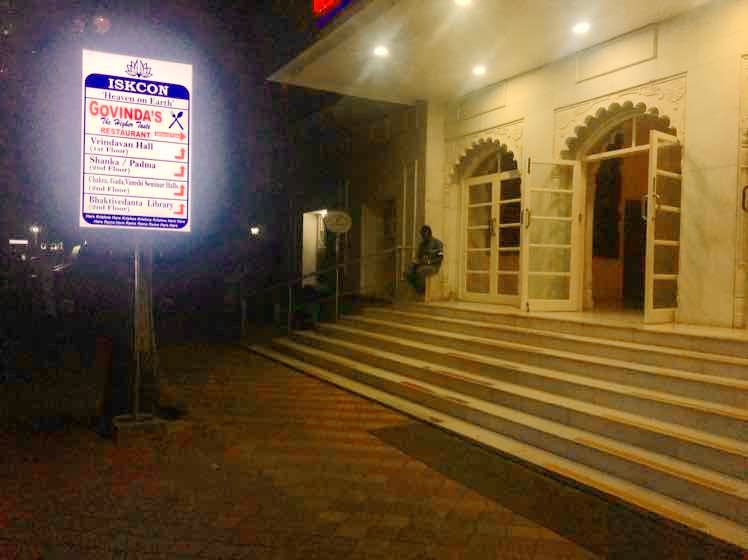 Get A Satvik And Delicious Feast At Govinda's In Juhu For Only INR 450
Pro-tip
Save space for the desserts. They are super delicious and the variety is really good. My favourite was the Bengali sweet chom chom. The buffet also had three ice cream flavours, gulab jamun, kulfi and jalebi.
I liked
Located inside the ISKCON temple in Juhu, this restaurant is a vegetarian's paradise. The restaurant's walls are made entirely of white stone, which gives it the feel of a traditional Rajasthani Rajwada-style haveli. You won't believe it, but no garlic or onions are used in any of their dishes. Yet, the food is surprisingly amazing and fulfills not only your tummy but also your soul. Once inside, you need to collect coupons at the counter. Eating here is only INR 450 per person. The dining is buffet-style: all the drinks, soups and desserts will be served at your table. But for the main course, you need to go to the buffet counters placed neatly at one end of the hall. The food was a good blend of Marwari, Jain and Gujarati dishes along, with a Western 'tadka' of pasta and macaroni salads. Yes, they had noodles too!
More info
You can also experience "sandhaya aarti" at the temple before heading to the restaurant. It was nice, energising experience! Also, take a stroll at the Juhu beach after your Satvik dinner and close your day with some chatpata Bombay-style bhel by the beach.
Also On Govinda's Restaurant
Comments