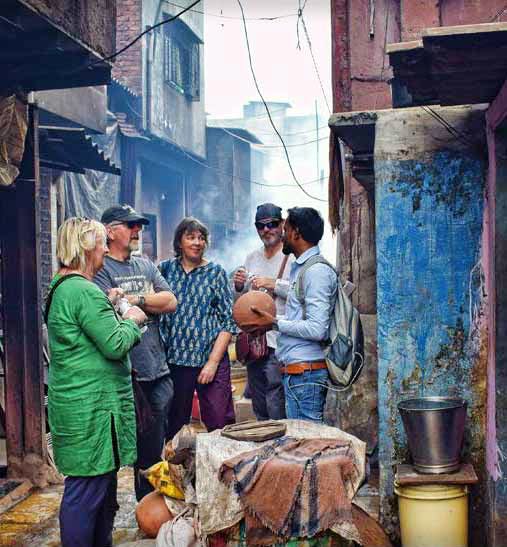 Get Your Walk On: Explore Culture And Coastline On These Walking Tours
When it comes to a city like Mumbai, there is always so much to learn. Cuisine, architecture, buildings, marine life, nature; there's so much going on in the city that is an absolute treat for curious minds. Plus we feel the best way to check out a city is to put on a pair of comfortable shoes and walk around. Take these heritage walking tours to see a different side of Mumbai. You won't see Mumbai the same way ever again, we promise.
Literary Tour With Beyond Bombay
If you're a book nerd who's fallen in love with the city of Mumbai through Shantaram and Maximum City, book yourself one of these literary tours with Beyond Bombay and experience your favorite anecdotes from the novels come alive. Follow the footsteps of your favourite fictional characters as you explore Mumbai. Discover the Mumbai lived by the protagonists of the best-selling Shantaram by Gregory David Roberts and Maximum City by Suketu Mehta in the Babbanji Bihar and Lin's Colaba Tour.
#LBB Tip: Group tours can be arranged on request. Call ahead, as they have a limited round of public tours - only 4 open tours a year.
Marine Life Tour With Marine Life of Mumbai
Marine Life of Mumbai organizes walking tours along the Mumbai coast where they introduce you to some exciting marine life that usually washes up on the shores. Head over if you've always wanted to see colorful sea sponges, hermit crabs, and snails.
Khaki Walks With Khaki Tours
These walking tours will take you around Girgaum and Dharavi, and introduce you to the untold stories that lie in the narrow by-lanes of this buzzing cosmopolitan city. If you wish to dive deep into the history of Mumbai, here is your chance to soak up this experience! Each tour takes you around a particular neighborhood, and they usually last for around 2.5 hours. Sign up to know about ghosts in Girgaum and Mumbai's 'Edwardian' Ballard Estate.
Architecture Tour With Art Deco Mumbai
These walking tours are held around SoBo's Oval Maidan, with architects as your guides. If you'd love to know more about the heritage and architectural significance of all those gorgeous Art Deco buildings in South Mumbai, we highly recommended signing up for this tour.
#LBBTip – Tours are on request only. They prefer groups that are limited to a minimum of 3 people and a maximum of 7.
Food Walks With No Footprints
Their Street Food Walk gives you a chance to explore the by-lanes of famous street food hotspots around the city and be introduced to a completely new world of uber delicious food. The Kebab and Curry walk is one of their hits, and if that's not enough to tempt you already, we'll have you know that Nigella Lawson was one of their clients and fell in love with the vada pav through one of their tours! Besides this, they also have an Urban Safari Tour which takes you on a jeep ride around the city.
#LBBTip – Tours are on request. There's no minimum number and they're happy to schedule a tour even for a solo traveler.

Dharavi Slum Walk With Reality Tours
Book yourself on to this tour to see what life is like inside Dharavi lanes. Walk around, visit homes, talk to the local slum dwellers and see how an entire industry has evolved out of their skilled labour. Check out the pottery, recycling, leather tanning and other businesses that have their home here. You'll be guided by a local, and the tour takes 2.5 hours on Foot. You'll need to book ahead and it costs INR 900 per person for a maximum group size of 6.
Heritage Walks With The Inheritage Project
The Inheritage Project regularly conducts themed tours of the city and its fascinating neighborhoods. These include everything from Modern Mumbai: Walking Through the 20th Century to Walking with Words : A Reader's Heritage Walk. Experience the city's diverse cultural landscapes through these engaging, and educational tours.
Comments