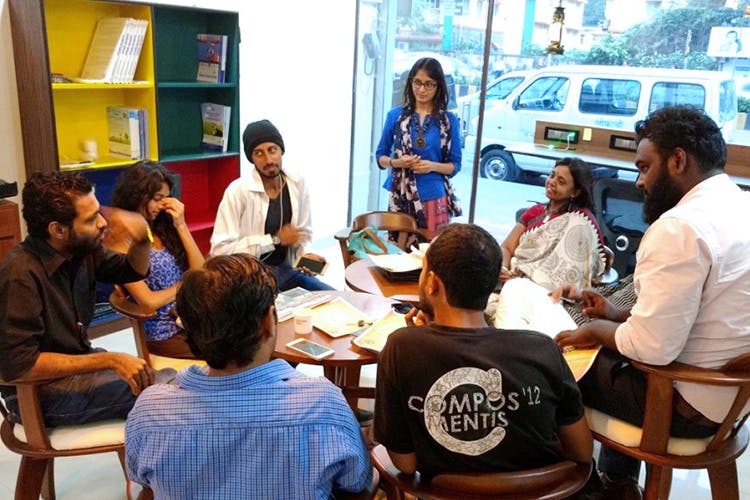 Astral Projection, Religion & More: This Meet-Up Group Is For The Unconventional
Shortcut
ARTery is a Mumbai-based community that meets once a month to discuss topics that are anything but conventional, cultivating the art of conversations, discussions and more.
What Makes It Awesome
Founded by Swathi Nair, ARTery is all about stimulating conversations and discussions that dig deeper than the surface. With her degree in bio-tech engineering, Swathi's inherent love for the arts led to her starting this group, a way for her to begin conversations. She tells us it's hard to find people who would like to indulge in deep long conversations about topics that may not be so mundane. Therefore, she posted on a Facebook group called, 'Put me in touch with Mumbai' looking for people who'd be interested in meeting up. The response was overwhelming and seven months later, ARTery's group boasts of 450 plus members.
It's fairly easy to get involved with ARTery. They have a closed community on Facebook administered by Swathi herself, so send in a request and become a part. Anyone from the community is free to join in and turn up for the meetups. They are organised once every month typically on a Sunday.
What We Love
They have rather unconventional topics that they like to discuss. It's all about fostering a space wherein one can come in, speak their heart's content out, listen to others and go home enriched. Some of the topics discussed in the past meet-ups include: Religion Vs Spiritual to supernatural, or the fascinating meet-up on "Perspective on Enlightenment", wherein everyone came up with their definition of enlightenment. They have also organised ARTery retreats, a quick getaway out of the city like camping.
The community only has three rules – wait for your turn to speak, be respectful of each other's opinions and most importantly, be a good listener.
Pro-Tip
Do you enjoy long conversations, well-informed discussions with like-minded and not-so-like-minded people? If that's the case, ARTery is the group for you. Meet people from all sorts of backgrounds who come together to voice their similar or not-so-similar opinions, and engage in rich discussions.
Comments