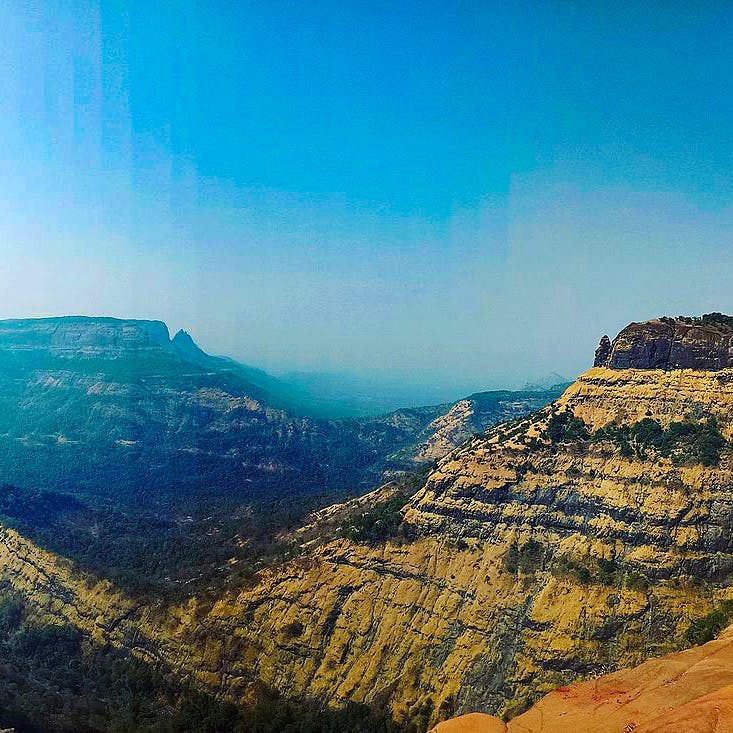 Spend A Day At Matheran, A Hill Station That Has Plenty Of Nature To Offer
Shortcut
Matheran, the smallest hill station in India is nestled in the Raigad district on the Western Ghats in Maharashtra. It is only approximately 1 hour and 40 minutes by road and makes for a perfect quick getaway from the chaos and crazy routines of city life. And when it's a quick getaway, you must make optimum use of time. Don't worry, we've got your back! We've charted out an entire day in the beautiful hill station of Matheran. Thank us later!
P.S.- We'd recommend you start as early as 7AM from Mumbai to be able to spend good time at all the touristy spots we have in store for you.
Panorama Point
As easy as it would be to guess, this point in Matheran offers a complete panoramic view of the majestic Western Ghats and a slice of Maharashtra's countryside (yes, we have a beautiful countryside too). One of the most scenic spots in Matheran, it is seldom as crowded as the other popular spots as it requires you to trek up to it. As the wise men say, "You've got to earn the goodness, it just doesn't come so easy." It is an ideal picnic spot from where you can feast on a gorgeous sunrise or sunset too and if lucky enough, you will get a glimpse of the toy train chugging through the Western Ghats below. If for nothing else, gotta do this for the gram, peeps!

Alexander Point
Yet another spot that is popular for trekking to, Alexander Point is located at about 2 kilometres from Matheran Railway Station. It is also a well-known spot to head to, to beat the heat and take a chill pill in Matheran. It offers beautiful panoramic views of other points like Palasdari Lake, Garbett Point and Chowk Point. If you're looking for a quiet and serene nature path to take a walk on, this is it. Head to Alexander Point to enjoy unadulterated beauty like never before.

Echo Point
Echo Point is one of the most unique spots in Matheran. Let's just say it is a physics class where you will observe application of what you studied in school. As the name suggests, this point is famous for the reverb and echoes it generates. With the beautiful Sahyadri mountains in the distance, it is a picturesque spot to make a beautiful memory and capture it. Get a taste of local Maharashtrian cuisine from the few shops and stalls right there. We're thinking kothimbir wadi, are you too?

Charlotte Lake
Situated at a stone's throw from the main market of Matheran, Charlotte Lake is the main source of fresh drinking water for the residents of Matheran. The best time to visit the lake is during the monsoon, when the dam from where the lake originates overflows and creates a picturesque waterfall, an absolute treat to the eyes. While you're here, check out the Pisharnath Mahadev Mandir, a temple dedicated to Lord Shiva. Tourists are asked to take special care to keep the area clean while they visit keeping in mind the importance this lake holds for the residents.

On A Shopping Spree
One might wonder what a hill-station has to offer other than the picturesque landscape and greens as far as the eyes can see. Head to Mall Road to get your hands on kickass Kolhapuri footwear; pair it with some nice desi dress and you'll be slayin' the look, delicious chikki for those who missed out on the trip and simple Indian handicraft items for those who are into them. We promise you that you're going to be spoilt for choice!

Neral-Matheran Toy Train
The Neral-Matheran toy train connects the base village of Neral to the hill-station vis a 21 kilometres long railway line. It was built under the supervision of Adamji Peerbhoy in 1900 and is now under the control of Central Railways. Even though it might take slightly longer to get to Matheran than by road, it is definitely worth choosing to enjoy a beautiful journey through the mountains and nature from the base to the top.

Pro-Tip
Vehicles, whether privately owned or hired, are not allowed beyond Dasturi Point before Matheran. Thereon, you can choose to take the toy train from Aman Lodge to Matheran Railway Station or hire a pony or hand-pulled rickshaw. The best way we'd suggest is to trek it to the top. The rather scenic journey would take you approximately 60 minutes to complete.

Comments