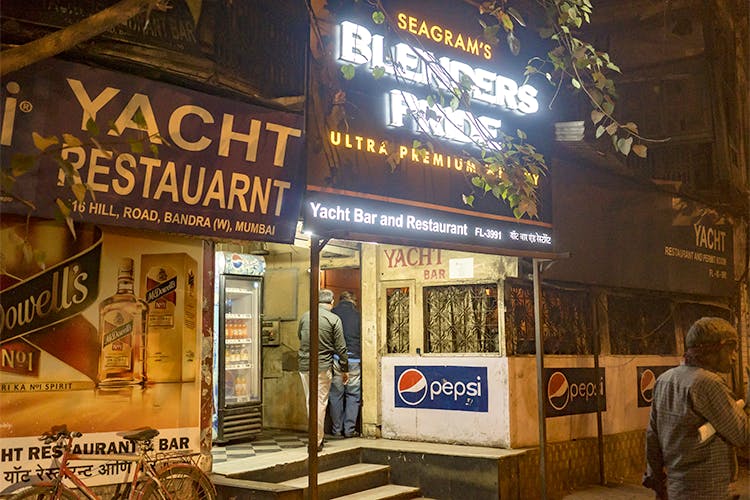 Here's Why Yacht Bar Remains The Perfect Combo Of Cheap Booze & Nostalgia
Shortcut
A dingy, dimly lit bar on hill road that most of us frequented when we were in junior college, Yacht Bar still seems to draw us to it after all these years. Is it simply nostalgia or is there something deeper that connects us to this Mumbai landmark?
Unraveling the Mystery
Our late teens play a vital role in shaping who we are for the rest of our lives. For the most of us, this period was probably stressful, and given we didn't draw the salaries we do now it's rational that we sought out a cheap place to get our weekly/bi-weekly dosage of liquid courage.
Yacht evenings were never really planned – you sort of just showed up after a bad day. You also probably took a look around at the older folk and said "Wow! No way is this going to be me in ten years." This is probably when we clinked our glasses together and said cheers to the our inevitably successful futures.
Ten years or more down the line; however, most of us still fondly visit Yacht. The place feels like home and the waiters welcome you as if it truly were. They may even let you in after hours if you were a regular, sort of like the lenient parent who knows you need a break. The fact that we were always welcome here is what draws us to it.
Chow Down
Though it has been recently renovated, old-school chakna remains the best order at Yacht. Try the chilly chicken, the chicken lollipops, or the Szechwan chakna and the chilly paneer if you're a vegetarian. Be any more adventurous at your own peril.
Sip On
The exceedingly cheap alcohol, of course. Sold by the quarter, you can chase away any world-weariness within INR 300.
So, We're Saying...
Sure, we may now have the success to share a drink with our friends on a fancy rooftop lounge in the heart of the city, and sure we could probably find a place with a much more premium alcohol selection; however, the truth is, sometimes we need a dingy, dark, gloomy little corner and a bunch of friendly faces to help us rediscover our light. For most of us, Yacht is a landmark in our memory, a place that connects us to our past and reminds us that the future can be as bright as we dare to dream it will be. {PS: the alcohol and chicken chilly help.}