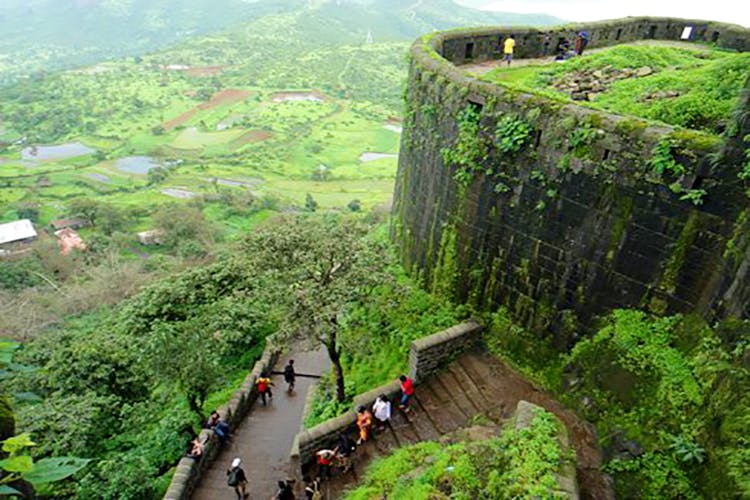 From Parks To Museums: Have You Visited These Iconic Places In Pune?
The cultural capital of Maharashtra, Pune's rich history, Maratha architecture and pride are enough to awe any tourist. But there are some spots (touristy and not-so-touristy) that you must-visit. Bookmark this list of the best places to see in Pune, if you haven't been to them yet, you must!
Aga Khan Palace
Considered to be one the most spectacular landmarks in Indian history, if you are a history buff, you must know that The Aga Khan Palace was built in 1892. It is a testament to the architectural wonders of a bygone era.
Take a walk down history and you'll find that it served as a prison for Mahatma Gandhi and other noted freedom fighters during the Indian freedom movement. While it comprises Italian arches, sprawling green lawns, it also has huge hallways that now house many photos and portraits that depict the lives of our freedom fighters. The place gets too crowded on historic and significant days. They even have huge prayers every morning. Score Khadi and handloom textiles at a quaint little shop inside for really good prices.
Shaniwar Wada
Yet another one for history lovers! Shaniwar Wada served as the seat of power for Peshwa rulers of the Maratha Empire. This magnificent architectural marvel was an extravagant fortification effort made by Peshwa Baji Rao I in 1732, following the victory in the Third Anglo Maratha War. The fort was destroyed by a fire, since which it has functioned as a tourist attraction comprising grand armoured gates, massive palaces, and a beautiful fountain.
While you are within the premises, make sure to stick with your friends as the place has a number of different gates. There is also a garden inside, that you will love for its scenic beauty.
Sinhagad Fort
A 30kms drive away from the hustle and bustle of the city takes you to the Sinhagad fort. Thanks to its significant location on the Bhuleshwar Range of the Sahyadri Mountains, it serves as an excellent destination for trekking.
Not only do you get to enjoy pleasant weather, you witness grandiose architecture and the scenic beauty of the Sahyadris. A treat for both history lovers and nature lovers. Try to park your car a little away from the fort. Make sure to carry an umbrella on the trek for any sudden showers. This place is best enjoyed during the rains.
Osho Garden
Can you believe that Osho Garden, which is known for its serenity and foliage is situated in the heart of the perennially-bustling Koregaon Park? Open only from 6 AM to 9 AM and 4 PM to 7 PM, it is the perfect place to witness the sunrise and sunset in absolute isolation. We love the peaceful aura that the place has and although photography is allowed only with prior permission, this place is picturesque and seems like a fairytale forest. The iconic garden also makes for a romantic spot by evening.
Parvati Hills
One of the most scenic locations in the city, the hillock rises to 2,100 feet above the sea level. Atop this hillock is a Parvati temple. The hill has more than 100 steps. Once you are up, the panoramic beauty is breathtaking. There are many temples once you reach up. Don't forget to click pictures from the top.
Ask Shruti a question