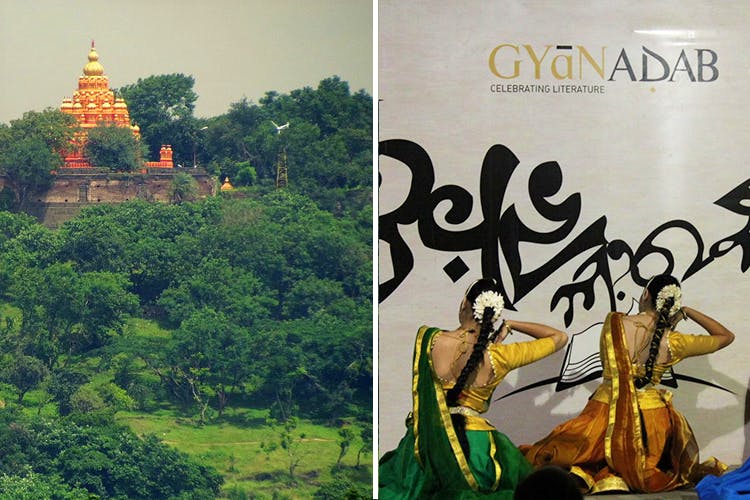 Explore The City With No Money: Things To Do In Pune For Free
When you're broke, you don't have to be bored. Pack a bag of snacks and a bottle of water from home and head out and explore the city. The only thing you'll be spending on is commute. And, if you've got your own vehicle, that's even better. Here are things you can do in Pune for free.
Osho Gardens
Considered one of the most beautiful gardens in Pune (and boy, does Pune have a lot of them), the Osho Garden is a Japanese Zen garden founded by the Shunyo foundation. Built in 1994 on a nullah, it is also known as Nala Park. It attracts a varied crowd: From students, children, older folks to bird-waters, runners and even couples. Situated behind the Osho Ashram in Koregaon Park, the Osho Garden spans a total area of whopping 5 hectares. So you don't have to travel very far for that breath of fresh air. The Osho Garden is open from 6 AM to 9 AM and from 4 PM to 7 PM everyday. So, if you ever just want to chill, read a book, go for a jog or walk, you know just the place.
Khadakwasala Dam
Khadakwasla Lake is one of the major sources of water supply to the city of Pune. In addition to this, it makes for a picturesque and serene day trip. With a scenic view of blue waters, lush greenery, and the dam itself, it is the perfect spot to catch the sunrise or sunset. Whether you want to enjoy this by yourself with your feet dipped in the water or with a group of friends enjoying the various snacks and chaat available, is completely up to you.
The Khadakwasla Lake is particularly beautiful during Monsoon, so make sure you plan a trip soon.
Gyaan Adab Centre
If you love the written word and visual poetry, Gyaan Adab is just for you. Gyaan Adab is a literary Centre focused on making literature easily accessible to the masses. It nurtures new creative work while showcasing old and established literary and artistic tradition. Grab a book from the well-stocked library with titles across genres and languages. Or check out their stimulating art gallery; best seen at the inauguration of their exhibitions, during which they invite creative people to celebrate the work on display through poetry, music, theatre and literary renditions. So the next time you're seeking some solitude and art, head to this cozy treasure trove, tucked away in Kalyani Nagar.
Raja Kelkar Museum
Turn back time and revisit the different eras of exquisite Indian craftsmanship at this historic museum. The Raja Kelkar Museum contains the collection of Dr. Dinkar G. Kelkar dedicated to the memory of his only son, Raja. The three-storey building houses various sculptures dating back to the 14th century. The impressive museum collection of 21,000 priceless artefacts recalls the historic Indian culture and traditions; creations in stone, wood, metal, ivory, fabric and clay. The Museum contains variety of every day artefacts, which includes lamps, palanquins, carved woodwork, tin ware, hookahs, musical instruments, miniature paintings, glass paintings, intricately carved wooden doors and windows among others. Even if you didn't like history in school, we promise you that you'll enjoy this visual delight.
Plus, Mastani Mahal is also inside the museum and has its own dedicated room. Kelkar had dismantled whatever remained of the mahal and brought it inside the museum.
Parvati Hill
The highest point of Pune, Parvati Hill has a lot to offer. Scenic views aside, the complex hosts temples and a museum as well. You can reach the top of the hill in around 15-20 minutes, a brisk uphill walk of 108 steps. The well-marked trail is charming in itself with wooded areas on one side of the trail and rocks on the other. The view from the top is quite stunning. And, you can enjoy an aerial view of the city below. Although not extremely crowded, Parvati Hill does attract a fair share of people during the weekends, especially in Monsoons.

If you've got INR 10 to spare, check out the Peshwae Museum on the hill. It's a curated collection that showcases the llifestlye of the Peshwas.
Kasba Peth
If you've got no money to spend to visit an art gallery, head to Kasba Peth and do an art hop by yourself. You'll spot works by various street artists from the 2013 Pune Street Art Project. About 100 metres away from the main entrance of Shaniwar Wada, you'll start spotting graffiti that's cool. There are a ton of nooks, so keep your eyes wide open for some art. There's no map to follow, but you can make a trail of your own and hop around the peth.
Comments