The information in this post might be outdated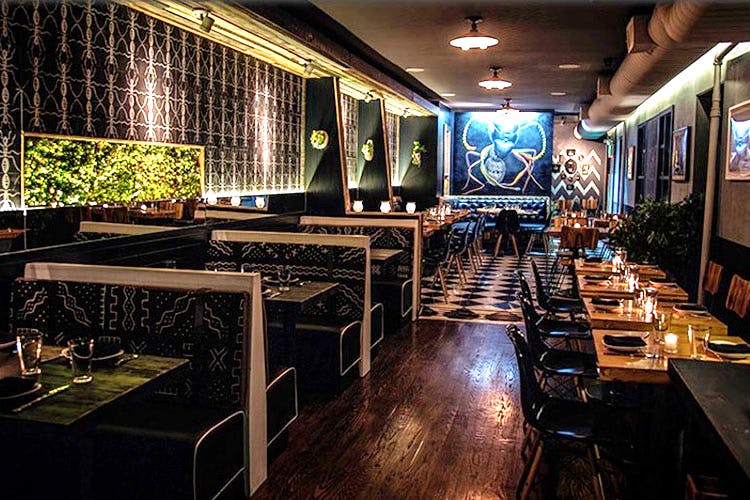 Eat A Mystery Meal At A Pitch Dark Room, Only At This Restaurant!
Shortcut
Pitch black ambience, gourmet food and a unique experience! Step in to the world of a visually impaired, test your senses and dine in complete darkness for 60 minutes at The Black World in Xion Mall, Hinjewadi.
What Makes It Awesome?
Hosted and run by visually impaired staff, The Black World, is one-of-a-kind restaurant that let us encounter a world sans colour or light. The concept is much beyond a unique dining experience; rather an initiative that, in its own way, let's you empathise with the visually-challenged.
When you enter The Black World, you are warmly welcomed by a well-trained staff member who takes you through the entire process. As a part of the experience, you are not allowed to take anything inside, not even your phone. However, a locker is provided to every patron to keep their belongings safe.
Next, with your hands on your host's shoulder, you will be slowly led to a pitch dark space and guided towards your table. The setup is carefully thought of. The staff members either announce themselves or snap their fingers to avoid clashing with others in the room.
Now at this point, you are surrounded by a black void of space with soothing music in the background, your body and mind solely depending on audioception, taste, smell and touch. The food menu is all-veg albeit the catch is you wouldn't know what will be served. For starters, we dug in to a plate of piping hot potato fries, cheese pakoras, clear soup and nachos with sweet and sour topping. A very basic yet delectable meal comprising rotis, steamed rice, dal fry, paneer and mixed veg curry, was served for the main course. A bowl of lip-smacking chocolate ice cream with walnut brownie concluded the dinner.
Once you're done, your host will slowly guide you towards a dimly lit room. You might take a bit of time to get accustomed to light post an hour of complete darkness. But trust us, the experience is more worthwhile that you can imagine.
What Could Be Better?
They can definitely improve on the quality of food.
Pro-Tip
You can get your very own live band too, for just INR 99/person.
Comments