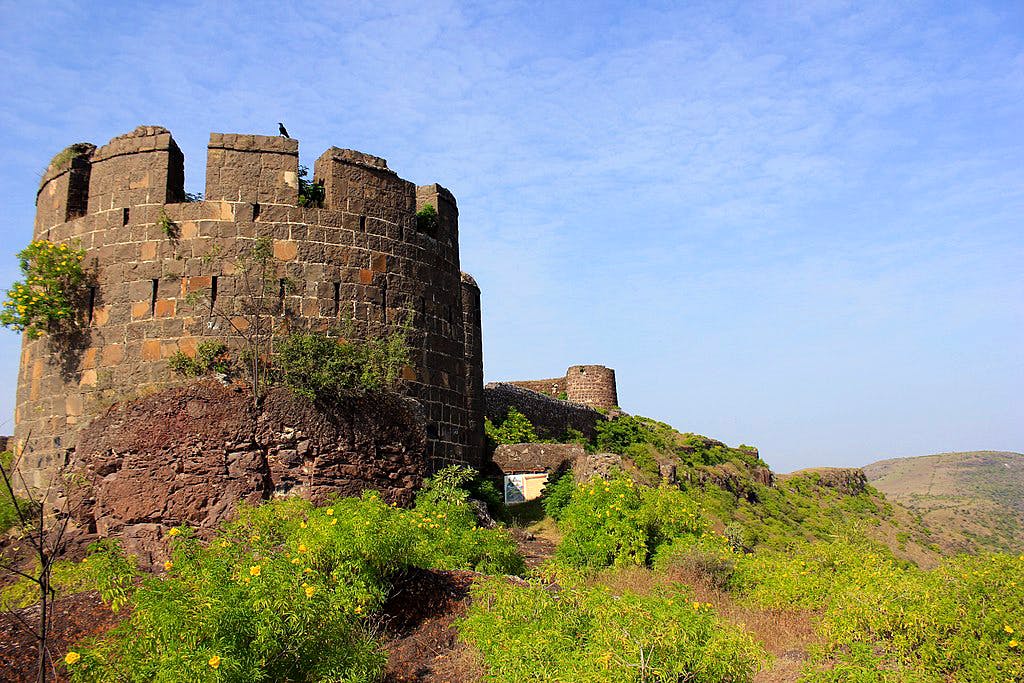 Planning A Trek? Head To These Lesser-Known Forts Near Pune
Shortcut
Get into boots and ditch partying into the wee hours, these treks will make you realise why. Maharashtra's history has left many fortresses and all have beautiful views. So, if you thought you'd managed to trek all, here are some you hopefully haven't scaled yet.
Irshalgad
This route is dotted with so many viewpoints over Morbe reservoir that you want to go on this trek for just that. The fortress Irshalgad lies between Matheran and Panvel and is quite easily accessible. Don't go on the size of the fort, it's not large but there are several water cisterns cut from the rock. You might also spot a bit of wildlife on the trek up: mongoose, non-poisonous snakes among others are a common sight.

Malhargad
About 30 kms from Pune, in Saswad, this Maratha fort sits perched on Bhuleshwar range. It's believed to have been built to keep a watch on Dive Ghat, so here's a promise of a good view. It's the last fort built by the Marathas in 1775 and was named after God Malhari. This is one of the few forts that's in a good condition, holding most of its walls and offering a lovely trek up.

Kenjalgad
Rising up on an oddly-shaped hill, the fort is visible from afar. Located in Wai, sitting on Mahadev Hill, Kenjalgad has been captured by Adilshah of Bijapur and Mughal Emperor Aurangzed as well, before coming back in the hands of the Marathas. While the main entrance has been ruined when the British tried to dismantle the fort, its two large lime mixers and magazine room and idols of Kenjal devi are still worth trekking up for.
Rohida
Barely 10 kms away from Pune, Rohida Fort or Vichitragad as its also commonly known, is important in history. It was one of the 23 forts that Shivaji Maharaj handed over to the Mughals during the Treaty of Purandar. But was later recaptured by Shivaji in 1670. There's a rock cut cistern, elephant idols and three lavishly gorgeous gates and rock cut inscripture in Farsi and Marathi. The fort has seven bastions and you'll easily take an hour to explore the fort in its entirety.
Ghanagad
This 300-year-old fort is 100 kms from Pune and has been restored with the help of locals. In history, you won't find too much information about this fort except that it was mostly under the Maratha rule and was later surrendered to the British. It seems to have been used mostly for imprisonment and for watching over the Pune-Konkan trade route.
Ratangad
Overlooking Bhandardara, in Ratan Wadi, Ratangad is a 400-year-old fort and is often covered with flowering plants this time of the year. It has a natural rock peak with a hole in it, which is called nedhe or eye of the needle. Four lavish gates with idols of Hanuman and Ganesh at the main gate, welcome you inside. You can see Harishchandragad, Alang, Madangad from atop Ratangad. While you're here, also check out the Amruteshwar Temple and marvel at its rock carvings.

Comments