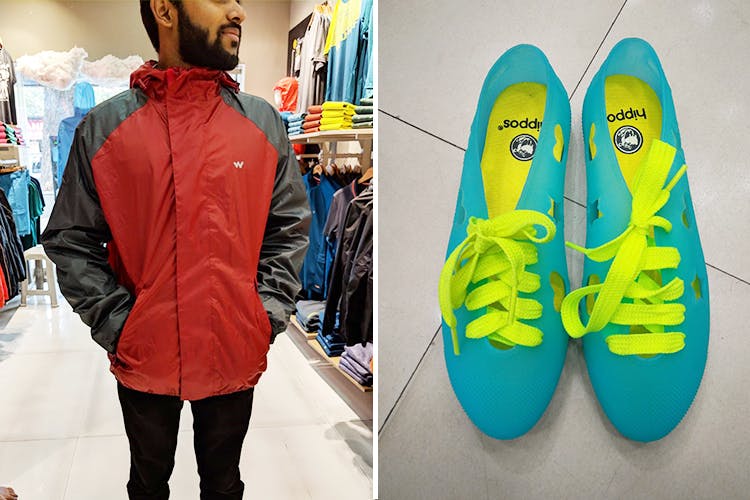 Anti-Slip Footwear To Fancy Umbrellas: Monsoon Essentials You Need To Buy Right Now
Ten-Second Takeaway
Monsoon season is upon us (finally), and it's time to gear up! We paid a visit to Fergusson College Road to do some shopping, and here are 5 things we found to get you prepped for the rains.
Umbrellas
Down the road from Vaishali, we found a road-side stall selling really cute polka-dotted long umbrellas for INR 120, and multi-coloured folding ones for INR 250. We think they're really affordable and also easy on the eyes.
Footwear
It's hard to find trendy monsoon-friendly shoes that don't get soggy and smelly when wet – but we hit the jackpot at newly-opened Fashion Hub (formerly Enaya Cosmetics and Jewelry) on FC Road. We found stylish rain-shoes in the form of ballet flats, moccasins, and even lace-up sneakers in vibrant colours! Priced between INR 350 – 450 per pair, they're aerated so your feet will dry quickly, and won't smell. We also spotted a similar sneaker-style and even rain-friendly wedges at Cute Walk next door for between INR 290 – 350, so give that a look too.
Water-Resistant Bags
Of course, keeping your valuables and books dry in the monsoon is also a major concern – and for that, we stopped by Land Square shopping plaza next to Roopali, because there are several shops here that stock bags and backpacks at affordable prices. First, we popped into the Fastrack store – and found water-resistant bags from INR 995 onwards, and a water-resistant bag with an in-built waterproof bag cover for INR 1795. Across from them, Creative Collection also looked promising – and is an official dealer for brands like American Tourister, Baggit, Caprese, etc. A bright red American Tourister water-resistant backpack caught our eye – which we bought at a discount for INR 1080 (and included a 1-year warranty). They also had other American Tourister backpacks with in-built rain covers, for INR 1680 (after discount). Creative Collection also offers after-sales servicing and repairs on select brands, which we think is super useful.
Rain-Cover For Your Bag
In case you'd rather not invest in a brand-new backpack, Wildcraft on FC Road has rain-covers for bags, available in two sizes – for INR 349. We picked one up for ourselves, and think it's a steal – as the elasticity of the cover can be fitted around most bags, not just backpacks.
Rain-Proof Outerwear
As much as we love raincoats, they're a bit dated in 2018. What's become the new go-to for monsoons, are rain-jacket and pants sets, which can be worn over your regular clothing. We found a really nice set at Wildcraft, priced for INR 2299 (together), with a 1-year warranty included. This set was available in one colour combo only (red and grey), but they do have further colours and materials in a higher price range. It may be a bit steep, but the quality and after-sales service are better than most – and this set will definitely last for more than one monsoon season.
Comments