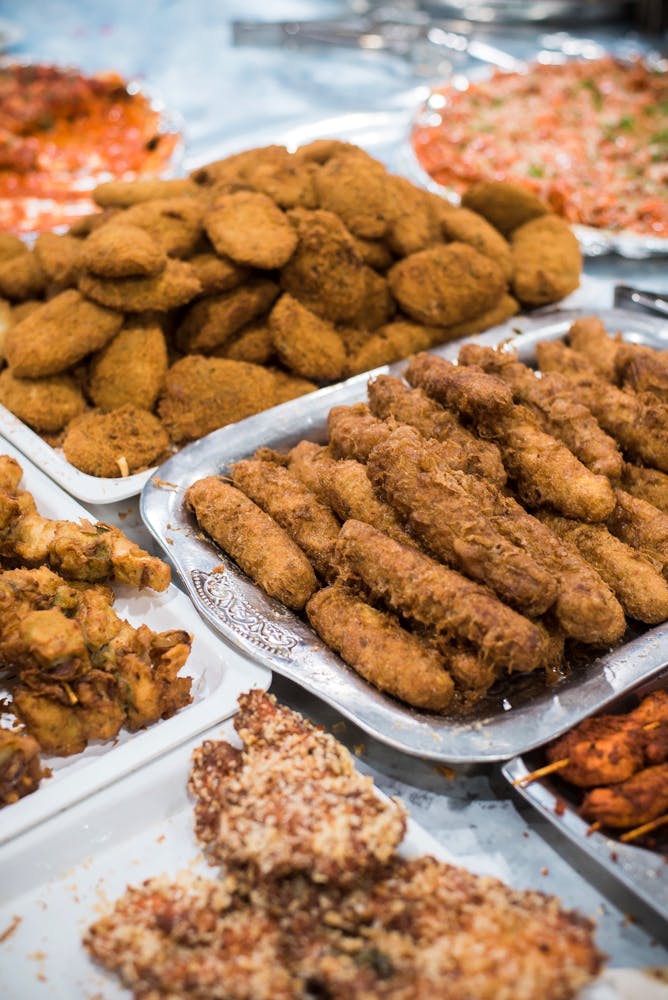 Let Your Nose Guide You To Kausar Baug For A Ramzan Food Walk
Whether you're fasting or simply feasting, if it's Ramzan you've got to enjoy iftar. We meandered around Kondhwa's Kausar Baug and binged on kebabs of different kinds, haleem, nalli and lots of sweets too. Needless to say we were stuffed, but this might be the best way to celebrate Ramzan in Pune.
There are two streets to tackle. If you're looking for snacks, hop around NIBM galli number 2. But if you'd rather have a sit-down meal at a restaurant then you'll find that down the street from Kausar Baug Masjid. We obviously walked around both streets to find the best places to eat at.
Chicken On-A-Stick & Shahi Tukda At Sharif Caterers
The easiest to locate thanks to Google Maps, Sharif Caterers is the largest stall in the area and steals the show with its massive display of kebabs, fried chicken and handis full of meaty gravies. But, we'd recommend stopping here for their variety of chicken on-a-stick. Let your nose lead you here, so that like us, you can dig into chicken lollipop (INR 40 per piece), chicken chakori (INR 70 per piece), chicken malai (INR 100 per piece), chicken stick (INR 40 per piece) and more. You'll also get mutton samosas, spinach crusted fried chicken, cutlets made of chicken and mutton among other things. If you're looking for something more filling, sample their rogan josh and biryani. And, for dessert, dig into shahi tukda (INR 100 per plate) that's not too sweet and is quite perfect, to be honest.

You can opt to pack some snacks for home, eat while you stand around or choose to sit-down and eat behind the snack counter, where there's ample seating arrangement for families and others.
Seekh & Nalli Nihari At Bombay Seekh Paratha
As the name suggests, tuck into seekh kebab and paratha here. The buff seekh (INR 50 per plate) was well cooked and soft, like a seekh should be. And, we couldn't help but dip our paratha (INR 20) into a delicious bowl of nalli nihari (INR 160), which was beautifully cooked. We'd definitely go back for seconds. You can grab a cup of phirni here too for INR 60. After all, is it even a Ramzan food walk if you've not eaten some phirni?

Kheema Samosa At Cafe Samosa Corner
Bite into a hot samosa at this samosa-only stall. A small eatery that's set up a stall at its storefront for Ramzan, they offer veg, chicken kheema, cheese olive and a few other varieties of samosa. Grab a chicken samosa for INR 25 and a veg one for INR 15. Both are flavour-packed and make for the perfect iftar snack.

Seekh & Buff Kadi Gosht At Karim's Cafe
You can dig into seekh kebabs (INR 40 per plate) or the buff kadi gosht (INR 30 per plate) here and have a full sit-down meal. The little restaurant offers several Mughlai and Hakka Chinese dishes that are flavour-packed and spicy. A meal for two will cost you INR 300 approximately.

Raan Curry & Biryani At RC Kitchen Family Restaurant
If you're a big group that wants to sit-down after snacking along a few stalls, walk into RC Kitchen. A family restaurant with ample tables to fit large groups, you can have a meal here. The restaurant is popular for its spicy red chicken saote, raan (lamb) curry, Lucknowi biryani, nalli nihari and butter naan. A meal for two here will cost you INR 800 approximately.

Royal Coldrinks
Located next to Kausar Baug Masjid, grab a royal faluda (INR 60) here. We loved that it had little milk, more rabdi and wasn't too sweet or too coloured. The little stall offers Kashmiri soda and a few other varieties of beverages and falooda too. And, you'll spot several people flock here after prayer.

Burhanpur Special Mawa Jalebi
A small stall sitting beside Sharif Caterers, we couldn't help but get a plate of mawa jalebi, a special during Ramzan. Priced at INR 60 for 250 gms, you can opt to get a plate (3 jalebis) for INR 30. They also have juicy gulab jamuns and dahi vadas laden with sweet chutney.

Pro-Tip
We recommend finding a parking spot in the Kausar Baug Masjid lane as it's wider and less crowded. You can then tackle all the places on foot. Galli number 2 is usually more crowded with several people walking around and vehicles whizzing by. The best time to go is at 7.30 PM, which is a little after the fast has been broken. The area gets lively and busy after 9 PM.

Comments