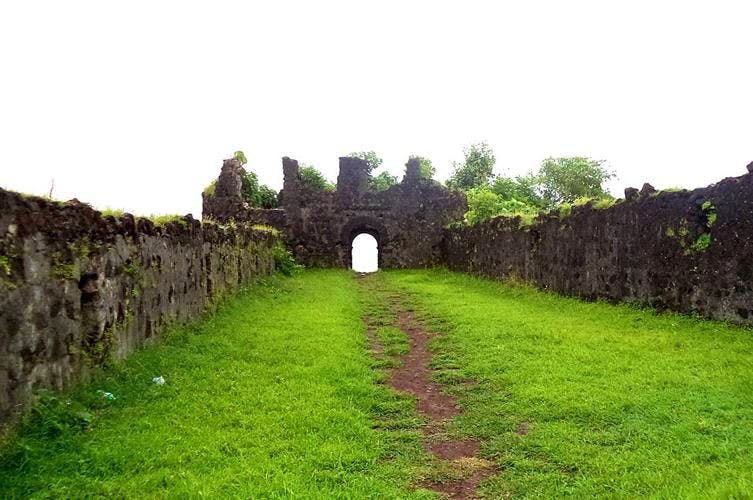 Trekkers, There's A 496-Year-Old Fort Just 3 Hours Away From Pune
Shortcut
Built in 1521 by the Portuguese, Korlai fort at Raigad, near Alibaug, makes for an amazing one-day monsoon trek with your gang. Situated approximately 160 kilometres from Pune, the fort overlooks the beautiful secluded Korlai beach and is a perfect spot for you to completely unwind and disconnect from the world.
What Makes It Awesome?
It's a three-hour drive from Pune to Korlai via the Bangalore-Mumbai Highway. Once you reach the Korlai bus-stop, the road will lead you to a lighthouse that marks one of the entrances to the fort. History has it that there are 11 entrances to the fort.
However, you can use only three entrances that have been made accessible – the eastern, western and northern sides. We recommend you to opt for the western route from the lighthouse. It is the easiest, especially during monsoons, and gets you to the top of the fort in about 15-20 minutes.
The 2,828-feet-tall Korlai fort, now in ruins, once boasted of its rich history and housed the Portuguese army of as many as 7,000 horses and men. If you love to explore the ruins of a partly demolished castle, head to Korlai. The fort also has a 400-year-old church and a magazine, both in ruins. Not just explorers, history buffs will have a great time visiting this site.
Once you're done exploring the fort, you can always climb down and take a peaceful walk on the Korlai beach.
What Could Be Better?
Be careful as many of the structures are partly demolished, which might be a safety concern.
Pro-Tip
If you wish to stay the night at Korlai, there is a small farmhouse called The Traders Cottage, which is about 45-minutes from the beach. The bungalow is situated at a secluded corner on a six-acre farm that has a beautiful garden and a swimming pool.
Comments