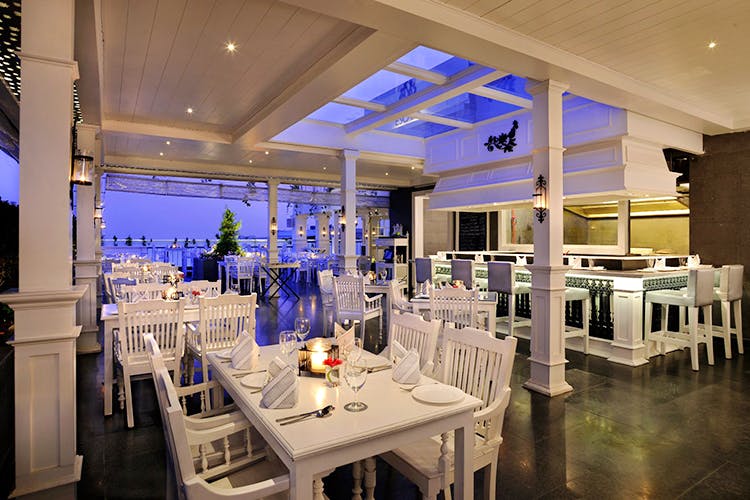 Hit Up This Indiranagar Restaurant For Its Rooftop Setting, Portobello Pizza And Filter Coffee Brûlée
Shortcut
Be it a date night, or a cosy catch up with your peeps, Bricklane Grill will wow you with food, dessert and that oh-so-lovely view of Indiranagar.
Chow Down
Mushroom Cream Soup, Bruschetta Platter, Portobello Pizza, Green Peas Gnocchi and South Indian Coffee Brûlée
Sip On
Pear Mojito, Thyme Martini
Lowdown On The Ambience
Half the deal about dining at Bricklane Grill is the ambience. The terrace location, the cute little swimming pool (a great place for a leisurely Sunday brunch and swim), the little makeshift garden and the Bangalore skyline all make for a lovely atmosphere. At night, the place is strung up with twinkling fairy lights.
Winning For...
Small but excellent menu and a pretty ambience complete with a rooftop swimming pool and garden.
On The Menu
The good thing about Bricklane Grill, the terrace restaurant at the rather charming boutique hotel Escape Hotel & Spa, is its small but really varied menu. From small plates, soups and salads to gourmet pizzas, mains and innovative desserts, there is much to traverse. Start your meal with thick, creamy Mushroom Cream soup that comes garnished with bacon bits and is meant to be mopped up with toasted garlic bread. The Bruschetta Platter is a lovely mix of crusty bread topped with tomato and basil, orange marmalade, ricotta and mint and beetroot and goat cheese. Fruity mojitos, herb-infused martinis and an Orange and Jalapeno concoction are all cocktails we'd recommend here.
Main Event
For mains, dig into the rather meaty Portobello Mushroom Pizza that comes with Fontina cheese, caramelised onion, mushroom puree and truffle oil. The pizza is quite heavy duty, so make sure your other mains are lighter. The Brown Butter and Green Pea Gnocchi is perked up with grilled marinated prawns and is a big hit with us. Dessert here has options such as the Tart Lemon Cake with Raspberry Compote or the Decadent Chocolate Mousse with Dark Rum and Fudge, but the South Indian Coffee Brûlée is what we place our bets on. The marriage of caramel, filter coffee and thick, gooey custard is a match made in heaven.
So, We're thinking...
Located in the heart of Indiranagar, Bricklane Grill's menu covers different genres, but at competitive pricing. They also don't scrounge around with the quality of ingredients used. Great for a laid-back brunch or a romantic date.
More Information
Bricklane - Escape Hotel & Spa
Wi-Fi Available

Nearest Metro Station: Indiranagar
Comments